I have some pretty grand plans for a living room makeover that I am gathering the gumption to start on.  I think I have settled on rustic coastal … weathered wood, rope accents, nautical accents with charm and character, gray, blue and brown with pops of coral and white … it is absolutely gorgeous.  Well, in my mind anyway.  Since we still have some plotting and planning to do to make that happen, I have really been jonesing to head out to the shop {a.k.a. the little building in our backyard where I have my saw and sander stored} for a little sawdust and saw blades.  So, I channeled those rustic vibes, grabbed some cedar shims and got to cutting for an easy project that brings a tiny bit of that rustic coastal feel to our living room …
Painted Wooden Coasters {Made with Cedar Shims}
These are my favorite kind of projects for those days when you need to get creative but don't have an entire day to cut and clamp and paint and finish.  I think I'll start calling these projects DIY before Dinner!   So, grab your safety goggles and away we go!
Supplies for Painted Wood Coasters:
Cedar Shims – 3 per coaster*
Saw
Sand paper
Stain and supplies (brush and clean, lint-free rags)
Wood glue
Paint (I used my favorite chalky paint)
Sealant
*Cedar shims are  just a few bucks for a big pack at the home improvement.  They are pieces of wood that are thin at one end and thicker at the other that are normally used to add support, fill in gaps or bring projects to level.  They are not uniform in size, so while you will only need 3 per coaster, I went through a big stack to find groups of 3 that were the same thickness.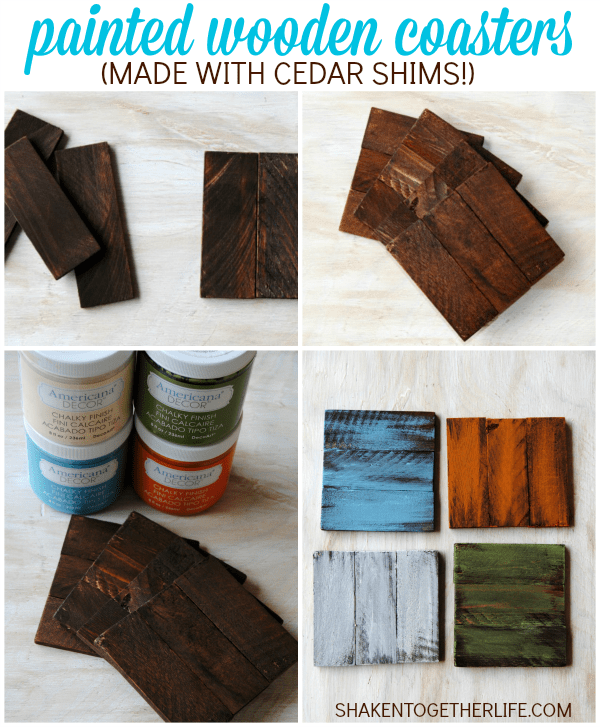 How to Make Painted Coasters made with Cedar Shims!
Use your saw to cut the thicker end of each shim to 3 ½ inches in length.  I have a Ryobi compound mitre saw that made quick work out of all these cuts.
Sand any rough edges and the surface of the shims using sand paper.
Brush on stain, wipe the excess off using a clean, lint-free rag (I cut up one of those inexpensive white kitchen towels – not the fluffy kind – that you can get in a pack) and allow to dry.
Use wood glue to adhere 3 shims together.  If glue seeps out from between the shims, wipe it smooth with your finger so it doesn't leave a raised bead of glue on the coasters.
Once the glue has dried, brush on a thin layer of paint with a dry brush.  I used a chalky finish paint but you could also use acrylic paint.  To achieve the rustic, worn look that I love, I purposely left the stain showing through in some places and covered in others.
After the paint has dried, use sand paper to distress the edges or remove some of the paint in areas.
Seal with a water proof sealant.  I used a few light coats of a spray acrylic sealer.  If you've got Mod Podge in your craft closet, you can use that too.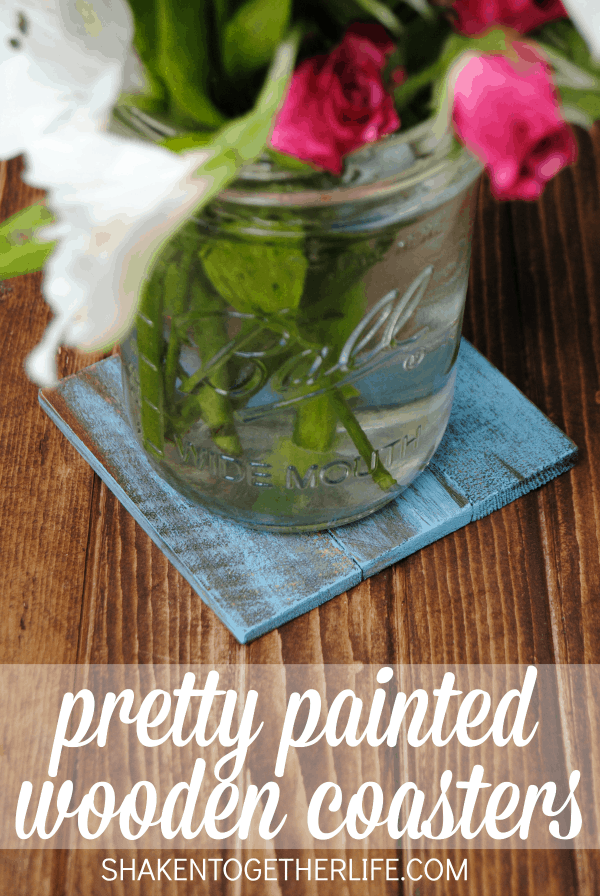 I bought a bouquet of grocery store flowers, filled a wide mouth mason jar with water and added a pop of color and pretty to our dining room table!  These painted wooden coasters make easy gifts – you could add a stenciled shape or a monogram to really personalize them, too.
Since you've got your paint out, try one of these easy DIYs …
Cookie Cutter Stamped Gift Tags
Layered Wooden Monogram Burlap Canvas
DIY Stenciled Anchor Sign
Wooden Watermelon Slice Garland
This post may be shared at these link parties: