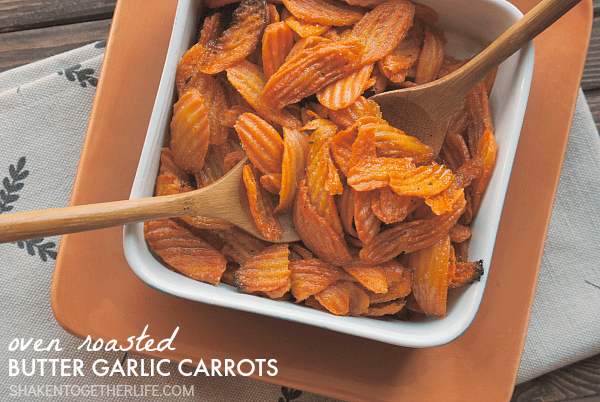 Sometimes, the simple things are the best.  Peanut butter and jelly.  Cheese pizza.  Slip on shoes.  Stretchy pants.  And 3 ingredient side dishes.  How was that for a lead in?!  There are just some days when I get home that I need easy.  And these carrots are so easy.  And so darn delicious.
Oven Roasted Butter Garlic Carrots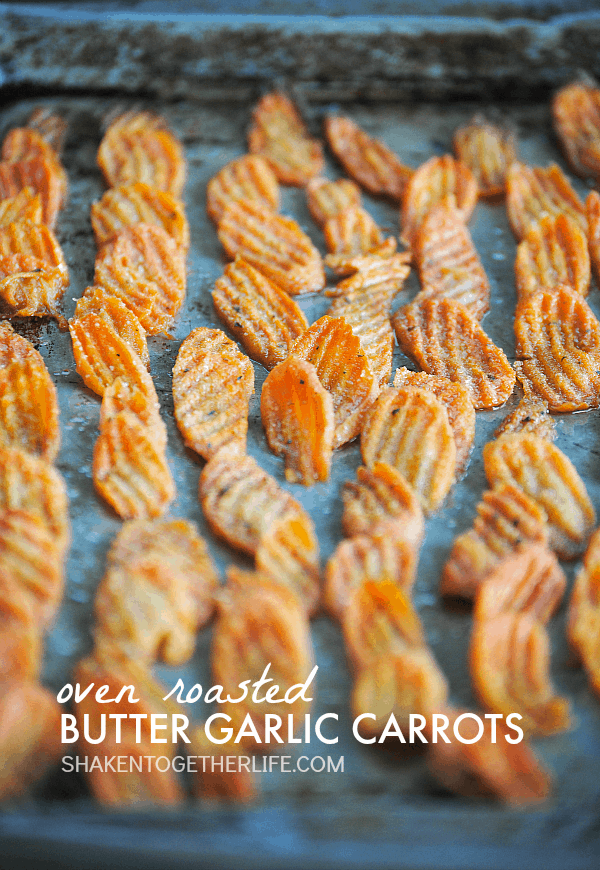 Look at all that roasted goodness.  Garlic and black pepper baked into the nooks and crannies of these carrots chips.  Golden butter softens them as they cook and then starts them to browning the longer they are in the oven.
Print Oven Roasted Garlic Butter Carrots
---
Scale
Ingredients
Two

16 oz

. bags of carrot chips or carrot coins

1/2 cup

one stick unsalted butter, melted
Garlic salt & black pepper to taste
---
Instructions
Preheat oven to 350*.
Prepare two baking sheets with nonstick cooking spray.
Layer the carrot chips in rows, overlapping them slightly.
Pour the melted butter over the two pans of carrots.
Sprinkle with black pepper and garlic salt to taste.
Bake for 30 – 35 minutes, rotating pans in the oven at the 15 minute mark.
Bake the carrots more or less depending on the level of browning that you want.
---
Notes
If you can't find the pre-cut carrot coins/chips, use a mandolin to cut peeled carrots into angled slices. I used butter, but I bet you could use coconut oil, too.
Now I love the carrots at the edge of the pan.  The ones that are deep brown, chewy with concentrated carrot flavor.  But those perfectly soft carrots in the middle were my boys' favorites.  To each his own.  As long as you don't touch those crispy ones at the edge!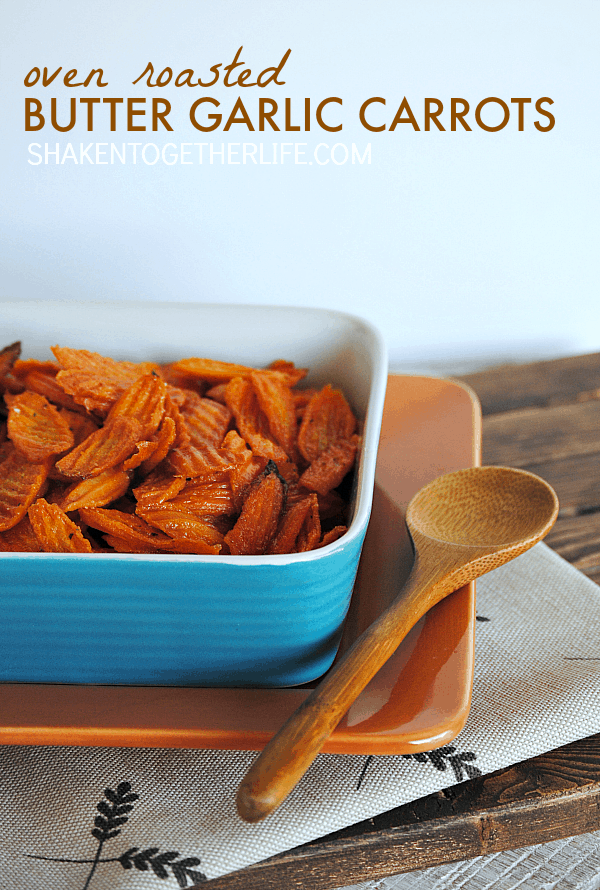 I used butter for this first batch, but I bet you could use coconut oil, too.  And if you are asking yourself:  Really?  Two pounds of carrot chips?  Really.  See, if you hang out with me on Instagram, you may have seen this picture of these orange beauties before they went in the oven:
The carrot slices fill the entire pan from edge to edge.  But then the oven and butter work their magic and they begin to shrink … and turn into golden orange slices of DELISH!  I mean, I know they are just butter garlic carrots, but they are absolutely perfect alongside a meatloaf.  Delightful tucked under a grilled chicken breast.
Or better yet, eaten right off the pan!
More Delicious Side Dishes!
Our Oven Roasted Butter Garlic Carrots may be shared here: