This shop is part of a social shopper marketing insight campaign with Pollinate Media Group™ and Home Depot & Rubbermaid, but all my opinions are my own. #pmedia #AllAccessOrganizers http://cmp.ly/3/8vNxcO. But you'll want to keep reading … I am going to keep it REAL today! Are you ready to see me air all my dirty laundry? Okay, well maybe not dirty laundry, but how about three zones in my home that need some serious help in the organization department?! I'll be sharing my solutions that may even help you organize your home, too! Okay … here are the three home "disaster zones" that I am going to tackle today:
Yep, that is really my 13 year old's bedroom, the back of my SUV and my hastily packed (and even more hastily labeled!) holiday home decor shoved in a closet … glamourous, ay? But check out the 4th photo – those are the solution to all three of these unorganized zones of our home! Rubbermaid's new All Access™ Organizers! Have you seen them? I grabbed them at Home Depot the other day – you probably saw it on Instagram (and you'll also see the random land tortoise we found, my latest food photography FAIL and our new favorite snack!).
Anyway, these new organizers are SO cool! They come in two colors and two sizes – I grabbed both sizes in blue – and they can be opened by the top just like normal storage bins OR on the front!! The see through drop down door makes it so easy to see and access what is inside while the storage bins are stacked up – GENIUS! So, let's get organizing!
First up, Camden's "room of doom"! That may be a tiny bit exaggerated, but there are certain areas of his room that are the bane of my existence. Like the space for his Xbox … games, cases, controllers, headphones and out of control cords! But a small All Access™ Organizer made that space neat and tidy in no time at all! No really … I'm saying less than 5 minutes!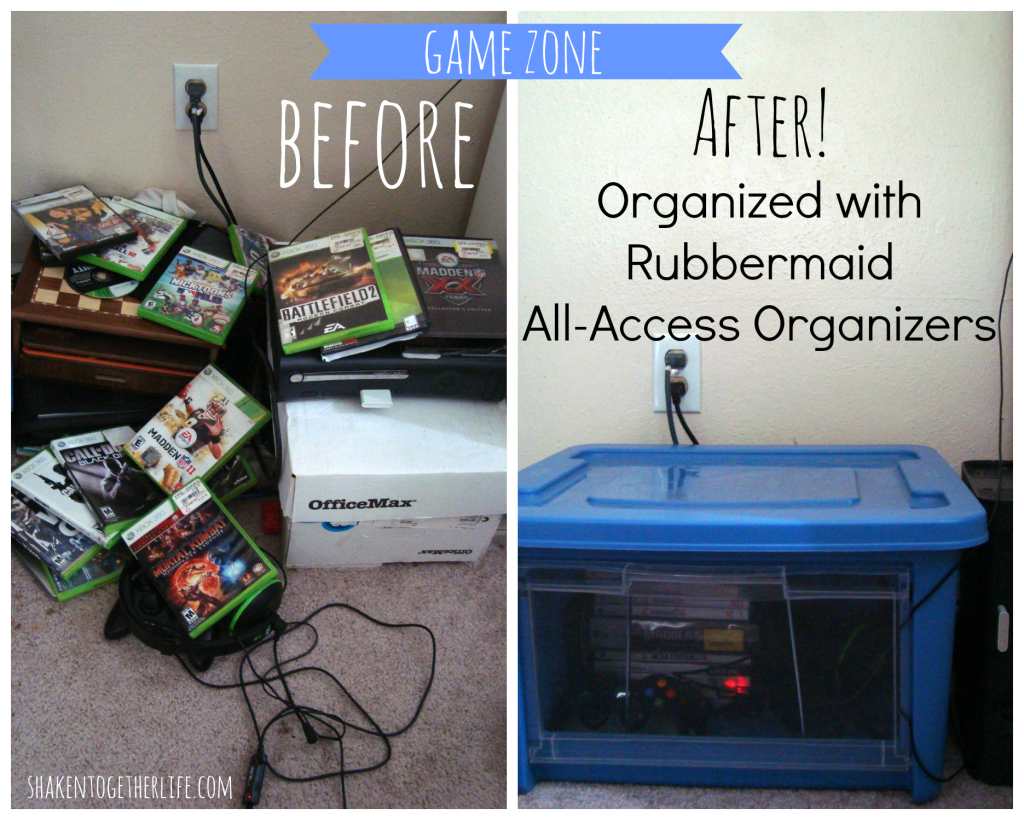 Now, Camden can keep all his gaming gear in one place and I can look at this part of his room again! So, the kids aren't the only ones guilty of keeping stuff unorganized … remember the back of my SUV? UGG. But no so much anymore! I put together a quick car safety kit with another All Access™ Organizer to keep all of those critical items easy to see and access.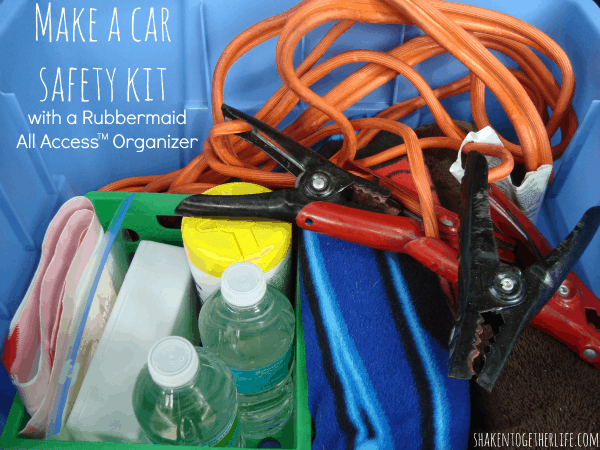 I tucked it in the back of my SUV with a few essentials: gloves, a garbage bag, bottled water, antibacterial hand wipes, a basic first aid kit, jumper cables, a blanket and a towel. Now, I feel a little safer knowing I have a few more things on hand, organized and easy to find in the case of an accident or emergency. Organized car zone? Check!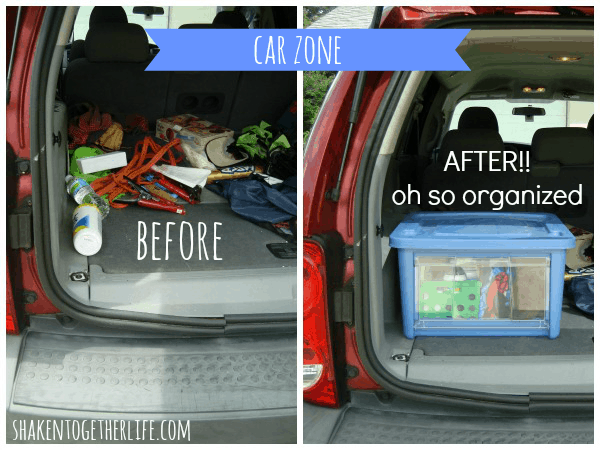 And finally, like any good blogger, I have got a ton of seasonal decor … and making more each year! Most of the time I am just lucky to get it all corralled, labeled and shoved somewhere to get it out of the way. Like cardboard boxes with the name of a holiday scrawled on them with Sharpies. But those boxes aren't sturdy and I can't stack them. Take a look at my super duper organized holiday bins now!! All of my seasonal items are stored and I don't have to worry about any of them being damaged when I stack these organizers!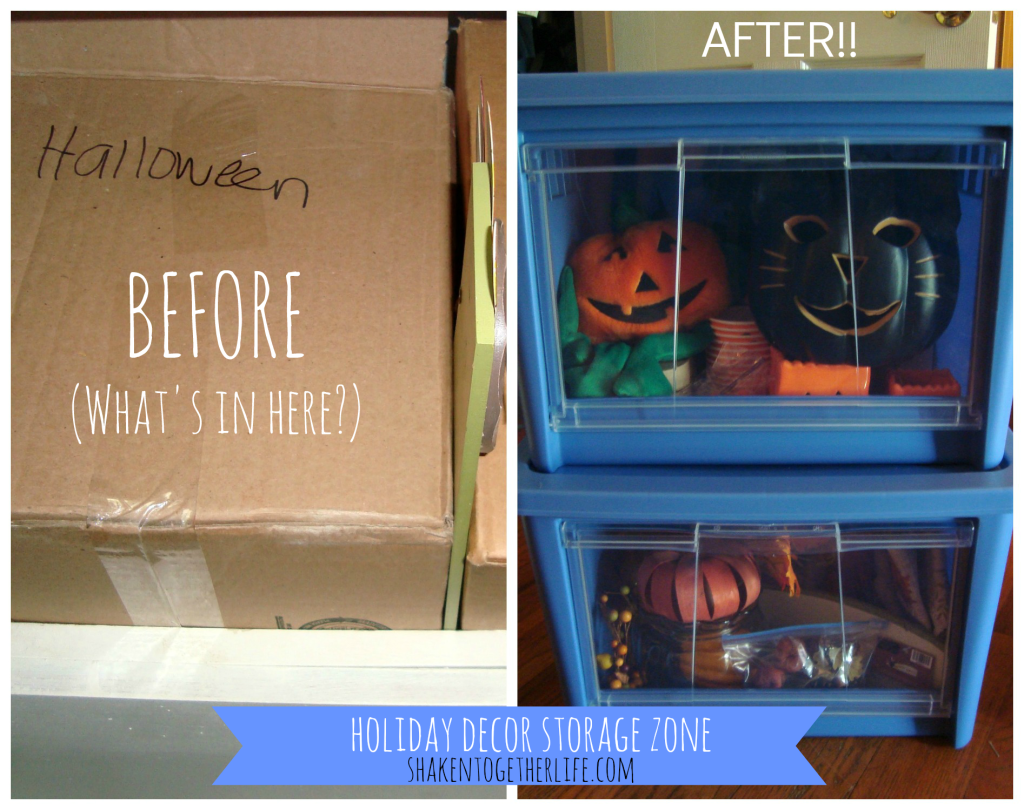 Look! You can open the All Access™ Organizers from the front even when they are stacked up – you know, to make it easy to add those thrift store and clearance finds! I think this is such a great feature!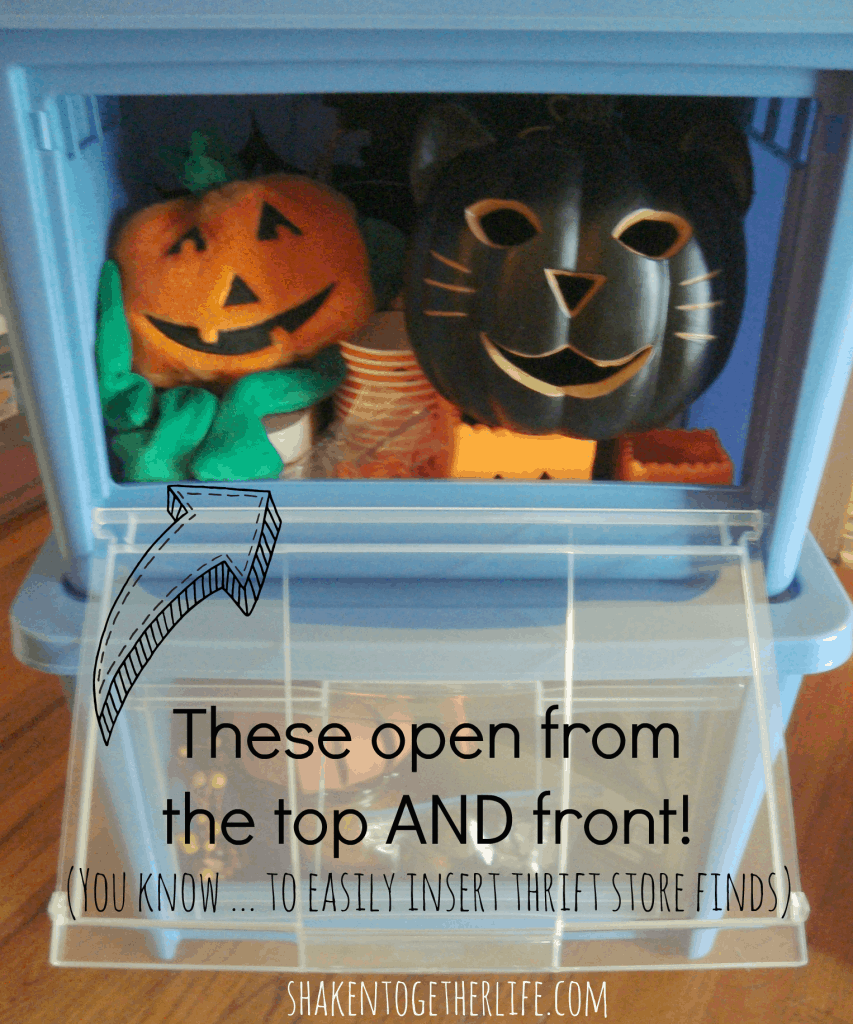 You can bet that our laundry room, garage and my craft room are going to be BFFs with these All Access™ Organizers soon!
And you can be BFFs with Home Depot and Rubbermaid on Facebook!
SO tell me … what home "disaster zone" would you organize?!
This post may be shared at Savvy Southern Style, Between Naps on the Porch and these awesome link parties: