I know that only a handful of you know my 10 year old in real life.  But when I say that kid can talk, I mean THAT KID CAN TALK.  About songs and Pokemon and lunch and Legos and what he wants to be when he grows up and onomatopoeias and brain teasers (one night, a man and a woman are on a boat …) and the number of bruises he has and … well, I think you get the picture.  So, I feel that it is only right that I celebrate Teacher Appreciation Week with more than just an apple mug.  I prefer fruit bowls with puns and wintery mint themed gifts and "hands down you're the best teacher" gifts!
And since we are approaching summer, this year, I decided to go with a colorful gift that packs a big citrus punch … orange you glad it's almost summer teacher appreciation gift!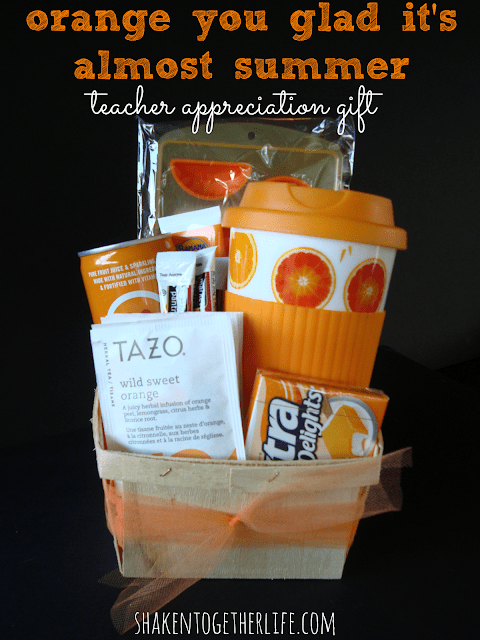 Isn't it cute?  I love all the bright colorful orange themed items we found – for around $10 per teacher!  I think they are perfect to remind our teachers that summer is just around the corner and thank them for all of their hard work!
Here is what we tucked inside each wooden berry crate after a quick trip to Target: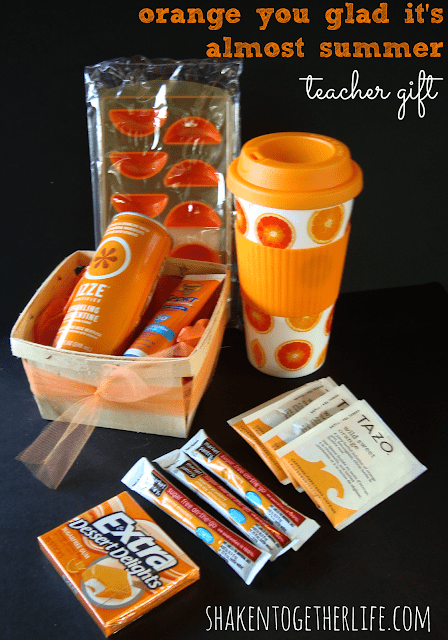 Orange thermal cup – Target dollar spot ($3)
Orange slice ice cube tray – Target dollar spot ($1)
Izze Sparkling Clementine fizzy drink (ummmm, holy cow are these good!)
Mini tube of sunscreen
Orange creamsicle gum
Orange strawberry drink mix single serve packets
Tazo Wild Sweet Orange tea bags (also SO yum!)
Orange tissue paper, orange tulle, wooden berry crate for packaging (or just tuck it all in a cute gift bag)
If you need a cute orange themed gift on a smaller scale (for teacher aides or support staff) use colored tulle to tie a paper straw to a sparkling fizzy drink.  You could add a fruity teacher appreciation tag depending on the flavor of the drink, too!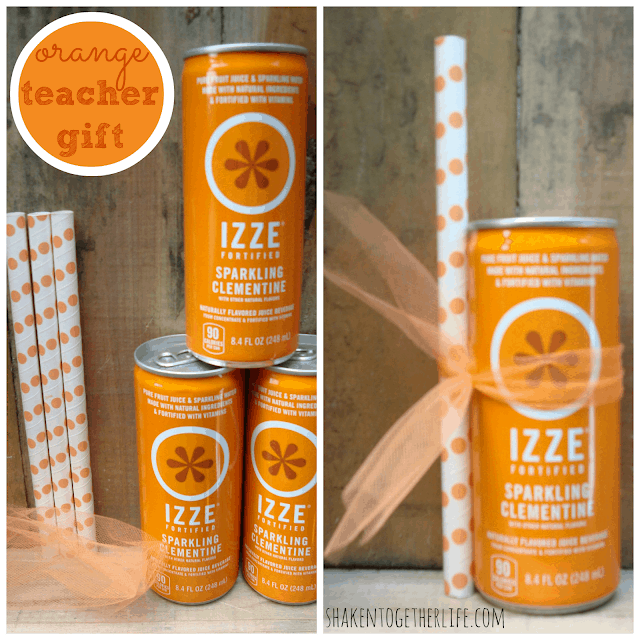 Celebrate teachers with these cute teacher gifts:

This post was shared at the great link parties on my link page!