We've been friends for a while now, right?  And friends tell each other things … like secrets, right?  Good.  Because today I have a secret to share with you.  Well another secret.  I shared a cupcake secret when I made banana pudding cupcakes.  So, I guess it's about time to get this off my chest.

Until this past weekend, I had never made brownies from scratch.  

I know!  With all of the baking that goes on around here, one would think I am a die hard, never buy a mix, only bake from scratch baker.  But I was of the mind set:  Why do all the hard work when Betty and Duncan have already done it for us?

But OH was I wrong.  So, so wrong.  These brownies are perfectly chocolaty that get a bit of richness from a couple tablespoons of Nutella.  Fudgy inside with a slightly crunchy top that crackles when the brownies are cut.  A swirl of Nutella on top.  Heaven.  Divine.  Ah.mazing.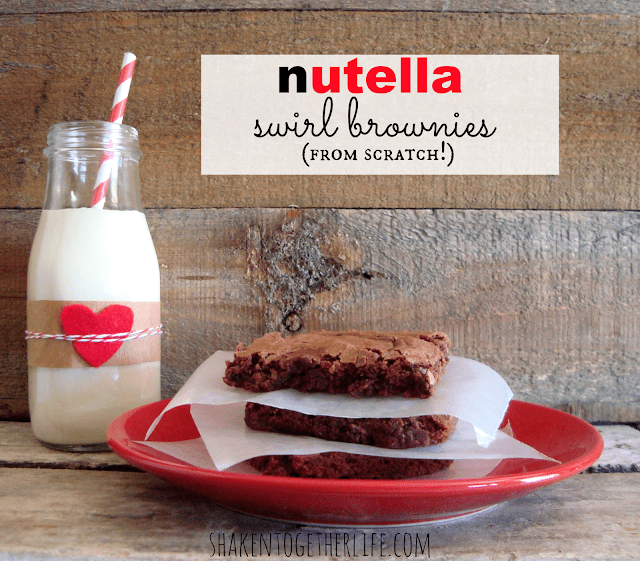 Nutella swirl brownies from scratch
Adapted from this brownie recipe on Allrecipes.com
Yield:  One 8×8 or 9×9 pan 

6 tablespoons melted unsalted butter
2 tablespoons Nutella
1 cup granulated sugar
1 teaspoon vanilla
2 eggs
1/2 cup all purpose flour
1/3 cup unsweetened cocoa
1/4 teaspoon baking powder
1/4 teaspoon salt
1 additional heaping tablespoon of Nutella
Cream together the melted butter, 2 tablespoons of Nutella, granulated sugar and vanilla.  Mix in the two eggs.  In a separate bowl, combing the remaining dry ingredients.  Add half of the dry ingredients and mix thoroughly.  Add the remaining dry ingredients and mix.  Pour batter into an 8×8 or 9×9 pan sprayed with non-stick cooking spray.  (An 8×8 pan will make the brownies thicker, so that is probably what I would do next time.)  Drizzle the remaining heaping tablespoon of Nutella over the top of the batter.  Use a butter knife to swirl the Nutella into the batter – but don't incorporate it entirely.
Bake at 350* until a toothpick inserted in the center comes out clean – mine took about 20 or 22 minutes – but baking time could vary depending on the size of your pan and how done you like your brownies … our family prefers fudgy brownies.
Enjoy plain and piping hot from the pan, with a glass of ice cold milk or topped with a scoop of vanilla ice cream and a drizzle of Nutella.  Pop any leftovers (if you have better self control than I do) in the microwave for 10-15 seconds to bring back that warm straight from the oven taste!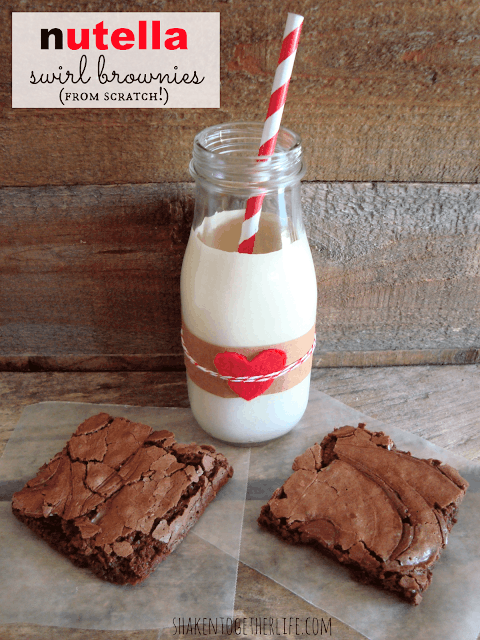 More Nutella?  More brownies?  Ask and you shall receive:
This post was shared at the fun link parties on my link page!