Add a little Mardi Gras magic to a boring wedge salad with our Muffaletta Wedge Salad! This hearty side salad has all of the flavors of a muffaletta sandwich over a crisp iceberg lettuce wedge - and wait until you try the easy olive dressing!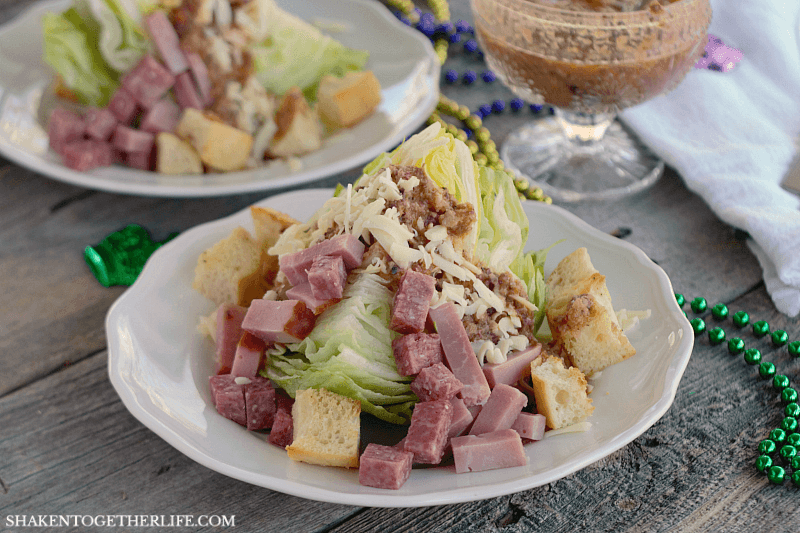 Strike up the band, sling your beads around your neck and grab a fork! With Mardi Gras just a few days away, I am channeling the flavors of New Orleans today with a delicious wedge salad! Inspired by my absolute favorite sandwich - the muffaletta - this salad is packed with flavor: ham, salami, provolone cheese, homemade croutons and a ridiculously delicious 4 ingredient olive dressing!
Muffaletta Wedge Salad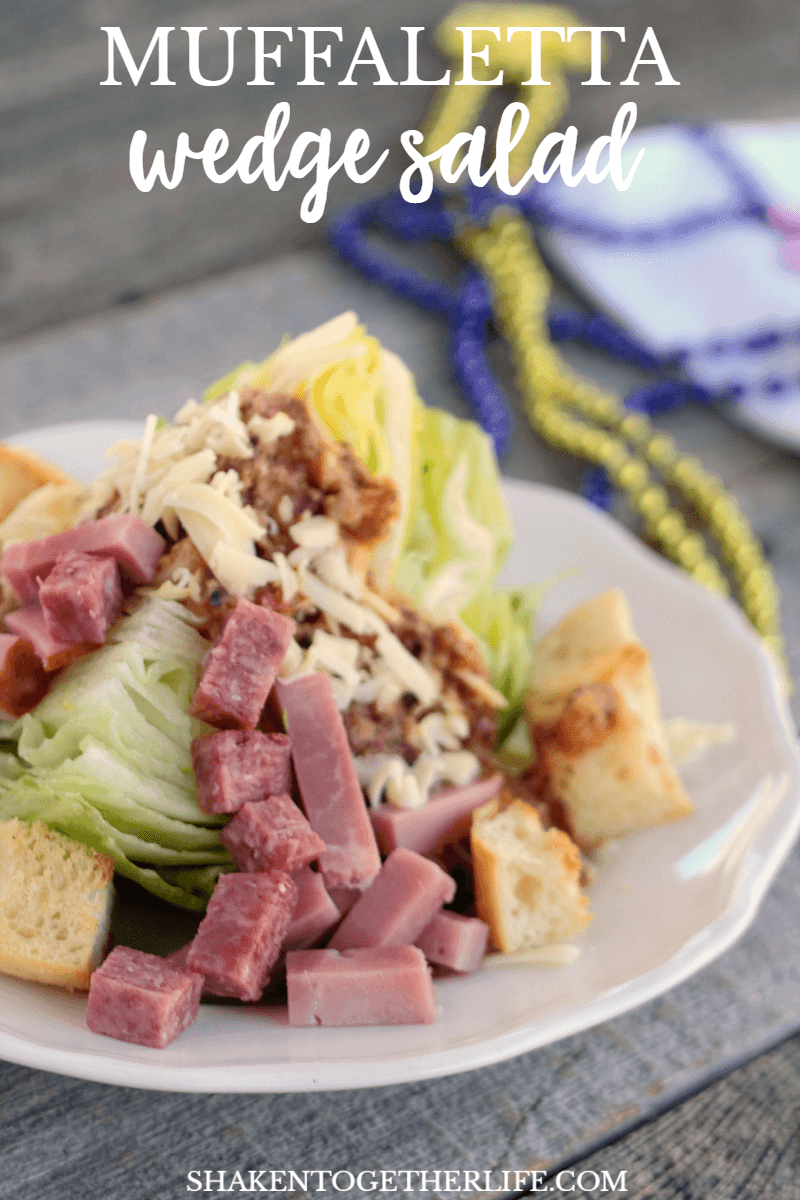 The origins of the muffaletta sandwich are said to be Italian immigrants that settled in New Orleans. With layers of mortadella, ham, salami, mozzarella cheese and a marinated olive salad layered on thick bread, that sounds about right. In the decadent spirit of Mardi Gras, I've layered all of those delicious ingredients on top of a lettuce wedge and the Muffaletta Wedge Salad was born!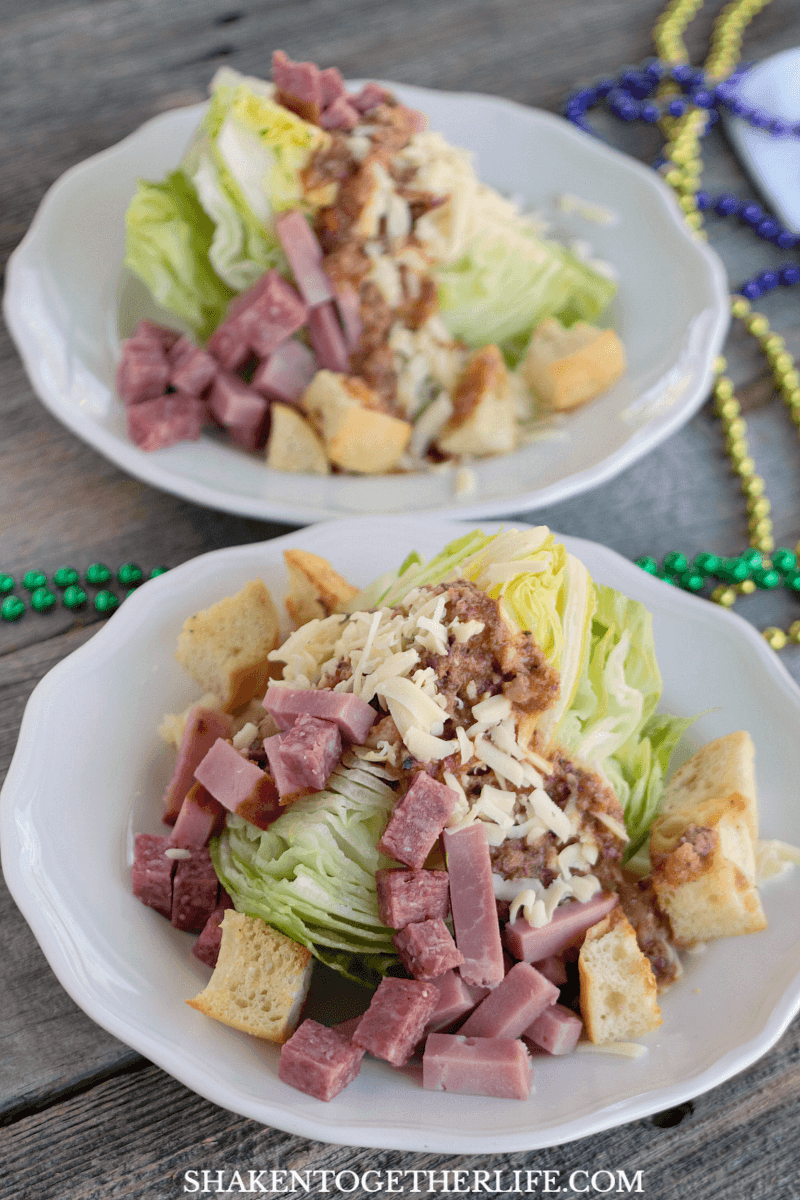 Our Muffaletta Wedge salad starts with a head of good ol' iceberg lettuce. Just cut off the core, remove any outer leaves that are wilted or damaged and cut the remaining head of lettuce into 4 wedges.
Then, get the homemade croutons baking in the oven. Yes, there are homemade croutons and yes, they are worth it.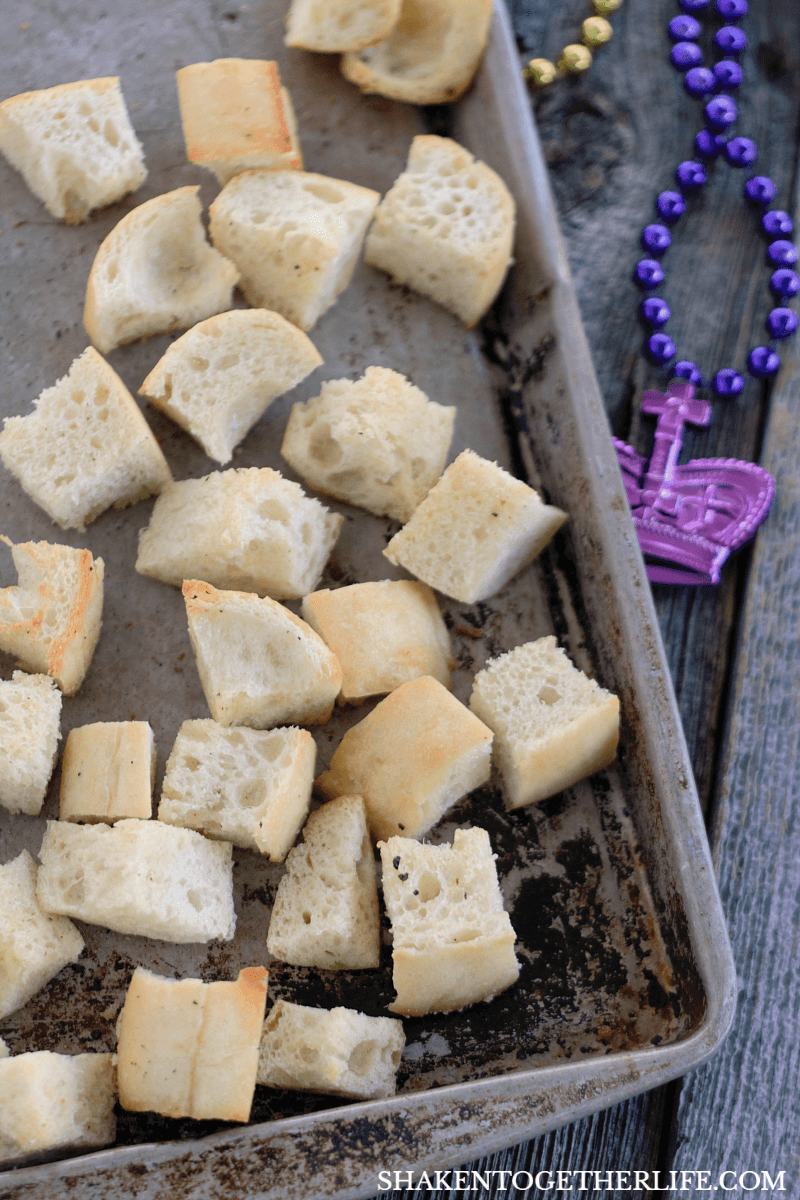 Traditional muffaletta bread is tough to find outside of New Orleans, so I just used a day old ciabatta roll from our bread drawer to make the homemade croutons. You can also use a hunk of any crusty bread. Just cut the bread into cubes, mist it with some olive oil (I love, love, love this olive oil mister) and add a few cracks of fresh black pepper. Bake the croutons until they are crispy and allow them to cool while you make the easy olive dressing and chop the salad toppings.
Now, I've mentioned the olive dressing a few times. So let's finally get down to business! A muffaletta sandwich would not be a muffaletta without the olive spread. That salty, oily spread or salad is a combination of olives, spices, giardiniera (pickled vegetables), vinegar, garlic and oil. My easy version turned salad dressing only has 4 ingredients: mixed olives, giardiniera vegetables, oil and the briny liquid from the giardiniera. Pop it in your blender or food processor and let it do its thing. I left my dressing a little rustic so bits of the olives and vegetable are still visible.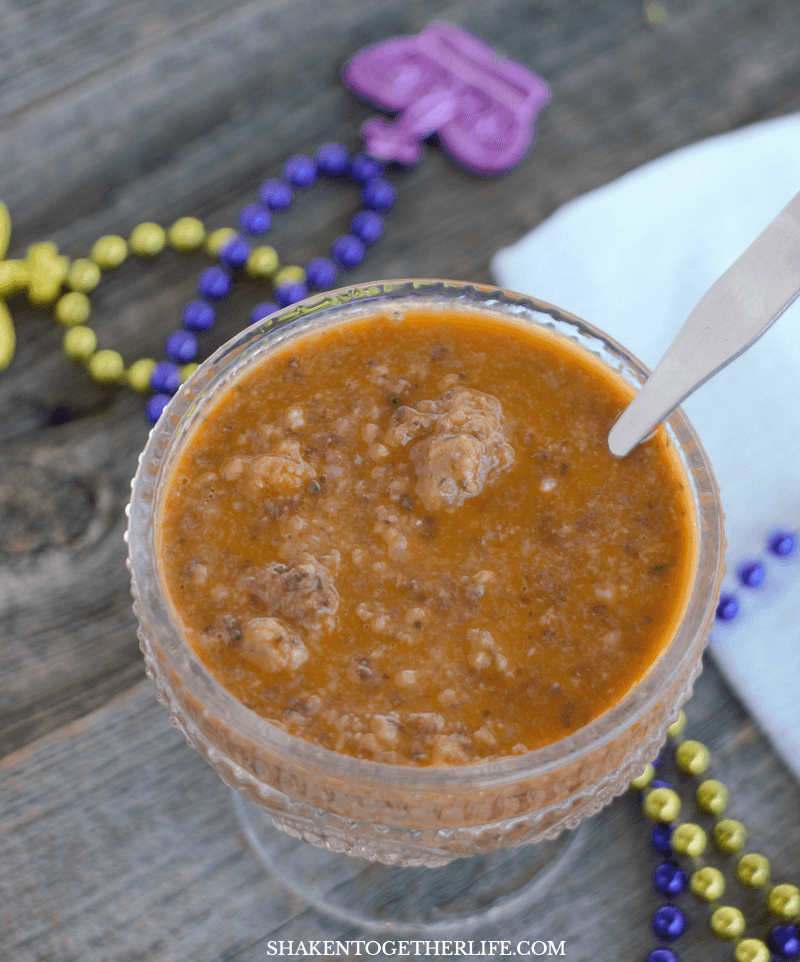 (I found giardiniera in my grocery store but you can also grab it on Amazon.The hubby has already used the leftover pickled vegetables on our homemade cheesesteaks and a regular chopped salad.)
Now all that is left to do is chop and top! Ask your deli to cut a thick slice of good quality ham and salami. My slices were about ½ inch thick. Since the dressing and salami are salty, I used a sweet ham to cut the richness just a bit. Cut the ham into thin strips and cube the salami.
Finally, assemble the Muffaletta Wedge Salad! Top each wedge with a few generous spoonfuls of olive dressing (serve the rest on the side), pile on the ham, salami, shredded mozzarella cheese and a handful of homemade croutons.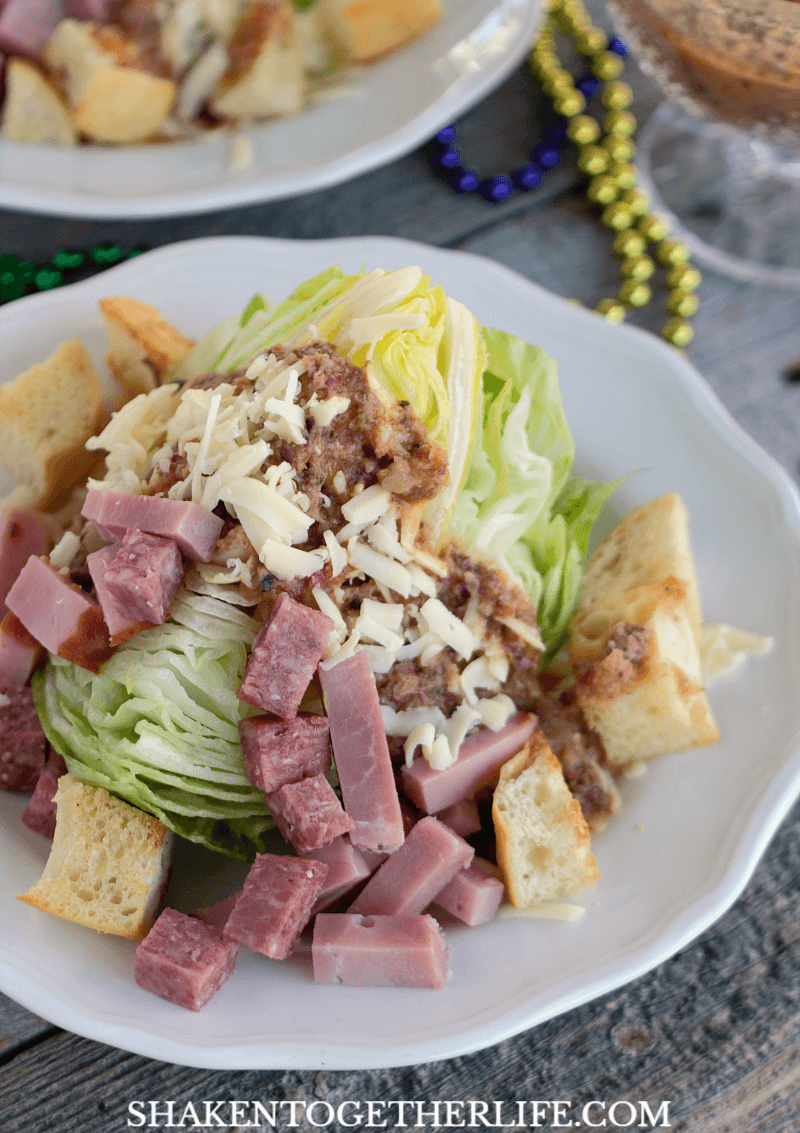 Once the lettuce is chopped and all of the ingredients are mixed together on the plate, the full flavors of a traditional muffaletta sandwich are front and center! The hearty meats and thick shredded cheese complement the crisp cool lettuce. The homemade croutons, which are crisp on the outside and still soft on the inside, are the perfect bites of bread to sop up any leftover dressing. Oh yeah!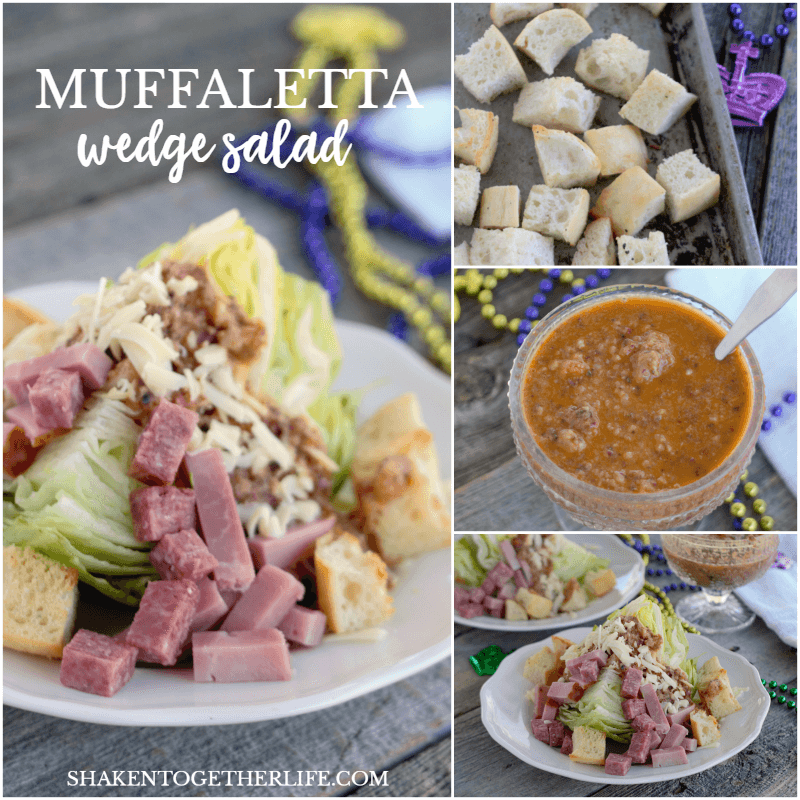 Print Muffaletta Wedge Salad #SundaySupper
Yield:

4

Muffaletta Wedge Salads

1

x
---
Homemade Croutons
One day old ciabatta roll (or a hunk of any crusty bread)
Olive oil
Fresh cracked black pepper
Easy Olive Dressing
¼ cup

mixed olives

¼ cup

light olive oil

¼ cup

giardiniera vegetables (pickled vegetables)

¼ cup

giardiniera liquid (or vinegar)
Wedge Salad
One head of iceberg lettuce
Shredded mozzarella cheese
One

½

inch thick slice of salami
One

½

inch thick slice of sweet ham
---
Instructions
Homemade Croutons
Preheat oven to 375 degrees F and spray a baking sheet with non-stick cooking spray.
Cut roll/bread into one inch cubes.
Mist bread cubes lightly with olive oil and add a few cracks of black pepper.
Bake until croutons are crispy on the outside but still give slightly when pressed. (My croutons took about 8-10 minutes.)
Easy Olive Dressing
In a blender or food processor, mix the olives, pickled vegetables, oil and giardiniera liquid until combined.
Wedge Salad
Cut core away and remove any damaged/wilted leaves from the head of lettuce.
Cut the head of lettuce into 4 wedges.
Place each wedge on a plate and spoon several spoonfuls of dressing over the center of each wedge.
Top with chopped ham, cubed salami, shredded mozzarella cheese and homemade croutons.
Serve and laissez les bons temps rouler! (Let the good times roll!)
---