My best friend, who my boys call Aunt Jen, brought my newest 'niece' into the world last month – yay! But since we were working through the flu, I had to wait to get my baby fix until a few weekends ago! Sweet, sweet Janelle needed an equally sweet gift and I wanted to make something that she can use for many years to come. (I made her sister Jordyn this personalized name banner from upcycled restaurant coasters!)
So, I picked up a cork board tile at Target and a wooden J from Joann's and put together this perfectly girly pinkalicious monogrammed cork board tile!!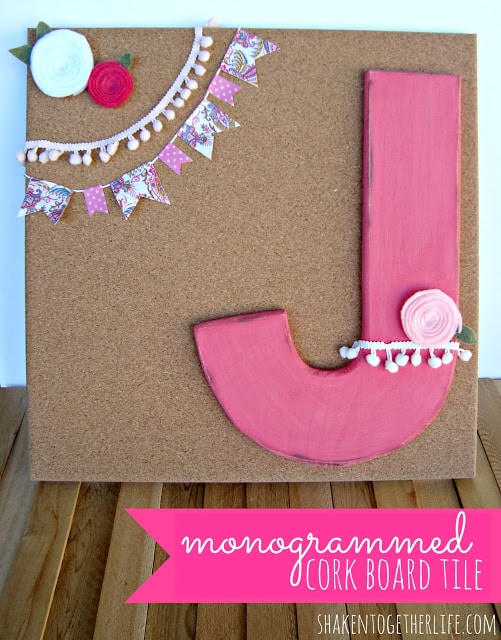 Here are the supplies that I used for this project:
12×12 cork board tile
large wooden letter
acrylic paint
felt – several colors
Scotch brand patterned duct tape
washi tape
twine/cord
pom pom trim
hot glue gun & glue sticks
E6000 adhesive
sand paper
ink (optional)
First, sand any rough edges and paint the wooden letter with acrylic paint and allow to dry. If you want a little more aged/rustic look, sand the edges and surface of your painted letter with sand paper. Run an ink pad (I used a chocolate brown) around the edges of the wooden letter and sand lightly over the inked edges.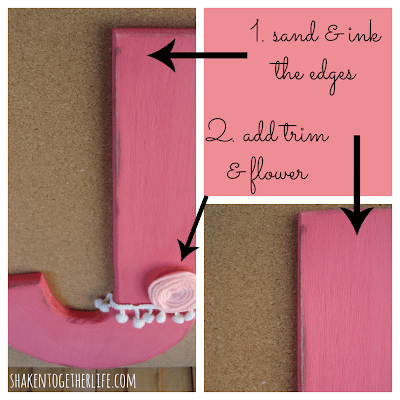 Glue one rolled felt flower to the wooden letter and a length of pom pom trim. Adhere the wooden letter to the cork tile with E6000 and a little hot glue for good measure. (Since the E6000 takes a while to set, I used the hot glue just to hold it in place so I could handle the cork tile.)
Speaking of flowers, I like this tutorial for rolled felt flowers over at Mrs. Priss. (I made some of these flowers for the frames in my crafty cubicle makeover, too!) I used white and two shades of pink for my flowers and added mossy green felt leaves. I used hot glue to adhere two of them in the corner of the tile and added the third to the wooden J.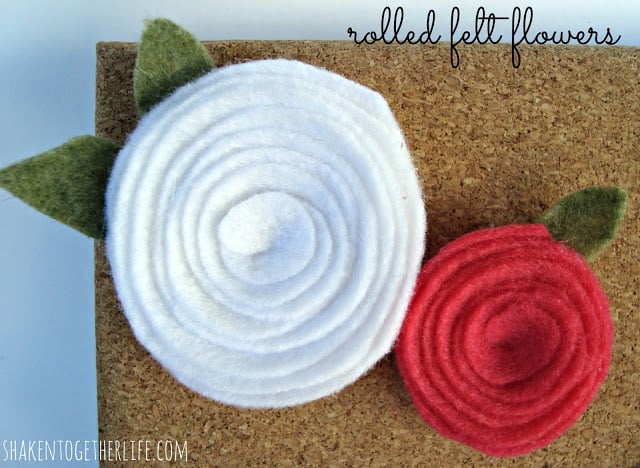 In the same corner as the felt flowers, I added light pink pom pom trim and a cute little flag garland! I used pretty patterned Scotch duct tape and pink polka dotted washi tape. Making this garland was so easy … just fold a length of tape over twine and then trim a triangle out of the bottom of each flag. I attached the pom pom trim and flag garland on the sides of the cork tile with hot glue.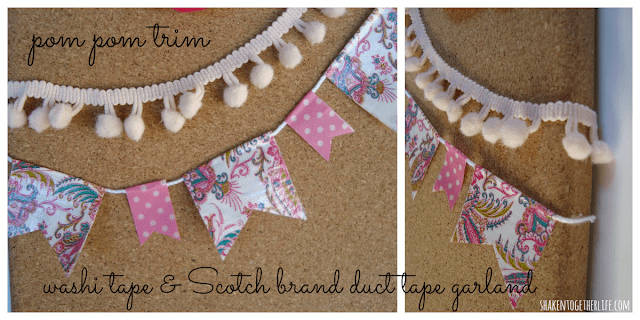 And there you have it – a gift that fits perfectly in her nursery now …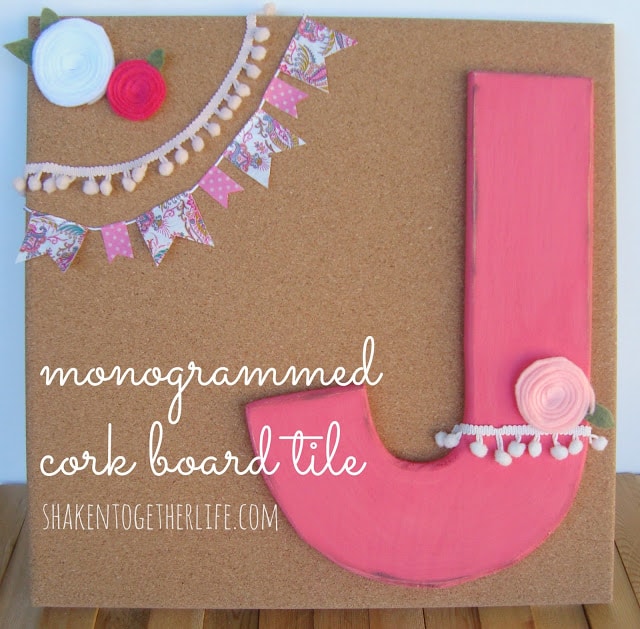 … and is just waiting for Janelle to fill it with pictures of teenage pop stars, ticket stubs, fortune cookie fortunes and all of the cool clutter from a teenage girl!