Today, I am back with more home made body care - I am sort of hooked if you can't tell!  And since Summer is right around the bend and that means more sun, salt water and time spent outside, I am sharing a moisturizing body wash with lavender and coconut milk!  Just in time to soothe stressed Summer skin!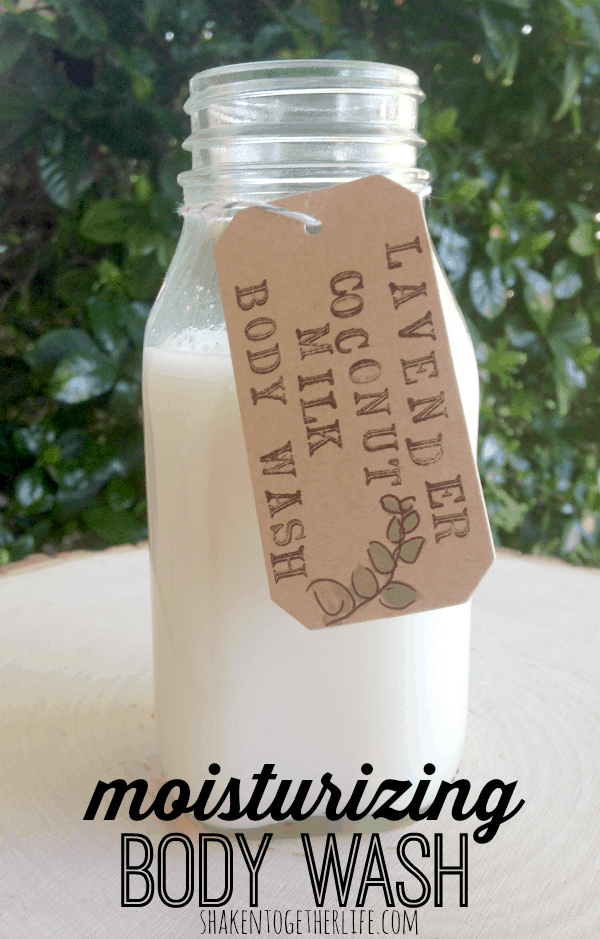 Make Moisturizing Body Wash with Lavender & Coconut Milk!
 ½ cup coconut milk
⅔ cup castille soap - I used Dr. Bronner's unscented Baby-Mild castille soap
2 teaspoons vegetable glycerin
3 teaspoons vitamin E (or sweet almond or jojoba oil)
10 - 15 drops Young Living Lavender essential oil
Stir or gently whisk all ingredients together.  Since I will not be ingesting this body wash, I am comfortable storing it in a small plastic bottle in my shower.  This body wash is thinner than store bought shower gels or shower creams, but it lathers like a champ and smells pretty darn amazing!



Castille soap is an organic base for our body wash.  Vitamin E (or sweet almond/jojoba oil) is nourishing and moisturizing. Vegetable glycerin makes the body wash bubble and lather.  All of these ingredients can be found at your local pharmacy, grocery store or health food store.
Coconut milk is extracted from the meat of the coconut and is packed with vitamins.  It is very nourishing. The natural fatty acids in coconut milk can soothe irritated skin, which makes it a great remedy smoothed on a sunburn.  You can even use it to condition your hair!  Coconut milk (not cream of coconut or coconut water) is in a can and I found it by the Asian ingredients in our local health food store.
Young Living Lavender essential oil is one of my very favorites!  This essential oil is steam distilled from the flowering tops.  The fragrance of lavender is calming and relaxing.
Moisturizing body wash with lavender and coconut milk is gentle, absolutely perfect after a little too much sun or for dry, thirsty skin!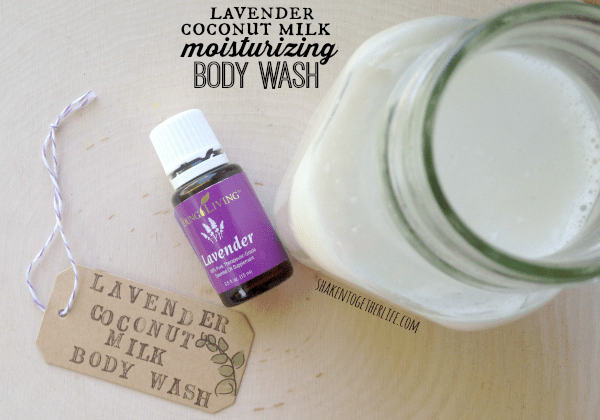 Want to know more about Young Living Essential Oils?
Join Simply Essentials – my Facebook Group where I regularly share information, post special offers and more!
Follow my All Things Essential Oil Pinterest Board for more great ideas!
Sign up to be a Retail Customer or a Wholesale Distributor (and save 24%)!
More Essential Oils DIYs ...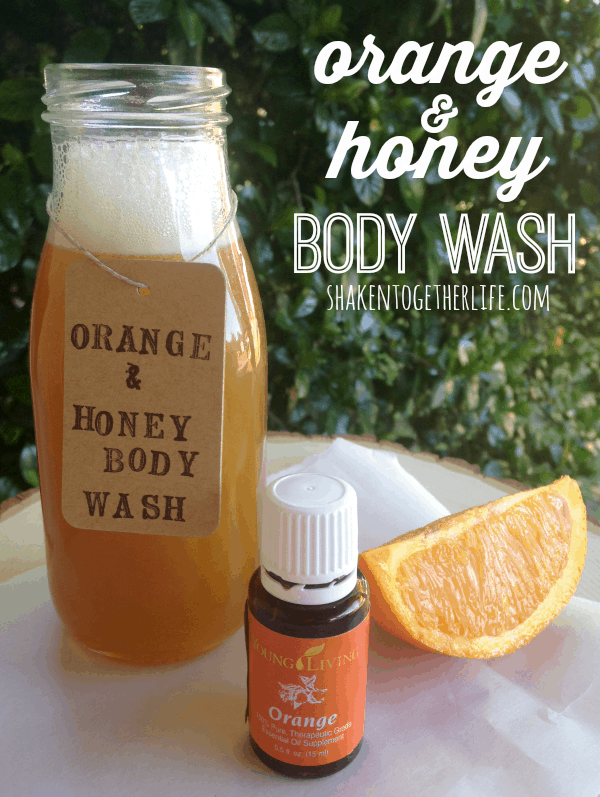 Wake Up Orange & Honey Bodywash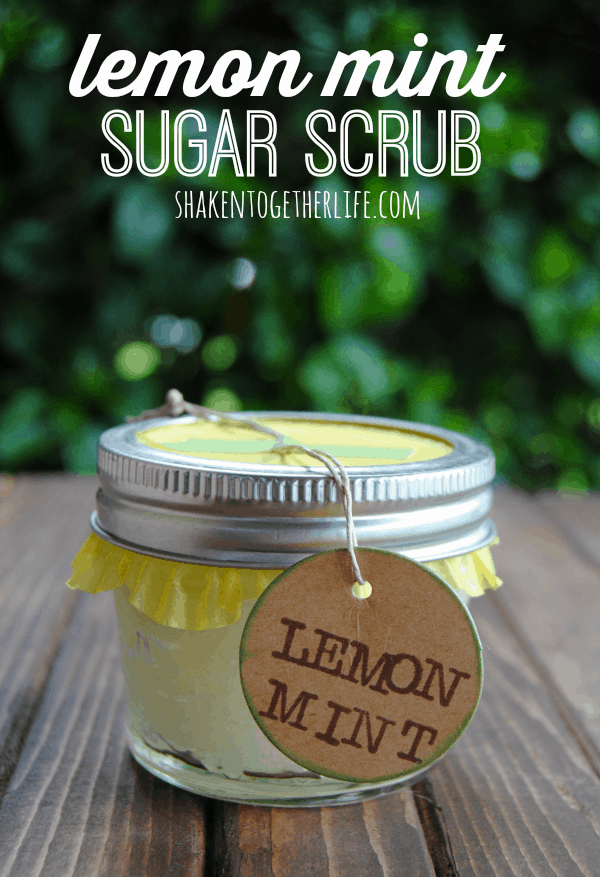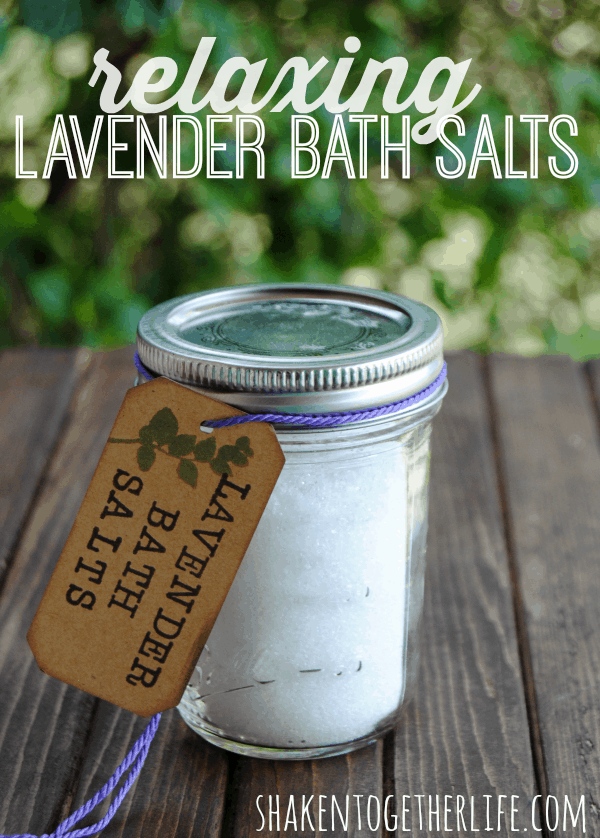 Disclosure: I am not a doctor or medical professional.  I am a momma and wife exploring how essential oils are helping our family. Any personal testimony is 100% honest.  Read, research and find what works for you and your family.  This statement has not been evaluated by the Food and Drug Administration.  This product is not intended to treat, diagnose or cure disease.
I love supporting fellow bloggers and Kristin at Live Simply has a beautiful blog with a very similar body wash recipe as well as other awesome homemade cleaning and beauty supplies 🙂