You may remember that until I made these
nutella swirl brownies
, I had never made brownies from scratch.  Well, until today, the same could be said for chocolate cake.  Now, why I chose an eggless chocolate cake as the first "from scratch" cake I baked, I'll never know.  But when I saw how easy this recipe was, when I realized that I had all the ingredients in my cabinets and when I knew I needed a little something sweet for the painting party I was hosting (
sneak peek on Instagram
!), I decided to give it a go.  And oh my word! is this cake DIVINE!
Rich.  Moist.  Deeply dark and chocolately.  Mini chocolate chips that get slightly melty since they are sprinkled on when the cake is warm.  Oh!  And gone in a flash if you don't hide it from hungry boys before you are able to take pictures.  Rescued at the last minute, I was able to save the last few intact slices from a ravenous thirteen year old to stage a quick photo shoot.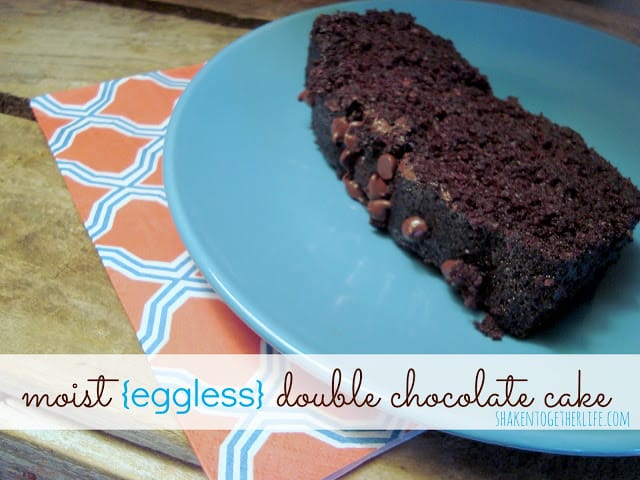 moist eggless double chocolate cake
Yield:  1 loaf pan or 1 dozen cupcakes 
Original recipe found at Storybook Reality
1 and 1/4 cup all purpose flour
1 cup granulated sugar
1/3 cup cocoa powder
1 teaspoon baking soda
1/2 teaspoon salt
1/3 cup vegetable oil
1 cup warm water
1/3 cup of mini chocolate chips (reserve to sprinkle on top)*
*This recipe is completely vegan if you use vegan chocolate chips.
Mix all ingredients above together using a hand or stand mixer and pour into loaf pan sprayed with non-stick cooking spray or cupcake pan.  Batter will be very thin – like "Did I forget an ingredient?" thin.  Don't worry.  You didn't!  Bake in 350* oven for 25-28 minutes.  You can use the traditional toothpick test for done-ness, but since this cake is SO moist, you'll know it's done when no liquid batter is present when the toothpick is removed from the center of the cake.  While the cake is still warm, sprinkle the top with mini chocolate chips. Allow to cool, slice and serve!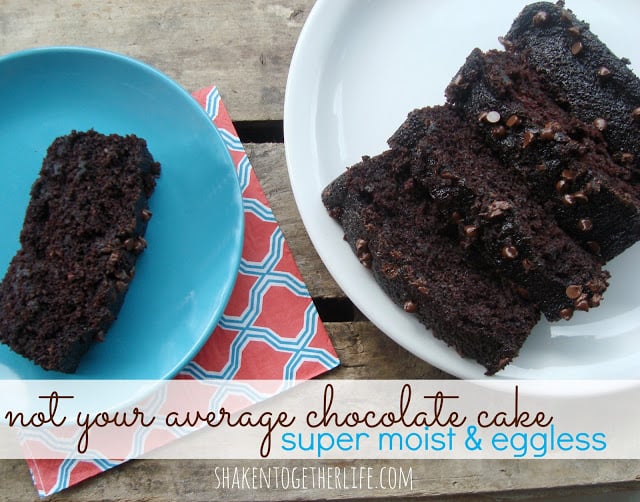 This super moist eggless double chocolate cake is the perfect way to splurge on dessert for chocolate lovers, those with egg allergies or my vegan friends out there!  But seriously, this cake is just pretty darn tasty!  And I would have to think this recipe would have to make the most mac-daddy chocolate cupcakes under the sun!  I'll try it and let you know, k?
More ridiculously delicious chocolate recipes:
This post was shared at the awesome parties on my Link page!