I remember when I was little, my grandma would give me just the tiniest bit of coffee with tons of milk in a mug so I could sit at the table and drink it with her in the mornings.  She lived in the center of Toledo, OH and there wasn't much of a view outside of her kitchen window (except this big tall tower topped with a huge flame that was used to burn oil or gas at a gas plant that we called "The Hot") but we would sit together and quietly enjoy our "coffee".
Since Camden is super sensitive to caffeine (remind me to tell you about the C.R.A.Z.Y. sleepwalking episodes!) and can't drink even really diluted coffee, I wanted to come up with a festive holiday drink for the boys to enjoy with Chris and I for Christmas breakfast.  And I did!  And the boys totally dig it!!
Move over hot chocolate, there is a new holiday drink in town!
Mocha Peppermint Milk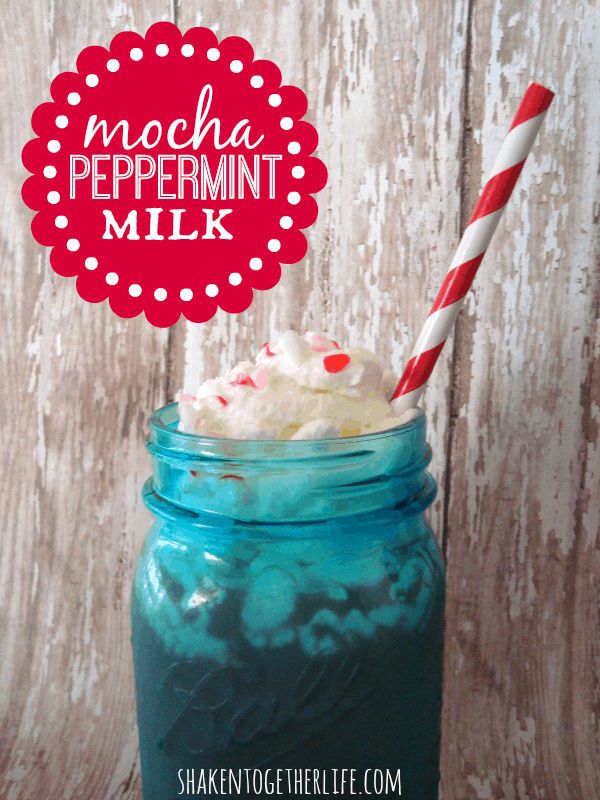 This recipe for mocha peppermint milk is SO easy and can be switched up depending on what flavor you want to add … ready?
In a mason jar – because it just makes everything taste better! – pour in 8 ounces of cold chocolate almond milk.  You can use regular chocolate milk,too. (I love chocolate almond milk because it is unbelievably yummy  and has less calories and more calcium.)  
Stir in 2-3 tablespoons of Peppermint Mocha Coffeemate liquid creamer.
Top with whipped cream and sprinkle with crushed candy canes or peppermint bits!
Add a striped straw (again, cute = tasty) and enjoy!
I used this same recipe to make my Skinny Eggnog – DELISH!  I bet chocolate almond milk + hazelnut creamer would be awesome, too! But for Christmas breakfast?  It's mocha peppermint  milk!
Drink up and cheers!! A few more of our favorite festive drinks!
Birthday Cake Ice Cream Floats
This post may be shared at these awesome link parties: