It is week 2 of the Bloggy Olympics!! Do you know that means?! KITCHEN WEEK!!!

Now, you all know I love to craft and create. BUT … there is just something about putting together "a little of this" and "some of that" and ending up with a total delightful experience for your taste buds!!

Don't forget that my two co-hosts, Bailey at Let Birds Fly and Jane at Adventures in Dinner are also sharing their awesome kitchen posts! We want you to get into the kitchen this week with us, maybe try out some of our tutorials, whisk up a kitchen-y post or two of your own so you can join us this Thursday for a big ol' olympic link party!!


Check out Jane's post here for a delicious recipe and the details for a deliciously gorgeous giveaway from Emily Warner Designs!!

So, let's head into the kitchen for a fun appetizer that is perfect for summer entertaining … mini reuben sandwiches!!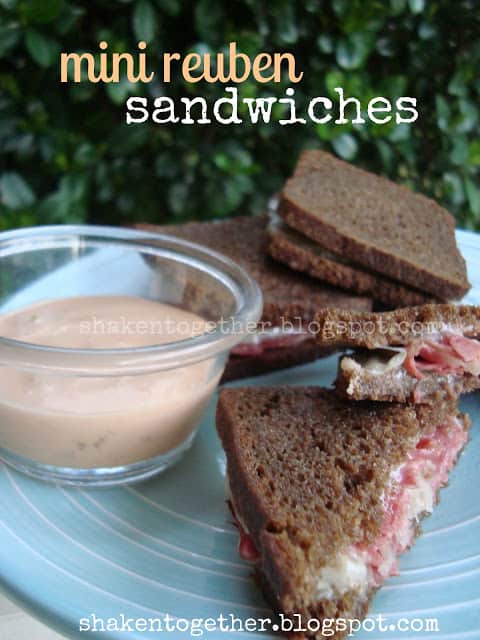 There is just something about "mini" food that make it so much more fun! And with all the down time and pool-side cocktails parties of summer, I am always looking for a new appetizer to serve!


While I was waiting at the deli one day, my eye landed on those little loaves of pumpernickel cocktail bread. SO cute! And since I was already at the deli … the corned beef and swiss cheese called out to me and this appetizer was created!


Hit your local deli/grocery store for:


– corned beef, cut thin
– swiss cheese slices, cut thin
– sauerkraut
– thousand island salad dressing
– pumpernickel cocktail bread


Grab butter from your fridge and let's get to work! I would recommend a griddle or large skillet/saute pan for these little guys, so get one heating up!


While your pan/griddle is heating, drain the sauerkraut and pat it dry with a paper towel. Butter one side of the cocktail bread slices and get ready to assemble …


We added thin layers of swiss cheese, corned beef, dressing, corned beef and swiss cheese again so all of the melty cheese can keep the other ingredients corralled! Place the sandwiches on your griddle or pan and flip as the first side crisps and the cheese melts.


Cut diagonally and serve with additional thousand island for dipping! Teeny tasty reubens … coming up!!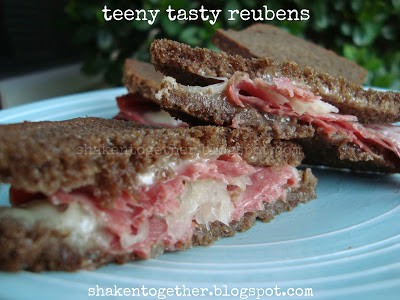 Just think of all the cute little mini appetizer sandwiches you can make now … brie and thinly sliced apples, classic roast beef with pepper jack cheese for a kick, pepperoni and mozzarella with marinara to dunk in, layer sharp cheddar and thin slices of tomato … endless possibilities!!


I will definitely be spending time in my kitchen all week and I hope you do, too! I'll share some of favorite kitchen tools, another recipe (or two!) and a crafty tutorial … Kitchen Week is cookin' now!!!

This project or recipe was shared at the blogs on my Link page!