While the kitchen is definitely my domain, without a doubt, Chris is the master of the grill in our house.  I simply do not have the patience to wait for coals, I flip everything over a thousand times and I can't help myself from smooshing down burgers which is the kiss of death for a burger from what I hear.  So, one day while he was out carefully tending coals and dreaming of ribeyes, I decided to make homemade BBQ sauce.  In a mason jar.  No measuring cups needed!  And I'm pretty sure this would make an awesome Fathers' Day gift!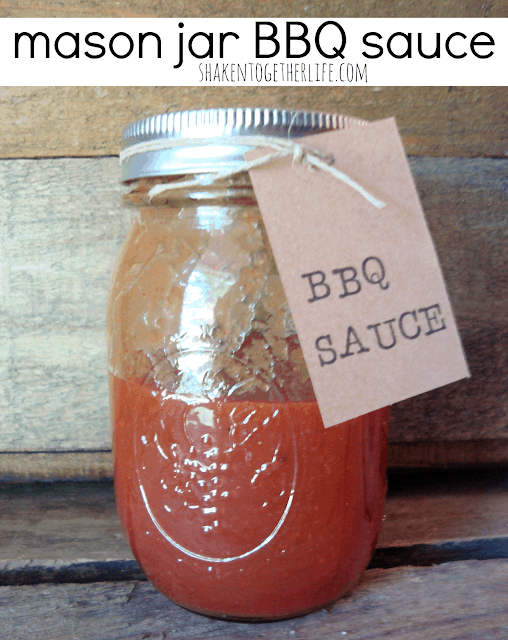 This is one of my favorites sauces straight from the pages of a 1970s Betty Crocker cookbook that my mom passed down to me.  It is tangy from the vinegar but still gets a touch of sweetness from the ketchup and brown sugar.  And the best part is, the mason jar has built in measurements right on the side so just add your ingredients and SHAKE!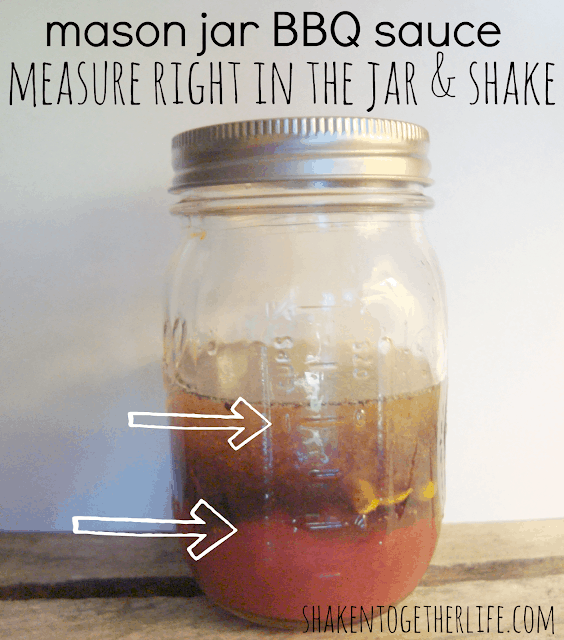 mason jar BBQ sauce
adapted from Betty Crocker's Cookbook
Yield:  About 1 cup of sauce

1/2 cup ketchup
1/4 cup white vinegar
1/4 cup water
1 1/2 teaspoons brown sugar, packed
1 1/2 teaspoons prepared yellow mustard
1 1/2 teaspoons Worcestershire sauce
1/4 teaspoon salt
1/8 teaspoon black pepper
1/8 teaspoon garlic powder
Hot sauce to taste, optional

Measure the ketchup, vinegar and water in the mason jar – use the measuring lines on the side!  Then, add the other 6 (or 7 if you add hot sauce) ingredients and shake!  I added a stamped tag tied with jute and a circle of kraft paper on top of the jar lid for a more "manly" presentation.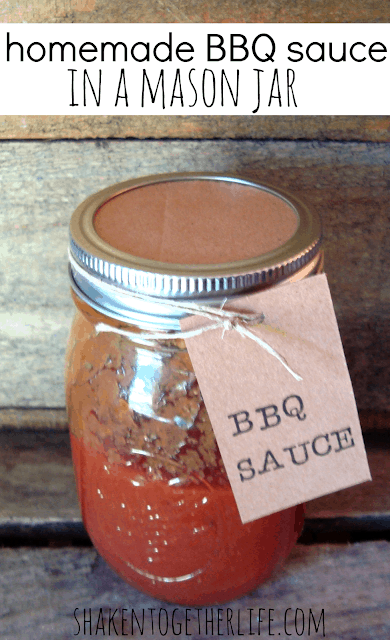 There is not a whole lot of "manly stuff" on this blog, but here are 3 of my most manly posts:
This post was shared with the awesome parties on my Link page!