I am a member of the Collective Bias® Social Fabric® Community. This content has been compensated as part of a social shopper insights study for Collective Bias® and Fruti #cbias #SocialFabric #FreshNFruti. BUT, I won't share something with you I don't love and these parfaits get two thumbs WAY up!
Spring has sprung in my neck of the woods … the temperatures are warming up, the birds are building a nest on our porch again, we are sweating it out at baseball games and I am totally craving cool sweet treats like frozen fruit bars, soft serve ice cream and smoothies. When I had the opportunity to purchase the new Chunks O' Fruti 100% Natural frozen fruit bars at Walmart and create a recipe using them, I knew it was a match made in heaven!
Feast your eyes on these frosty, fruit filled mango piña colada parfaits made with Fruti frozen fruit bars!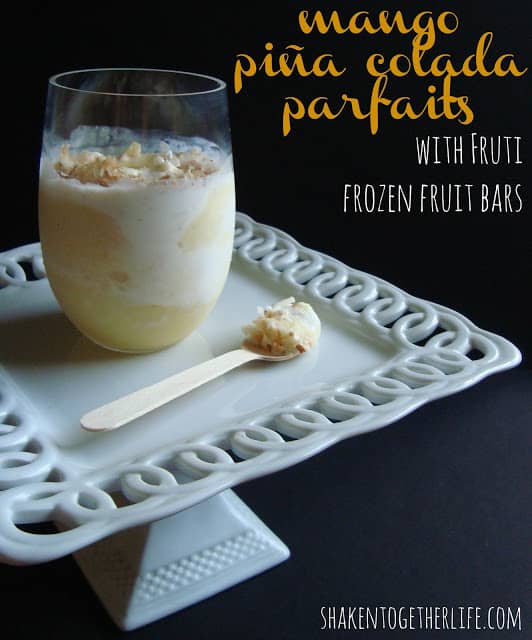 Mango Piña Colada Parfaits
Yield: 2 large parfaits (4 layers each) or about 8 small parfaits (2 layers each)
1 box (4 bars) of Chunks O' Fruti Mango Pineapple frozen fruit bars
8 oz. of liquid – piña colada mixer, pineapple juice, mango nectar (or 6 oz. liquid + 2 oz. of Bacardi rum for adults)
1 1/2 – 2 cups of vanilla ice cream (or frozen yogurt, or coconut sorbet), softened
1/2 teaspoon coconut extract
Garnish with toasted macadamia nuts, coconut and pineapple crisps
To toast the macadamia nuts and coconut, place a few tablespoons of each in a dry skillet on medium heat. Stir constantly and keep a close eye on them. When you can smell the nuts and coconut (it took about 3-4 minutes at my place), remove the mixture from the pan and set aside to cool.
Stir the coconut extract into the softened ice cream. It should be soft but not too liquid, so return it to the freezer for a minute or two if you need to before you assemble your parfaits.
Cut the Chunks O' Fruti Mango Pineapple bars into 1 inch chunks and place in the pitcher of your blender. (The Fruti bars are really easy to remove from the sticks and cut into pieces.) Add the liquid to the blender and blend until smooth.
In pretty glasses, sundae cups or small bowls, layer the mango pineapple mixture and ice cream. Sprinkle the tops of your parfaits with toasted macadamia nuts, coconut and crunchy pineapple crisps for a yummy crunchy tropical topping.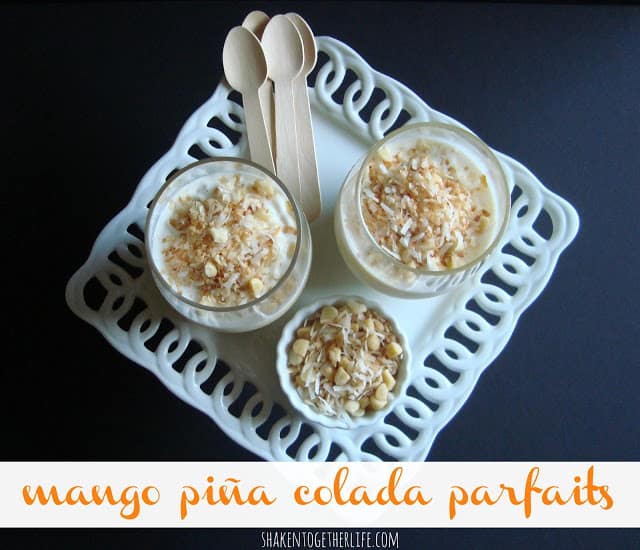 Don't they look yummy? The Fruti bars are packed with fresh fruit (it's the first ingredient!) and are all natural, so I loved that burst of all fruit flavor as I dug through the layers in these parfaits – tart, tangy and totally tropical!
The Fruti frozen fruit bar boxes have recipes and instructions for cocktails and smoothies, so the Fruti bars are perfect to keep on hand for parties and get togethers! How fun is that?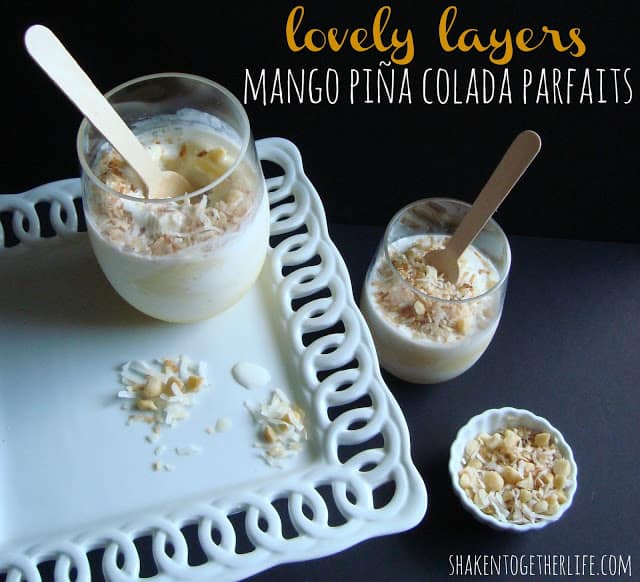 You better believe that these will make a repeat performance as the weather warms up! We have already made piña colada smoothies with the leftover juice, vanilla protein powder and the Fruti Piña Colada frozen bars … it's like a day in the tropics for breakfast!

Stay in touch with all the cool news from Fruti on Twitter and Facebook, too!

This post was shared at all of the link parties on my link page!