This post brought to you by Fresh From Florida. All opinions are 100% mine.
Nothing says Spring time to me like citrus!  One of my favorite memories growing up in rural Central Florida was driving down the road with the windows down so we could smell the orange blossoms in bloom.  There is just something about beautifully bright lemons and limes, grapefruits and oranges.  And next to all that citrus, our grocery stores are just bursting with bell peppers, eggplants, squash, sweet corn and tomatoes.  So, despite my love-hate relationship with our sweltering Summers, I really can't complain when I come home with these Fresh From Florida veggies in March …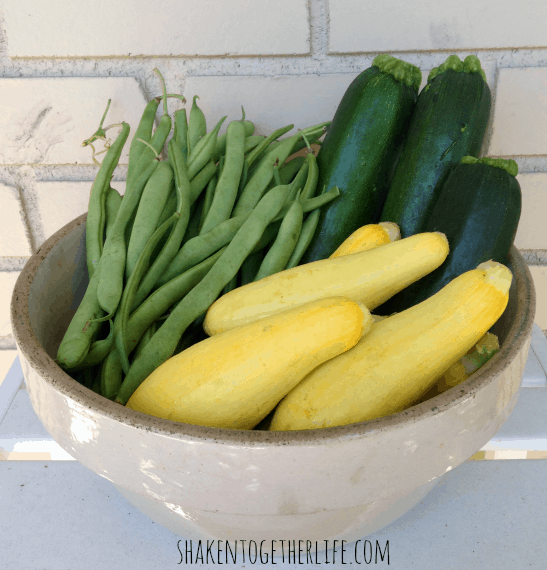 Smooth yellow squash, vibrant zucchini and fresh green beans … they were just too gorgeous to pass up!  And it was only natural that I pair these beauties with bright, tangy lemon for a beautiful Spring side dish.
Lemon Roasted Vegetables

These lemon roasted vegetables are simple, uncomplicated and absolutely delicious!  Chris and I had to split the leftovers for our lunches the next day because they were just that good!
First, wash all of the vegetables.
Then, remove the ends of the beans and tops/stems of zuccinin and squash.
Chop the vegetables in fairly large chunks.  Squash and zucchini have a lot of water in them so if you cut them too small, they will fall apart.
Toss the vegetables in olive oil and spread on a parchment lined baking sheet.
Sprinkle with salt and pepper to taste.
Zest one large lemon over the vegetables.
Finally, squeeze the juice of the zested lemon over the vegetables.
Roast the vegetables at 400* until they are golden brown and fragrant.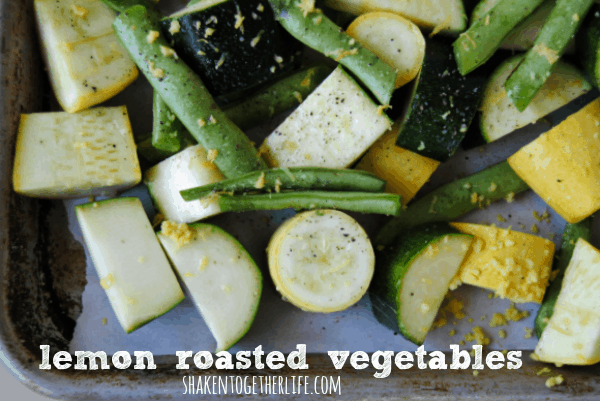 Our kitchen smelled SO good when they were cooking – there is no doubt that there is lemon all over these veggies!  These were the perfect healthy Spring side dish for a pork loin and cous cous on a Sunday evening.  Both of my boys added these to their plates voluntarily – I didn't even have to sweet talk them to eat their vegetables!
Don't miss these other recipes that celebrate our great Sunshine State!
Shrimp Nachos with Creamy Garlic Cheese Sauce
Strawberry Pancakes with Strawberry Orange Sauce
Want more recipes like these?  Connect with Fresh From Florida on Facebook or connect with Fresh From Florida on Twitter!
This post may be shared with these link parties: