Are you ready friends?  Because here we go!  Valentine crafts, gifts and all things hearts, love, pink and red … full steam ahead!  Well, mostly.  Surprisingly, there is actually not a stitch of red or pink on today's sweet little gift.  And there is not a heart in sight.  Nope, I went a little nontraditional with a chubby little mason jar filled with lemon drops and tied with a hand-stamped lemon tag!  But I'm pretty sure you are going to love it!
Pucker Up, Valentine! Lemon Drop Valentine Mason Jar Gift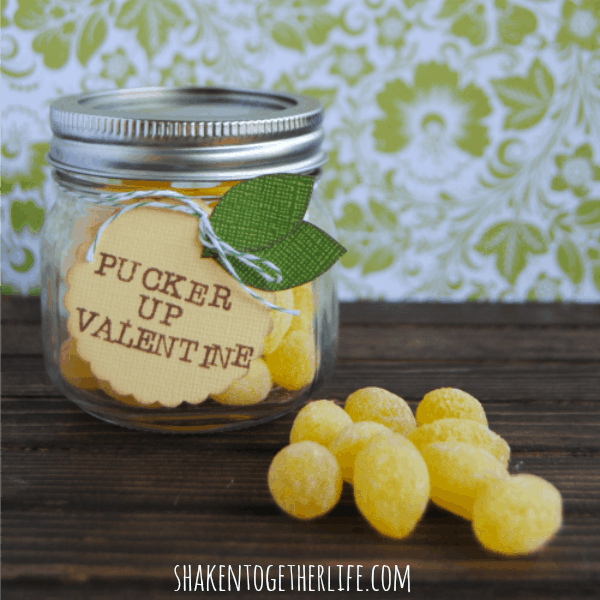 And by now, you should know that I a sucker for puns and cheesy sayings.  Last year's peas and carrots Skittles Valentine and Valentine candy corn mason jar were definitely clues that this girl is (happily!) a word nerd.
So, not that you really need a long and winding tutorial, but here is how I whipped up this Valentine mason jar gift!
First, fill your mason jar with lemon drops or any lemon flavored candy: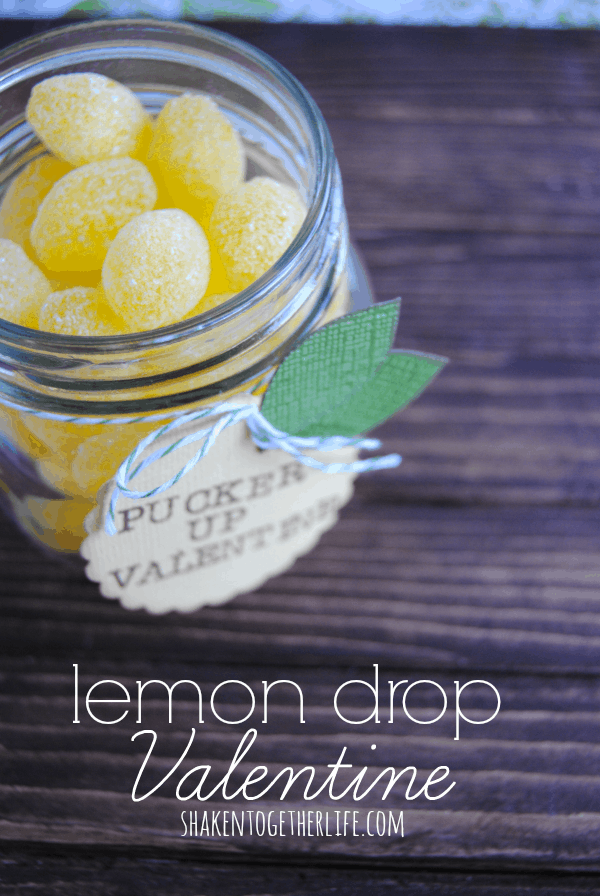 With a 2 inch scalloped circle paper punch, punch a circle out of lemon yellow card stock.  Yes, I know lemons are not round, but I took  a little creative license on this one.  Especially since I couldn't find a lemon shaped punch 😉  If you don't have a punch, you can just wing it and hand cut a lemon or go with a circle.  Use small alphabet stamps or your pretty penmanship to add "Pucker Up Valentine" on the tag.  Cut out two leaves from green card stock and attach them to the lemon with adhesive.  Punch a small hole in the top of the paper lemon.  Finally, run an ink pad around the edges of the lemon and leaves to give them a little character.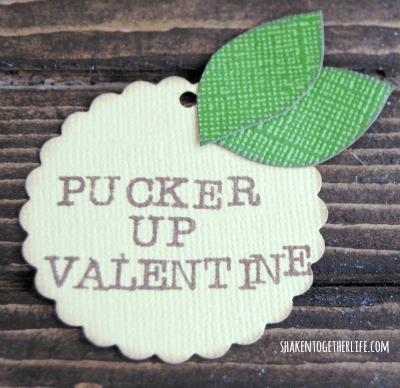 Now, just tie the lemon tag on to the mason jar with twine, ribbon or green striped bakers twine.  You can add a little love note for the recipient on the back of the tag.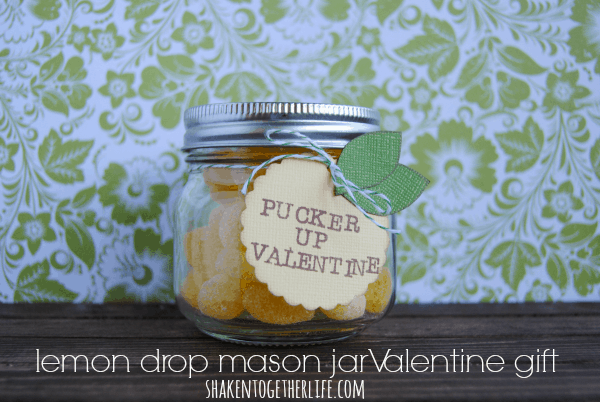 I just love the bright yellow and green!  And I love lemon drops, so this would be a perfect gift for me.  And I love the cheesy little love note.  I guess, I just love love!  
More mushy little lovey dovey Valentine gifts …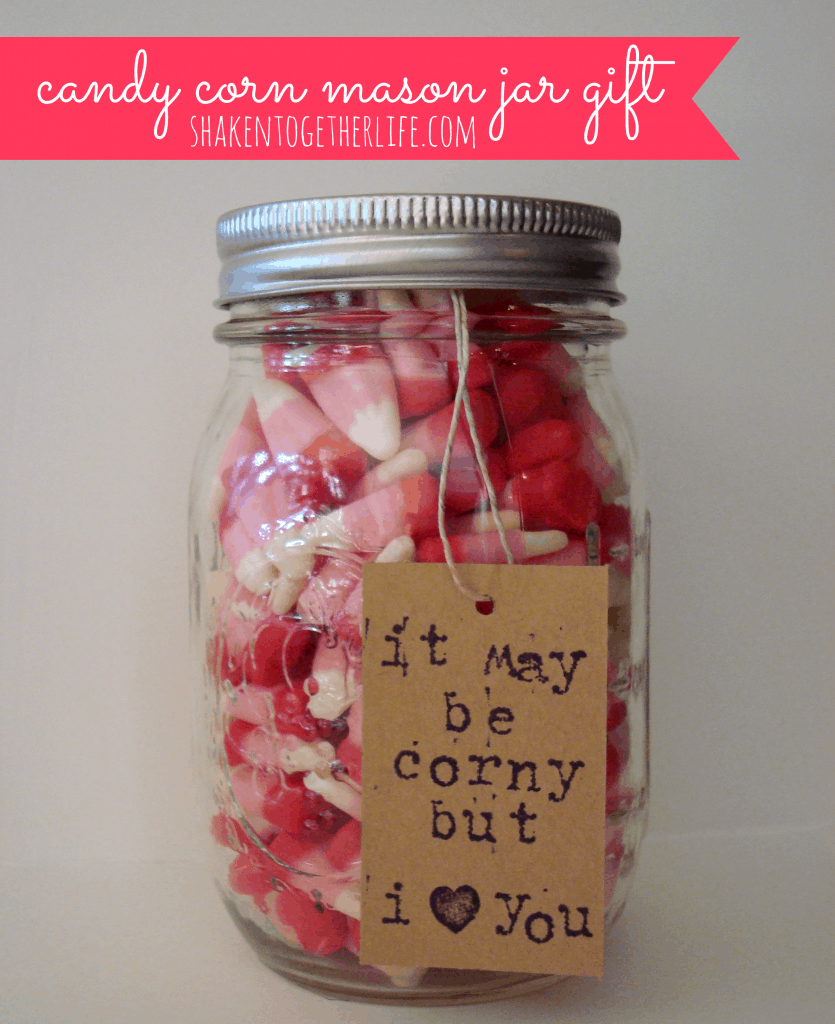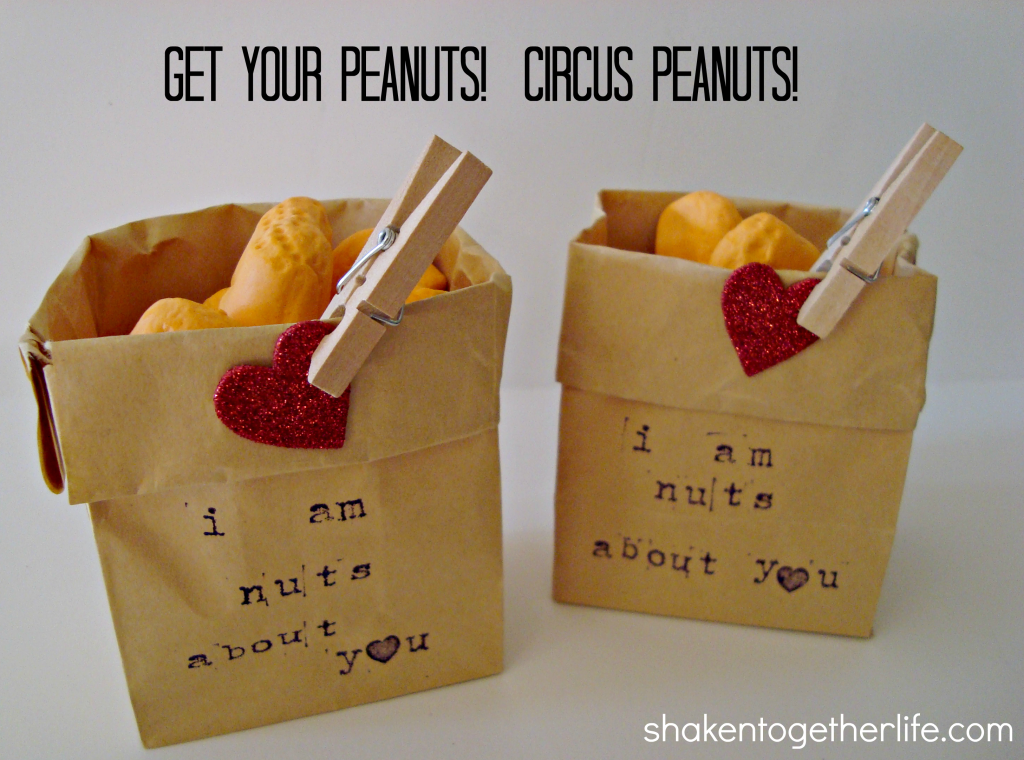 I'm Nuts About You Circus Peanut Valentine