Every now and then, you stumble across a blog that you love, connect with the author through comments and form a pretty cool friendship (even though you may be from Maryland and Florida)!  That is exactly what happened with Jocie!  She is a down to earth mom of two spunky little red heads, a fellow DIY and craft enthusiast and one of the nicest people you could ever hope to "meet".  And today, she is sharing 5 easy, last minute Thanksgiving decor ideas with us!

Take it away, Jocie!!
My name is Jocie (pronounced Jah-see) from One Project Closer, where I am one of  four friends (two couples) who love to DIY our homes! While our husbands tackle the hard-core DIY, I handle the softer side of DIY with decor and crafts. Meanwhile, my friend Kim works hard to give you the most up-to-date Home Depot savings on the web, and just in time for the holidays! We hope you'll stop by and say hello!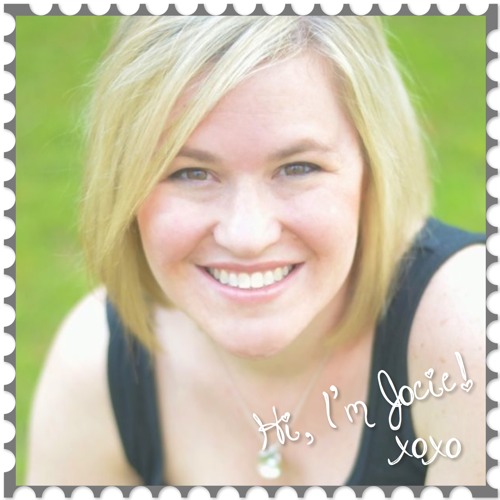 Here are my easy and last-minute Thanksgiving decor ideas!
1. Pine Cone Place Card Holders
I had my girls go out in search of pine cones, then we rolled them in glue and glitter. How cute are these?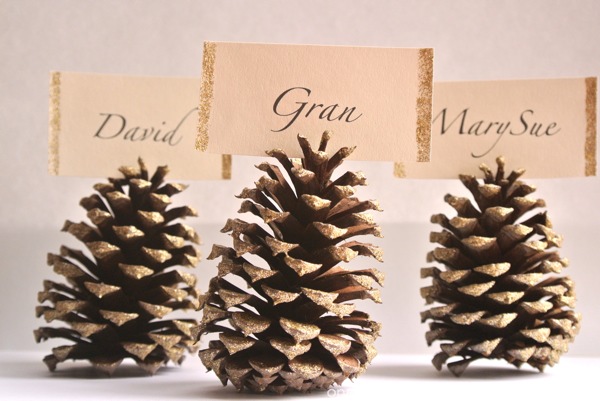 2. Pumpkins and Candles
It doesn't get any easier than this! I arranged a bunch of white pumpkins in varying sizes, added a bunch of candles, and put them out of reach so that the kids don't burn the house down. lol.
3. Burlap
I love white burlap because it's so inexpensive and doesn't need sewing. I made a few easy table runners and bunting, which added a touch of fall and brought it all together.
4. Painted Mason Jars
I love Annie Sloan Chalk Paint and I have way too many mason jars floating around my house. Put them together and they make beautiful last-minute vases, utensil holders, and centerpieces.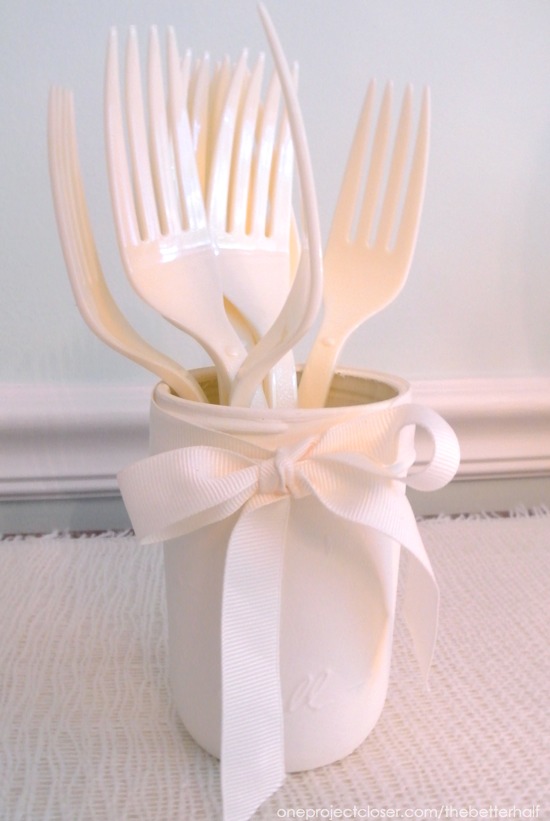 5. Chalkboard Birdie
I bought this unfinished wood bird at Michael's for a couple of dollars. Then, I painted it with ASCP Old White, then finished it off with DecoArt Chalkboard Paint (clear) and a ribbon.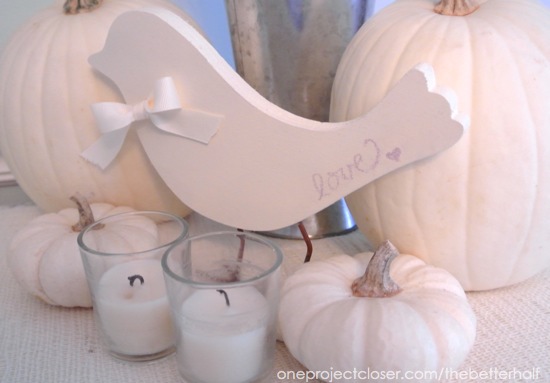 Hope to see you again soon and thanks for reading along! Don't forget to check One Project Closer out on Facebook and Pinterest!
You can't even help but love her, right?!
I can't wait to incorporate Jocie's last minute Thanksgiving decor ideas for our holiday!  If you're like me and can't get enough, here are some of my favorite holiday projects from the talented and crazy creative Jocie:
Dollar Store Christmas Trees Under $5