I'm sure it comes as no surprise that seasonal baking (okay, ANY baking) is one of my favorite things!  Give me sprinkles, candy canes and chocolate candy to bake with and I am one happy girl!  So, Saturday morning, I headed out to my local Walmart stores (see my early bird shopping trip HERE) to pick all of the supplies to make Jingle Sugar Cookies for a holiday sweet swap we had at work!!  

These simple holiday cookies are easy to make, they bake up beautifully with all of those chocolate-y, peanut butter-y bits of Butterfinger and are perfect for holiday parties or cookie exchanges!  That's exactly where mine are headed!  

Jingles Sugar Cookies
Yield: at least 24 cookies
Recipe HERE
20 Nestle Butterfinger Jingles, unwrapped and chopped
1 & 3/4 cup all purpose flour
3/4 teaspoon baking soda
1/4 teaspoon salt
3/4 cup granulated sugar
1/2 cup (1 stick) butter softened
1 egg

In a large bowl, cream the butter and sugar and then mix in the egg.  In a separate bowl, mix together the flour, salt and baking soda.  Gradually add the dry ingredients to the wet ingredients and combine thoroughly.  Stir the chopped Butterfinger Jingles into the cookie dough – I used a wooden spoon.  Drop by rounded tablespoons (or use a small cookie scoop) onto an ungreased cookie sheet or my favorite, baking stones.  Bake for 10-12 minutes until the center of the cookies are cooked through and the edges are lightly golden brown.  Allow to cool briefly on the sheets and then remove to wire racks to cool completely.  ENJOY!!



I've got an "in" and I'm pretty sure the man in red would love to find these waiting for him 😉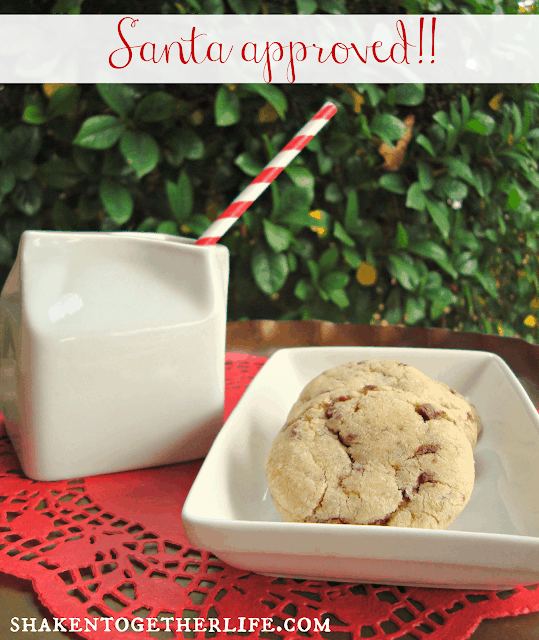 Once my cookies were baking, I decided to do a little holiday decorating!  I came up with a fun candy station near our front door so all of our holiday guests can take a little something sweet with them as they go!  Of course, I stocked it with the Spree candy canes, SweetTarts candy canes and Butterfinger Jingles!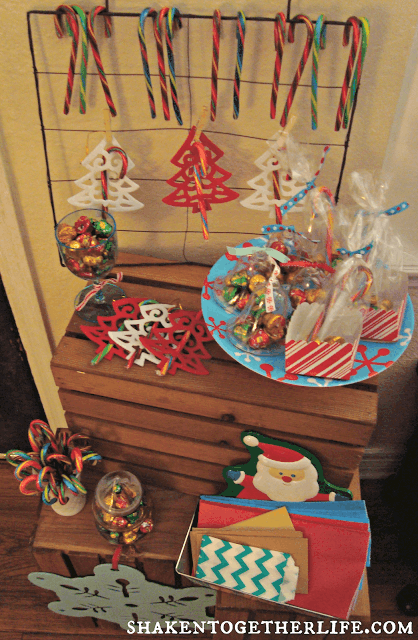 I stacked a few wooden crates together and got decorating!!  There are all sorts of little treats stocked at this station:  felt Christmas tree ornaments with a SweetTarts or Spree candy cane woven in, plastic bell-shaped ornaments full of the bell-shaped Butterfinger Jingles, a cute little tree filled to the brim with candy, a metal Santa basket stocked with bags for guest to tote their treats home in, a turquoise wine glass also filled with Jingles with a ribbon tied on the stem, a felt snowflake place mat tied with a ribbon to the front of the display … SO much fun!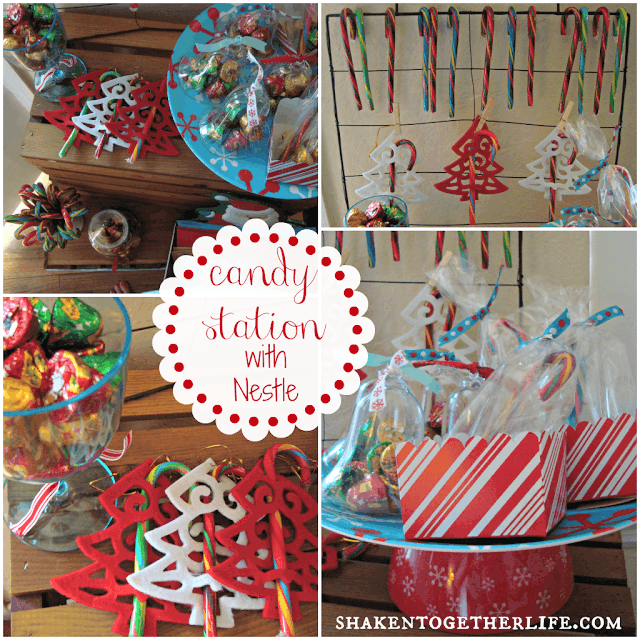 See that cute little snowflake cake plate?  It is actually an inverted bowl and snowflake plate … this makes it much easier to store once the holidays are over!  I love that my guests will leave with a little something for their home or Christmas tree and something yummy to satisfy their sweet tooth!!
You can also connect with Nestle on Facebook and on Twitter so you don't miss one sweet thing!

Disclosure:  "I am a member of the Collective Bias® Social Fabric® Community. This shop has been compensated as part of a social shopper insights study for Collective Bias™ and Nestle #CBias #SocialFabric."  All opinions are my own.
This project or recipe was shared at all the blogs on my Link page! Go take a peek … they rock!