That's what the vet said, softly and gently. But that doesn't mean it didn't break our hearts. Correction, rip them straight from our chests.

Awesome aka Boss, our handsome nutty 4 year old cat, had started eating less and less in the last few days and stopped drinking as of yesterday. He was losing weight. Our vet was closed yesterday, their emergency service didn't pick up until 6pm and I could tell that he needed to be seen right away. We called another local vet who said I could come wait and they would try to fit us in before they closed at 7pm.

So we waited. And I reached in and stroked his head through the top of his carrier, murmured to him while the tip of his tail lifted half-heartedly and he tried to make a barely discernible purr. The Saint took the boys to the ball park for practice since we weren't sure what would happen. Truthfully, I figured a shot of antibiotics, some fluids, maybe a stay over night and Boss would be as good as new.

But his kidneys were failing. They were enlarged and had lost 80% of their function. Probably from a virus or cancer or a congenital defect we didn't know he had. "It's not treatable." So I called The Saint to bring the boys to say a last good-bye to our lovey Boss. And I took pictures of all of my favorite parts of him, so I would never forget them…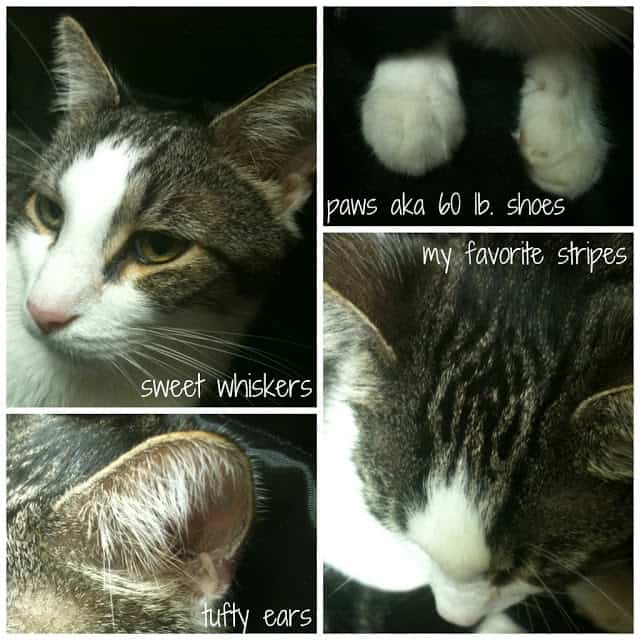 His handsome face and whiskery whiskers … his paws (that we called his 60 pound shoes because he somehow transformed to weigh as much as a small elephant while walking on our chests in bed) … his sweet tufty ears … the stripes we petted hundreds of thousands of times.

I petted his head, the part I figured didn't hurt, and stroked his whiskers again and again as he closed his eyes, his way of telling me he understood. Whispering to him, letting him know how much we loved him, how sorry we were, that we weren't ready for him to go yet, that we would take care of the Kitten Ninja for him … and then I could hear the boys wailing in the waiting room.

We all cried together and took turns holding him and nuzzling his face until the vet came in to start the humane anesthetization that would eventually send his sweet soul back to heaven.

And this morning, he didn't lay his paw on my cheek to tell me it was time to get up two minutes before the alarm went off.

He didn't scratch my leg impatiently while I got his food ready.

He didn't wait for me to open the front door so he could watch the world go by.

He didn't turn his head at the sound of his name or put up with me calling him all sorts of baby names like Bossy, Bossy Boo, Lovey Lou or My Lovey Love.

He didn't growl as the Ninja crept up behind him to pounce. (And she keeps waiting for him around corners and at the bottom of the stairs. And she slept in his place on our bed last night.)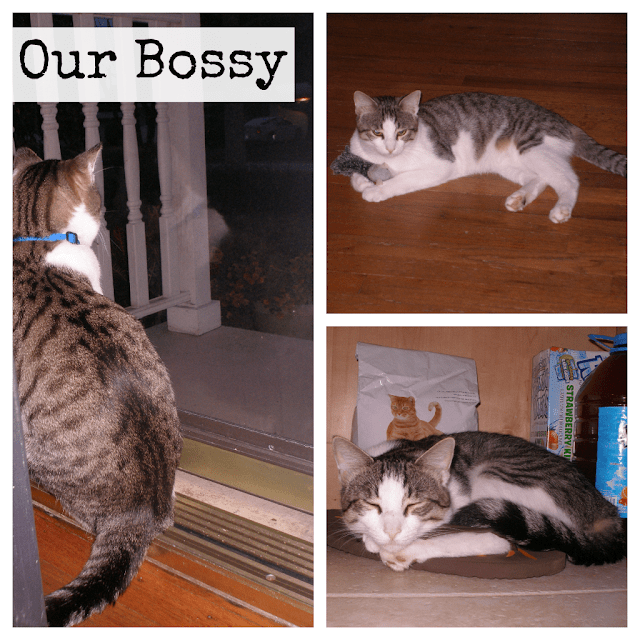 He didn't take his position on the back porch to keep an eye out for raccoons or armadillos.

I don't hear his claws clicking across the hard wood floors or his tongue as he drinks out of a cup at the sink – no water bowl for him!

He won't meet me at the front door because he hears my car alarm honk.

And he won't stand on my chest and purr until I get up.

He won't listen to a thunderstorm on the back porch with The Saint.

Or lay in his lap and put holes in all of his shirts as he "makes biscuits" on The Saint's belly.

And he won't strike fear in the hearts of feather dusters and catnip mice everywhere.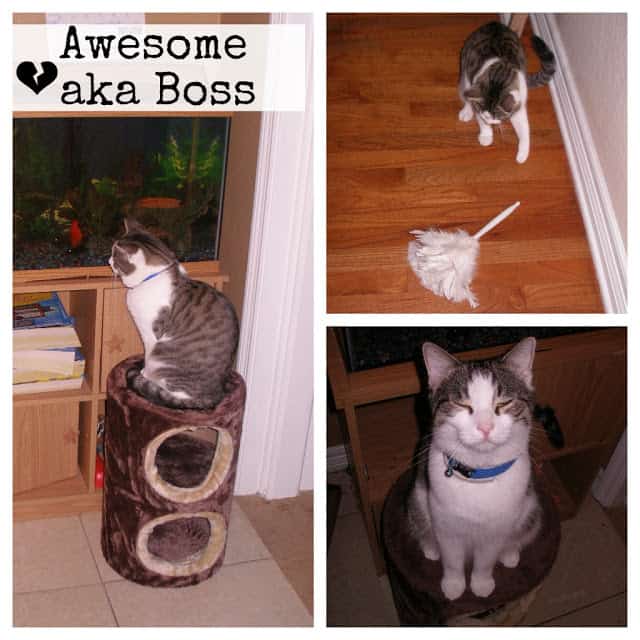 He won't climb into cardboard boxes or paper grocery bags.

He won't come padding out, blinky eyed and sleepy, from whatever secret sleeping place he'd been in.

Or spend hours perched watching the fish in the fish tank.

Or sit on the edge of the tub while I shave my legs and drink out of the faucet (him, not me).

Our eyes are red and puffy, chests tight, faces drawn and hearts oh-so-heavy.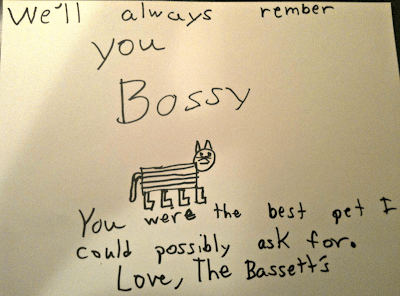 It was the last kind thing we could do for him. Or so we keep telling ourselves.