I don't know about you, but we had a pretty jam-packed weekend. And I thought I would share it in words and pictures today…
Friday, the Bigger Bug turned 11 (eek!) and we had about 25 folks over to celebrate. Five kids stayed over and stayed up until almost 4am. Despite my best efforts to hide all Sharpies, we did have one victim kid who woke up with a new, nearly-permanent tattoo on his face and arm. Luckily, soap, water and a little elbow grease took care of it – PHEW!
And as promised, here are a few pictures of the finished party product: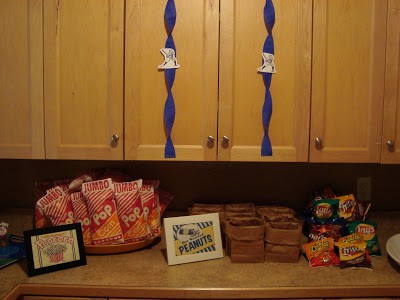 The concession stand is officially open for business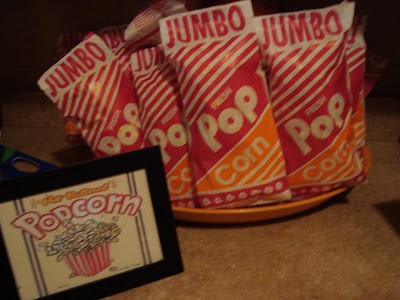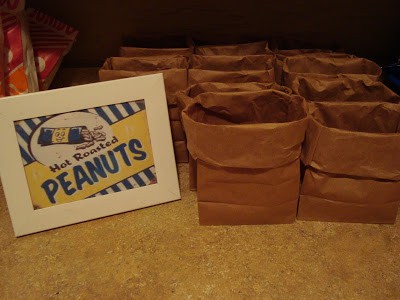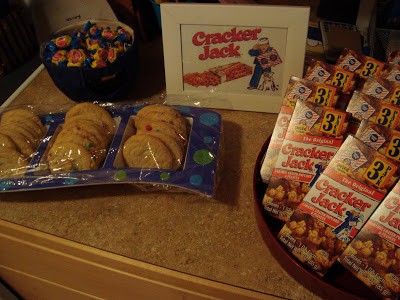 Instead of a glove, I ended up filling a bowl with gum and tucked it inside a baseball cap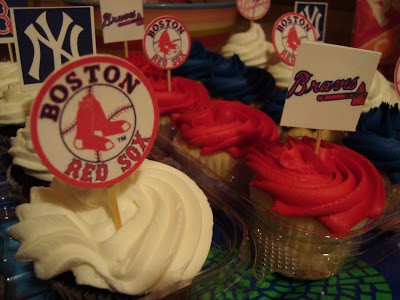 The cupcake toppers were a hit!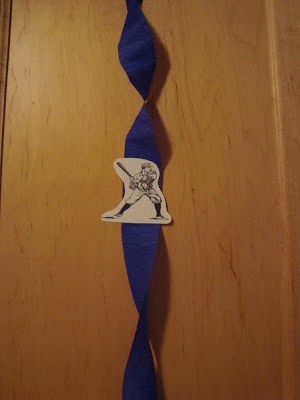 I downloaded this vintage baseball player from The Graphics Fairy and anchored the steamers on our cabinets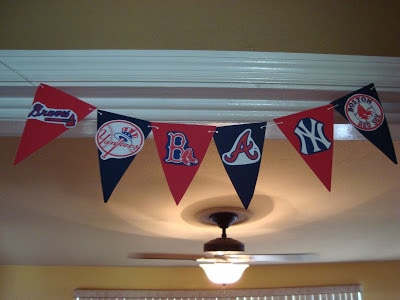 A few quick pennants draped in a doorway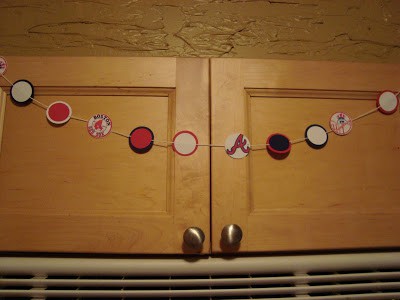 And the easy circle punch garland hanging in the "concession stand" aka kitchen 🙂
The HOW-TO for the above is found in this post!
Saturday, one of my best friends had a BBQ since her hubby's two youngest kids were over from England – I made my famous chili sauce/grape jelly meatballs, Nigel made his famous chicken tikka/curry, we ate, drank and were merry! The Bugs got to stay over a friends house and what did the romantic couple do on a Saturday night with no kids?! Sleep, of course!!
No pictures, but I thought I would share my recipe if you've never heard of these meatballs; it's as easy as 1-2-3:
1 large bag frozen meatballs (forgot to jot down the size but my bag had 120+ meatballs)
2 medium jars of grape jelly
3 jars chili sauce
Put the three above ingredients in your crock pot on low, stir occasionally and let them simmer until the meatballs are tender (5-6 hours). Sounds bizarre, I know, but you will be the hit of the party!
Sunday = Easter, of course! After an awesome service and a new Easter dress :), we picked up the Bugs, ran by the grocery store and headed home. And I headed straight into my PJs. At 1 in the afternoon, ha ha. The Bugs loved their Easter baskets (technically not a basket, but a Littles from Thirty One – told you I was hooked!!) and we had a few friends over for a not-so-traditional Easter dinner of ribs, rice, steamed broccoli and homemade garlic/tomato/cheese bread (recipe coming soon!).
Only one measly picture of the bunny baskets (I blame it on sleep deprivation):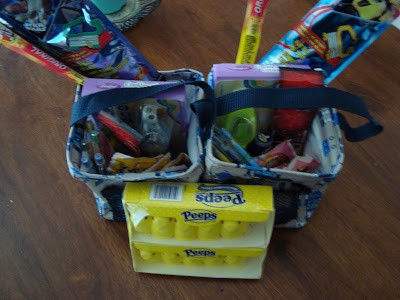 Peeps, Skittles, new goggles for the pool, a kite, pencils, Cookies & Cream chocolate bunnies, sour candy spray, Slim Jims and beef jerky = perfect Bunny Basket for The Bugs
Well, hope your weekend was wonderful, your Easter was blessed and your baskets, full! Have a great Monday!
Keri