I am still on this sweet streak of Valentines made with candy … have you seen them?  I've shared the love potion no. 9 red hots Valentine gift and a Valentine candy corn mason jar gift.  Since I have two boys who don't always appreciate pink and girly, I had to come up with something that they wouldn't mind giving or receiving (or eating after I was done taking pictures, ha ha!).  And here you have it!
"I am nuts about you" circus peanut Valentines!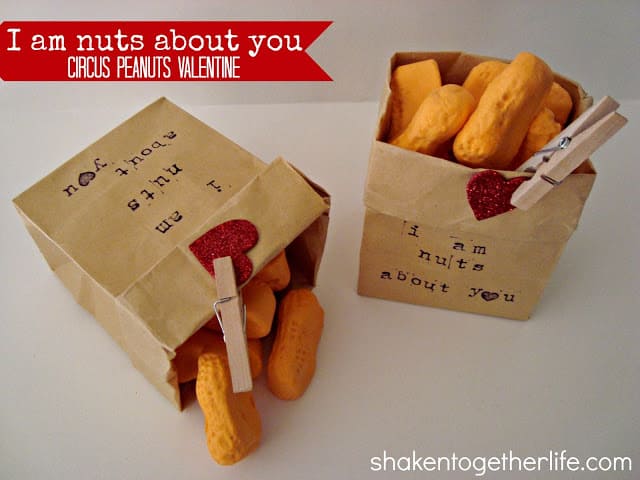 When I was brainstorming in the candy aisle, I saw circus peanuts (Guilty!  I love these!) and instantly knew that I would make a Valentine reminiscent of the paper bags of peanuts my boys get at the ballpark!  Here is what you'll need to make your own: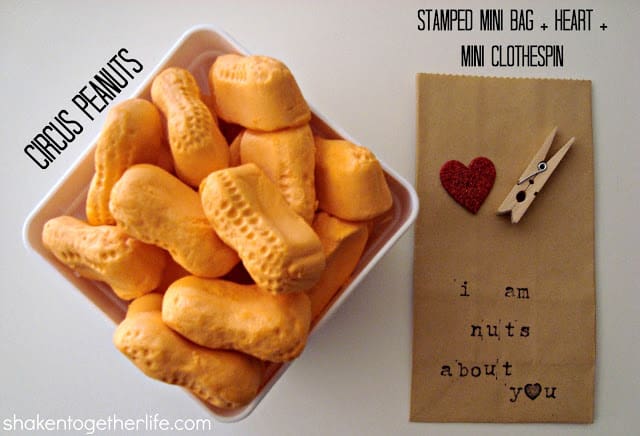 I stamped a mini brown paper bag with "i am nuts about you" – you can just write it on if you don't have stamps … or better yet, let the kiddos do it!  I had leftover hearts from my Valentine wreath and grabbed some mini clothespins.
To make the folded rim of the bag, cut down one edge of the bag about two inches.  Basically, open the bag and cut down one corner – this is the only place you will cut.   The cut makes it easier to fold the bag without ripping it.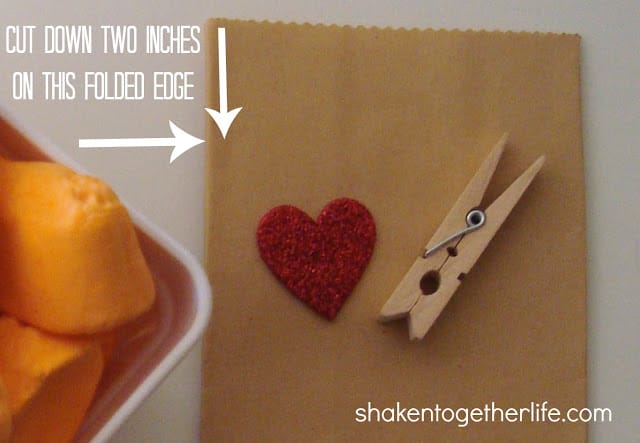 Open the mini bag and fold the bag over making a one inch fold all the way around and then fold it over again. Don't worry about the bag being wrinkled … it definitely adds that vintage baseball field feel!
Fill each bag with circus peanuts, clip on the heart and your circus peanut Valentines are ready for the concession stand!!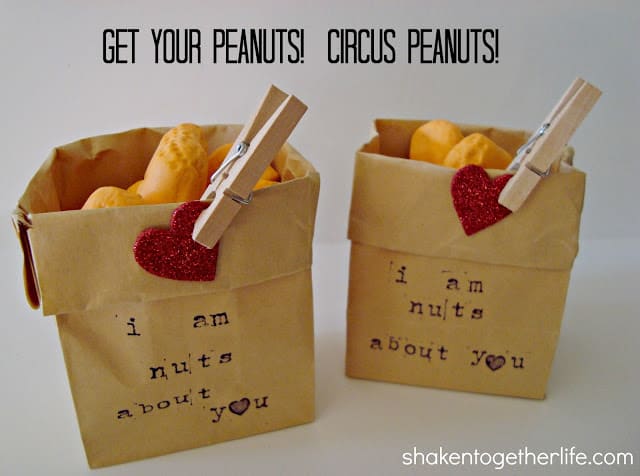 How about a little more Valentine goodness?