It's that time of year again!  Ghosts and spiders and mummies and all of the other things that go bump in the night!  I love to decorate for Halloween but I really hate spending a ton of money on seasonal decor that I'll only enjoy for a short while.  So, today I'll show you how to decorate for Halloween using some of your existing home decor items!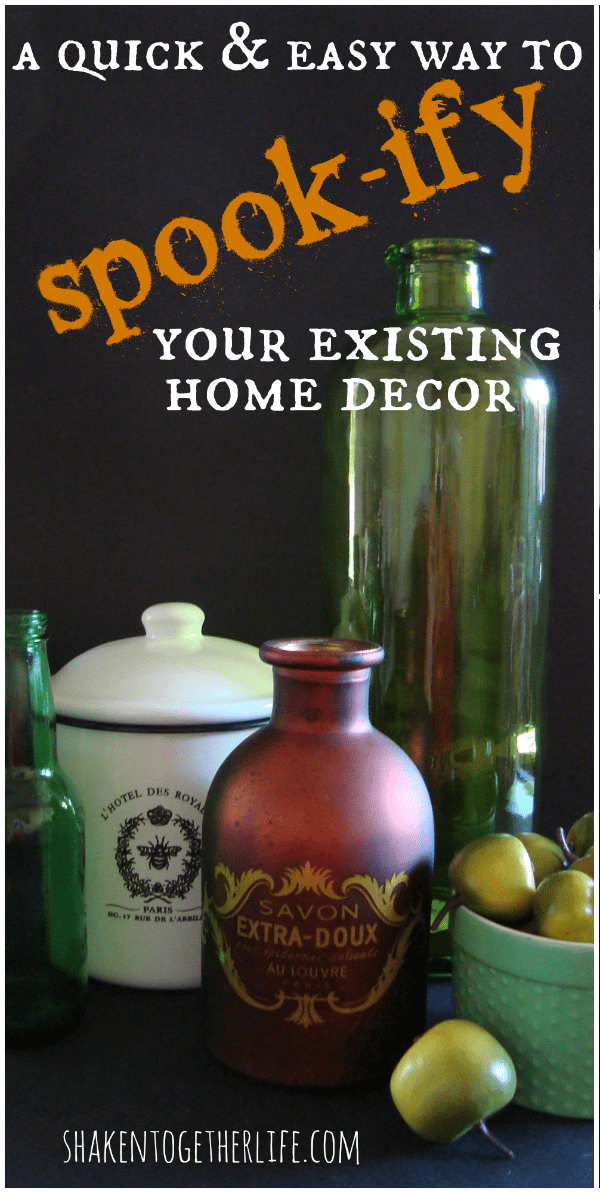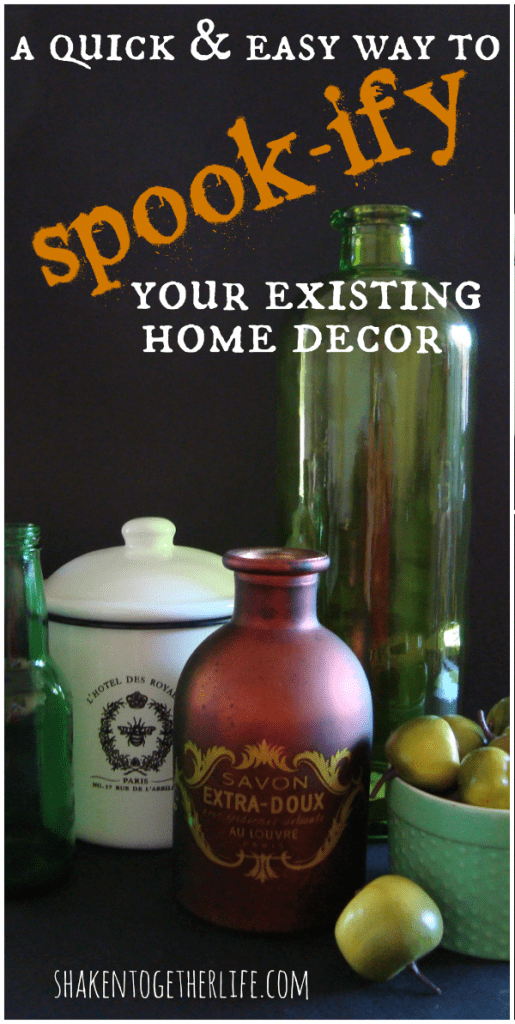 My normal, non-seasonal home decor is a mix of rustic accents, basic home decor staples and a little quirky fun thrown in!  So, I am always on the look out for glass bottles in great colors or shapes, metal canisters with bold graphics and unusual containers to corral mini green apples or spiky sweet gum balls.
I did a quick walk through of our home, pulling a tall green glass bottle, a black/white French canister, a cloche and various other bottles and containers from various shelves and vignettes.  I didn't purchase any of the items pictured above.  Then, I grabbed my secret weapon:  a pack of spooky Halloween labels from my local craft store (less than $3 with a coupon)!!
Proceed to SPOOKIFY!!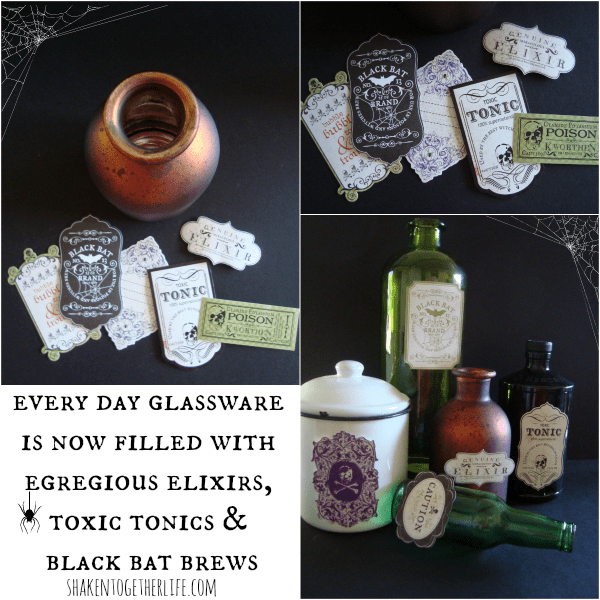 Using a bit of scrapbook adhesive (that I tested on the decorative surfaces first), I attached "Caution" and "Tonic" and "Elixir" labels and suddenly my pretty Parisian canister holds sinister treats and an old gin bottle is now toxic tonic!!
(As an alternative to purchasing a package of labels, there are a lot of great free printable options.  My favorite come from the Graphics Fairy: printable Halloween labels!)
Another way I used my existing home decor:  I created a despicably disgusting display just by attaching a "Rotten" label to a cloche filled with my faux green apples!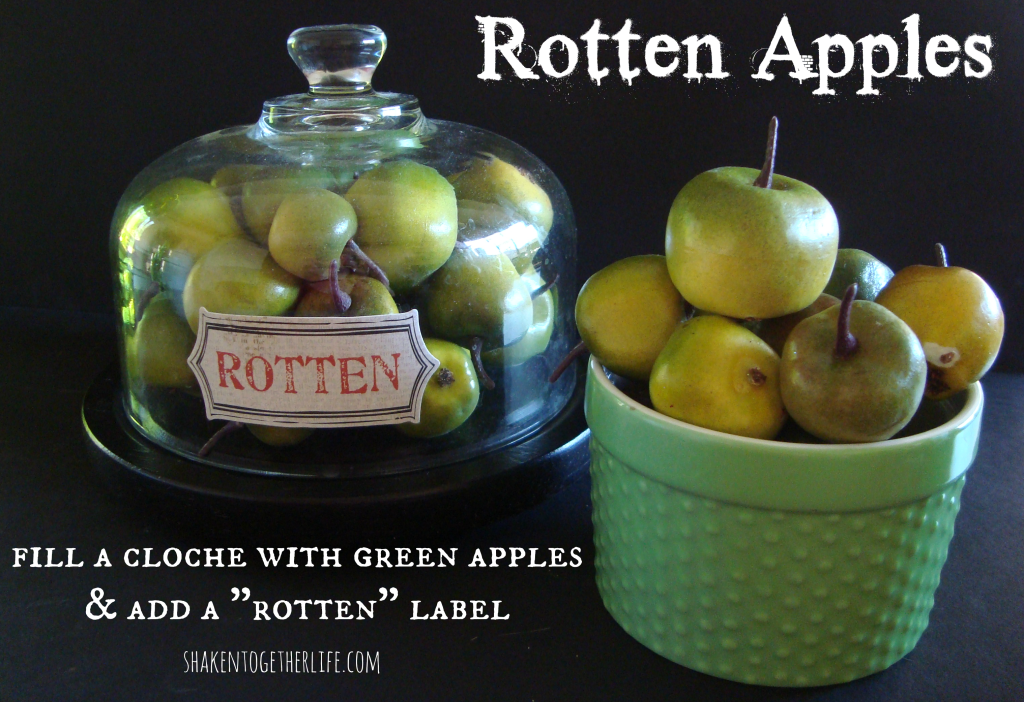 To create a container filled with delicious but decidedly deadly treats, I simply turned a French kitchen canister around so the original graphic was on the back and added a skull & crossbones label.  Tempted to taste??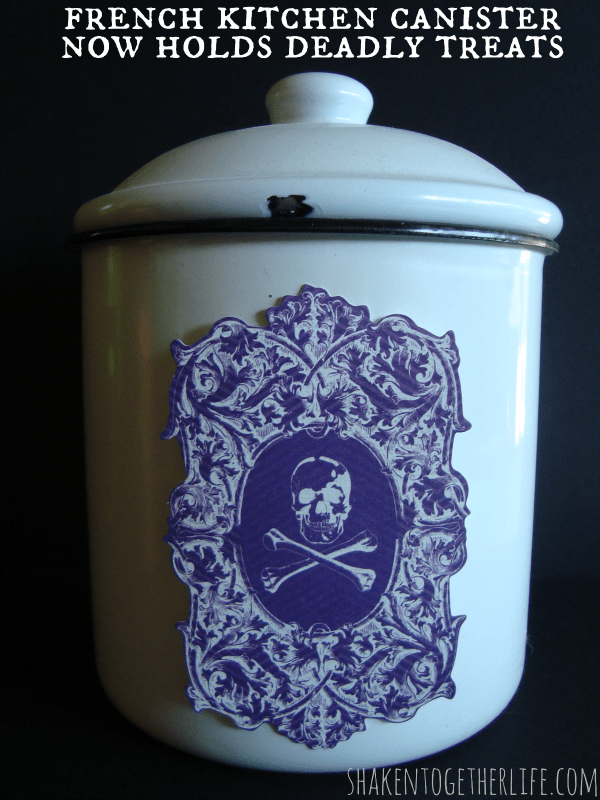 So fun, right?  For less than $3, I added a huge dose of spooky to my Halloween decor in just a few minutes!  I was able to use elements that I already had in my home AND I don't have to store any more seasonal decor – it's a win, win!
More easy, inexpensive Halloween home decor coming right up!
Frightfully Easy Halloween Banner
Spookily Striped Halloween Plaque
This post was shared at the awesome link parties on my Link Party page!