Just in case you missed it, we are right in the middle of KITCHEN WEEK at the Bloggy Olympics! You can read all about it here where I shared a fun appetizer – mini reuben sandwiches! I have a post tomorrow with some of my favorite kitchen tools and an easy kitchen DIY project coming up, too, so I'd love for you to stick around!! Hope you make, bake or cook something awesome to share with us later this week at the link party!!
Now, if you saw my manly munch mix, you know that Chris- my blissfully wedded hubby of 12 years – LOVES all things hot and spicy! When the boys and I were brainstorming for Father's Day ideas … Kaleb came up with this awesome idea …
hotsauce-icles (hot sauce popsicles)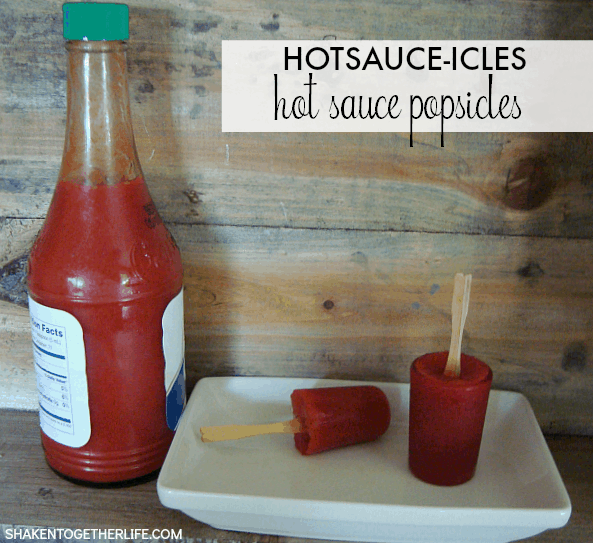 And I figure that any 9 year old that comes up with this sort of genius, deserves to write his own tutorial, right?! Kaleb, take it away …
Hi, I'm Kaleb and I'll tell you how to make the hotsauce-icles.

First step: Get an ice cube tray.
Second step: Mix hot sauce and V8.
Last step: Freeze for 1 1/2 days.
And that's how you make hotsauce-icles!
Allow me to connect just a few dots for you 😉 The fun little teeny tiny shot glasses in my picture were .15 each at our local Old Time Pottery store. If you can't find something similar, use an ice cube tray, dixie cups … just something to freeze your hot sauce mixture in. We mixed together 4 oz. of V-8 and 1 1/2 T of hot sauce. You can adjust the ratio to taste. Pour the mixture in your freezeable container. I stretched plastic wrap over the shot glasses and poked a bamboo pick through for a handle. You can also use toothpicks, too. Allow to freeze until solid.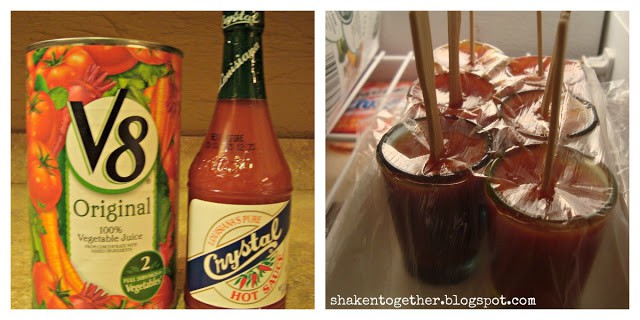 Treat the hot sauce lover (or really brave kids) in your house to a homemade hotsauce-sicle!!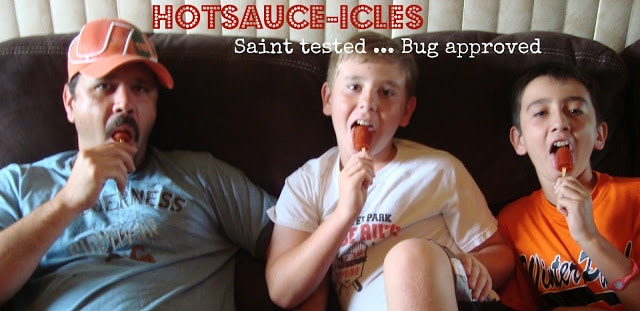 Now, I prefer pinot grigio to cocktails … BUT you could rim a shot glass with a little celery salt, splash in some vodka and add a hotsauce-sicle for a fun summer twist on a Bloody Mary. Just sayin' 😉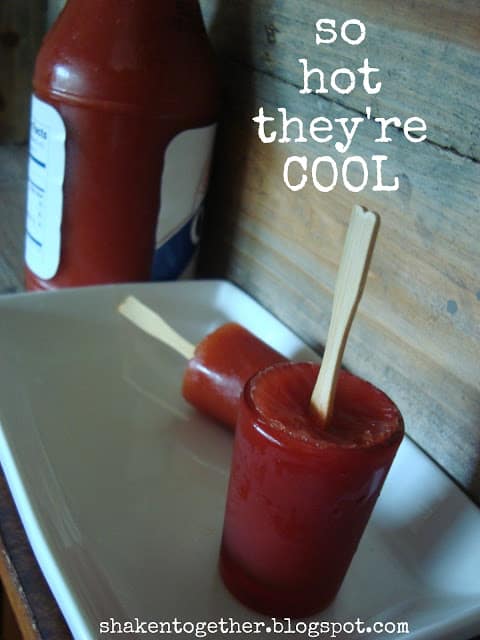 Welllllll … be honest, who is going to try our hotsauce-icles?! The boys tried a few licks but gave up since V8 is not their beverage of choice and the heat was a little much for them. But The Saint enjoyed his right down to the stick and I gave up 3/4 of the way through when the tingle on my tongue said STOP! Definitely a kooky, fun frozen treat for those with a love of hot sauce or the very adventurous!!
More of my guys' favorite eats!