With our Holiday Room Spray Recipes with essential oils, you can make room sprays that smell just like holiday treats! Start with the simple room spray base and customize it with essential oils to create Sweet Mint, Gingerbread Cookies and even Lemon Pound Cake scented room sprays! Perfect for foodies, friends and family ... even better, these holiday treats have zero calories and make awesome gifts!

I am one of those people that loves my home to smell like I have a cake in the oven or cookies cooling on the counter. And more often than not, I probably do. I am a food blogger after all. 🙂 So, when I was dreaming up a fun holiday gift idea using my Young Living Essential oils - *scroll down to the bottom of this post for MORE gift ideas* - it hit me like a ton of bricks ... holiday dessert Young Living room spray recipes!!
Holiday Room Spray Recipes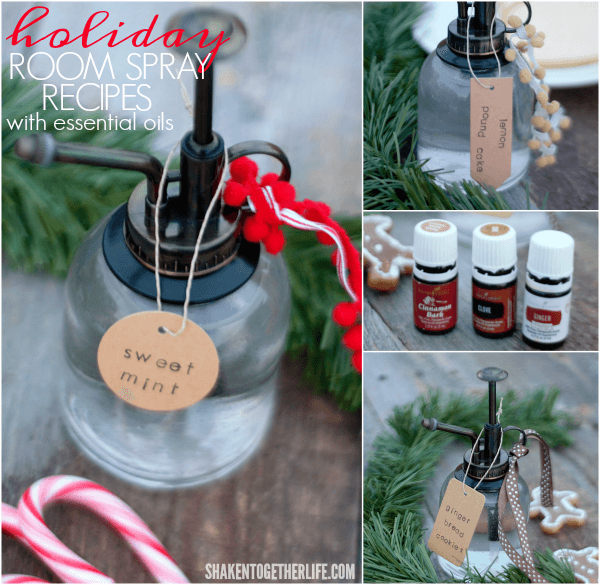 To get started making this Young Living room spray, gather your supplies. I've made it easy for you to shop for similar items to the ones I used by including affiliate links in the list below. When you click through and make any purchase, I receive a small commission (at no extra cost to you). Thanks for supporting Shaken Together!
Glass spray bottles (I used an 8 oz. Glass Plant Mister. I love this blue knobbed mister from Target and there are tons of affordable plant misters here for about $10. You can also use 4 oz. glass spray bottles. It is important to use glass bottles as some essential oils (especially citrus) can break down plastic.)
Distilled water
Salt - this softens the water a bit and helps the oils stay incorporated in the water
Ribbon, twine, trim
Kraft Paper Tags
Ink Pad & Alphabet Stamps (or hand write the tag if you have pretty hand writing)
To make it easy to customize these holiday essential oil room spray recipes, they all start with the same base.
Room Spray Base (for a 4 oz. container)
4 oz. distilled water
½ teaspoon clear vanilla extract
Tiny pinch of salt
I've seen some room spray recipes that replace some of the water with vodka, witch hazel or rubbing alcohol. You can certainly do so, but I went with a simple base that used ingredients I already had in my kitchen. If you are using a larger or smaller spray bottle, you can half or double the amounts above. And I like using clear vanilla extract so the room spray isn't tinted by the regular brown vanilla extract. Yes it is an artificial flavoring, but it gives each room spray that sweetness that we all expect from holiday baked goods ... YUM!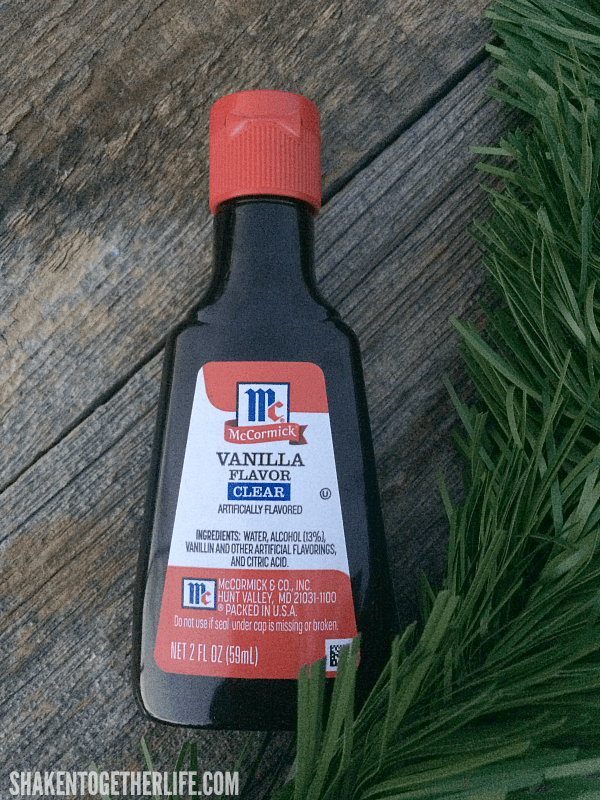 Once your base is mixed up, add Young Living essential oils to make your favorite sweet treat scented room sprays! I've put general guidelines below for the number of drops of oils, but if you want a lighter or stronger scent, adjust according to your preference.
Sweet Mint Holiday Room Spray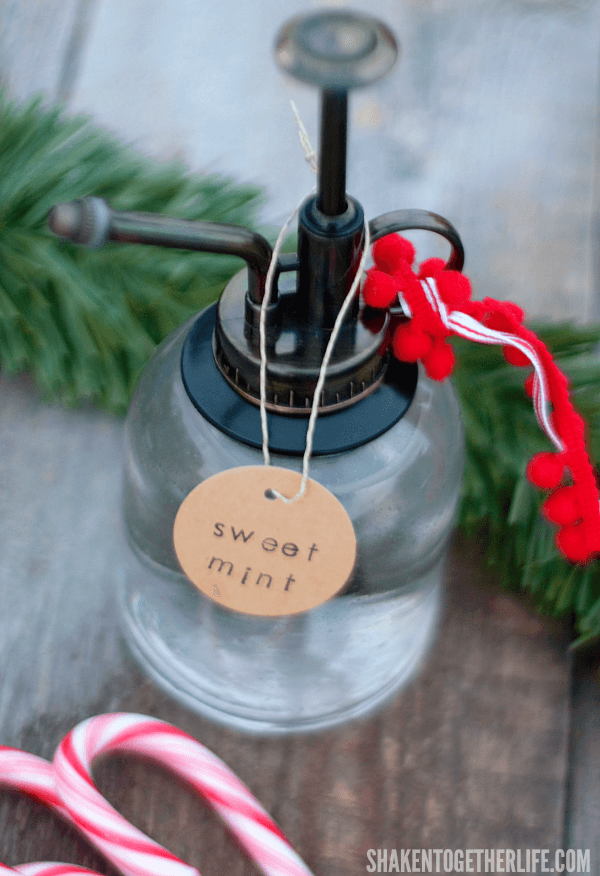 Just add in 3 drops of Young Living Peppermint essential oil to your 4 oz. of room spray base. Shake and mist the air or fabric. (Test a swatch first if you are spraying on fabric.) For some holiday cheer, add a length of striped ribbon and pom pom trim to the bottle and add a stamped tag with the room spray scent.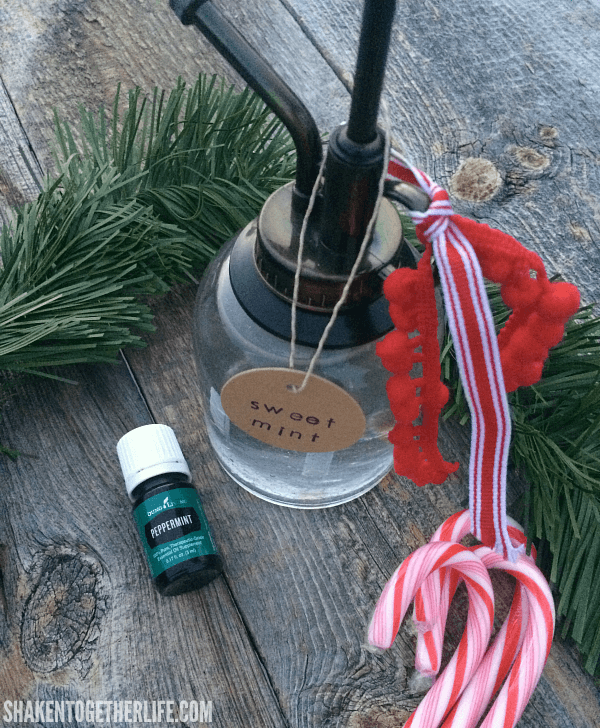 Lemon Pound Cake Room Spray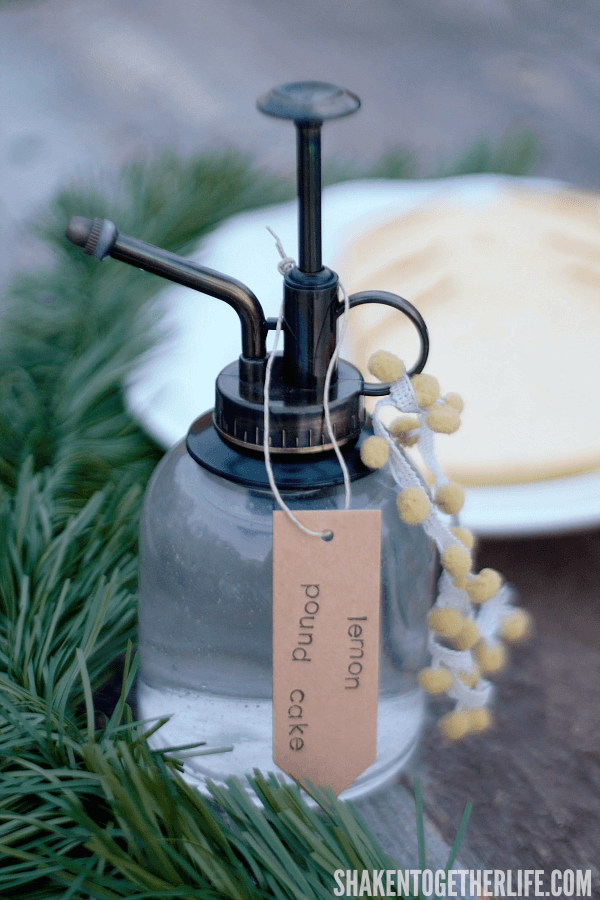 To 4 oz. of room spray base, add 3 drops of Young Living Lemon essential oil. Tie on some pretty yellow ribbon or fun pom pom trim for a little lemon colored whimsy and add a tag stamped with the room spray scent.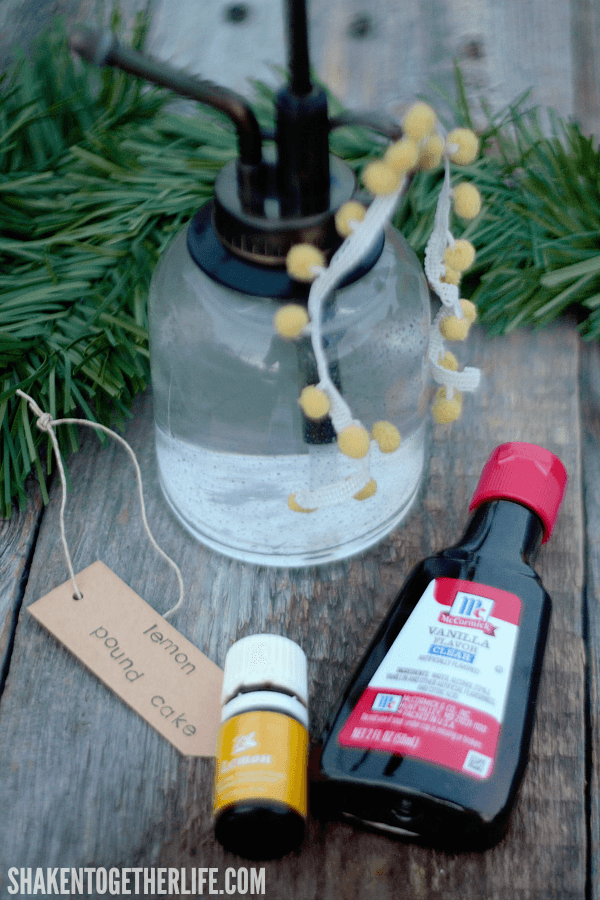 Gingerbread Cookies Room Spray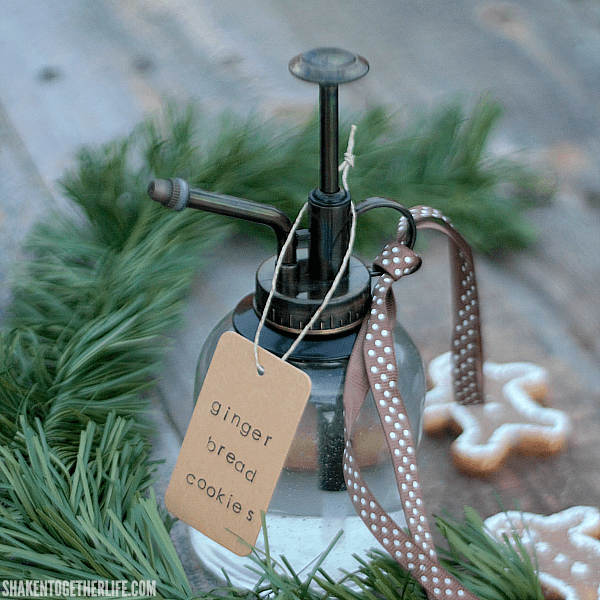 To 4 oz. of room spray base, add the following Young Living essential oils: 3 drops cinnamon bark, 2 drops clove and 1 drop ginger. Polka dotted brown ribbon adds a little pizzazz to your gift and a stamped tag lets your recipient know they'll enjoy the scent of gingerbread cookies!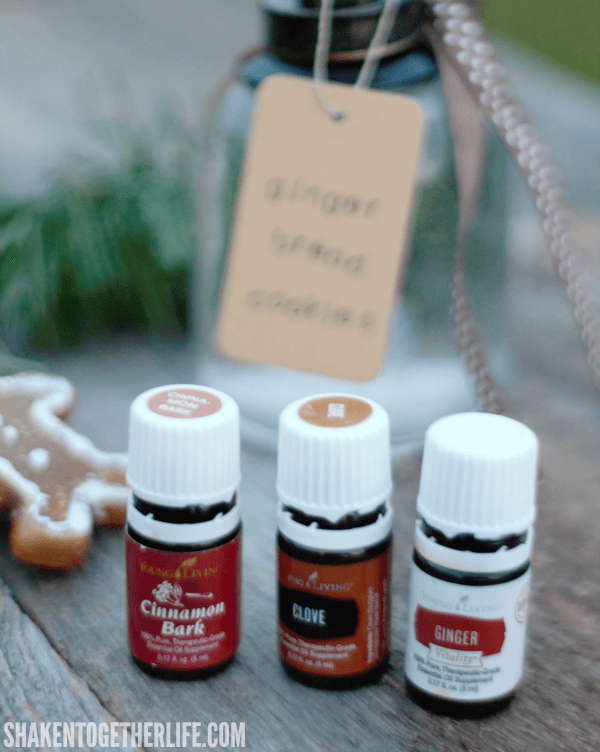 Even More Young Living Room Spritz Recipes
The delicious holiday room spray recipes with essential oils are pretty much endless! Here are a few more suggestions to make room sprays that smell like sweet treats:
Snickerdoodle Cookies: room spray base + cinnamon bark essential oil
Spiced Cider: room spray base + Christmas Spirit essential oil
Orangesicle Dream: room spray base + orange essential oil
Key Lime Pie: room spray base + lime essential oil
I love homemade gifts during the holidays. Especially gifts that use my Young Living essential oils. Especially gifts that use my Young Living essential oils AND smell like yummy holiday treats. So these Holiday Room Spray Recipes are a huge win in my book!