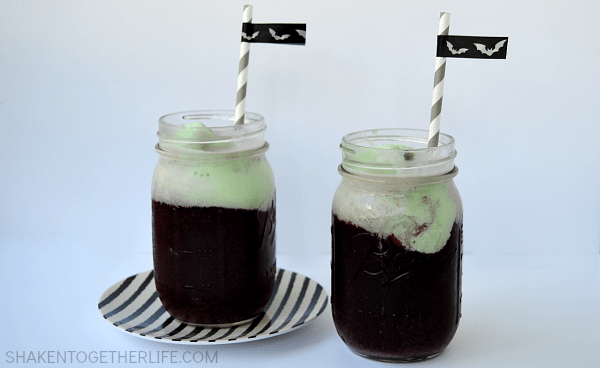 Just when I thought I had exhausted my eerie …
That my dreadful had run dry …
That creepy was capped for next year and I was officially done with Halloween …
Nope!  We're not done yet!  One more Halloween post!
Hocus Potion Halloween Drinks!!
I am not a soda drinker.  I normally stick with coffee/tea and water.  Oh okay, and maybe wine.  But there is something that gets into me during the holidays and I have to make seasonal drinks.
Birthday Cake Ice Cream Floats for birthdays …
Slushy Fruity Blender Punch for Summer …
Vampire Floats for Halloween …
Spiced Hot Apple Tea for Fall …
Mocha Peppermint Milk or Skinny Eggnog for Christmas …
And obviously, down here in the south, everything tastes better in a mason jar 😉
This fruity purple and green float is no exception!  Hocus Potion is just perfect to accompany your  Halloween dinner or serve to the guests at your costume party!
You can make a round of Hocus Potion with just 2 ingredients!  
Fill a mason jar 2/3 full with ice cold grape juice and then add 2 scoops of lime sherbet!  Add a festive striped straw complete with a bat washi tape flag and serve your goblin guests!!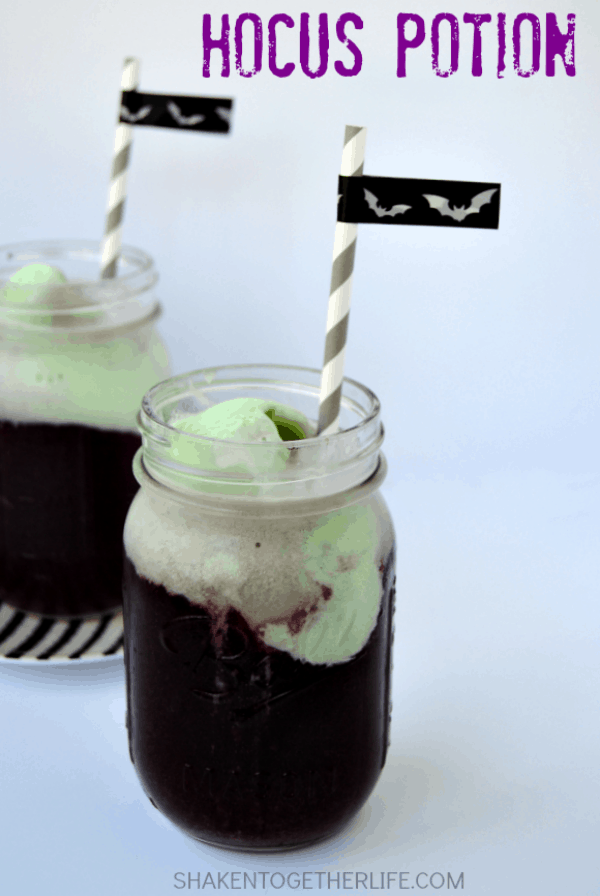 More Haunting Halloween Eats & Treats!
Our Hocus Potion Halloween Drinks may be served here: