Halloween is right around the corner and we have been counting down the days!  My frightfully easy banner is hung, Halloween dinner is planned and my candy is waiting to pass out to eager trick-or-treaters!  We have a big group of friends who head over with their little ones to trick-or-treat in our neighborhood.  So, after our early dinner and a few hours of traipsing around, everyone needs a little snack to tide them over for the ride home.  And this year, I am going to whip up a batch of these easy, no-bake Sweet & Spooky Halloween S'mores Crackers!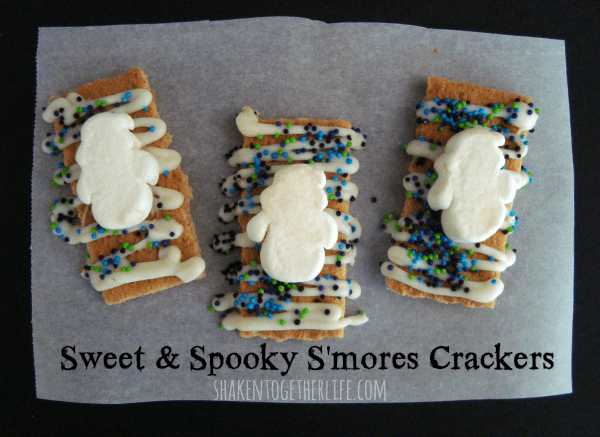 I had been brainstorming for a week to come up with a fun way to use those puffy little ghost marshmallows.  I didn't want to melt them or mix them in something or they would lose their cute shapes.  And then it finally hit me!  A quick and easy, no-bake, somewhat deconstructed Halloween s'mores!  You only need a few basic ingredients and about 15 minutes until your sweet spooks are ready to eat!
Sweet Supplies
1. 5 whole graham crackers – separated into 4 small rectangles
2. Two squares of white Candiquick – melted according to package directions.  After melting, I funneled my melted Candiquick into a mini squeeze bottle but you could also put the melted Candiquick in a sandwich bag and snip the tip to make drizzling easier. Or, just use a spoon!
3. Chubby little ghost marshmallows – one for each graham cracker rectangle
4. Your favorite seasonal sprinkles & sugars
Easy Instructions

That's it!  One the Candiquick has set up, you can easily pull the crackers off of the wax paper to enjoy!  No melty, sticky marshmallows or burnt tongues!!
Pop them in cello bags tied with colorful ribbons, package them in a Halloween treat box or pack them up for a sweet little lunchtime surprise for your kiddos!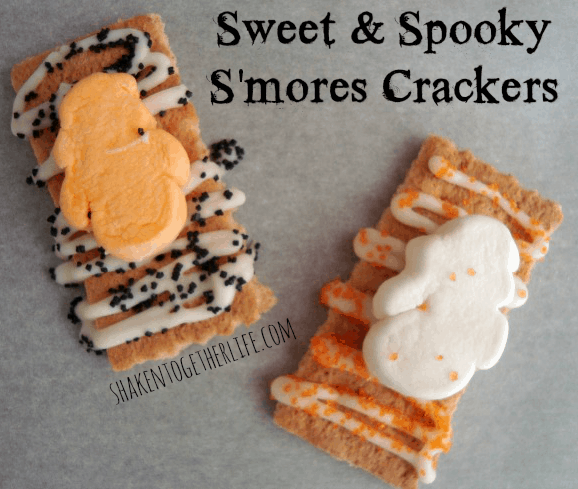 More Frightfully Easy Halloween Treats …
{no-bake} Messy Monster Cookies
Candy Corn Crunch No-Bake Cookies
This post may be shared at these awesome link parties: