Fresh and flaky, our Grilled Halibut met its perfect partner in a super simple crisp Cilantro Cabbage Slaw! This flavorful, healthy meal can be on the table in just about 10 minutes!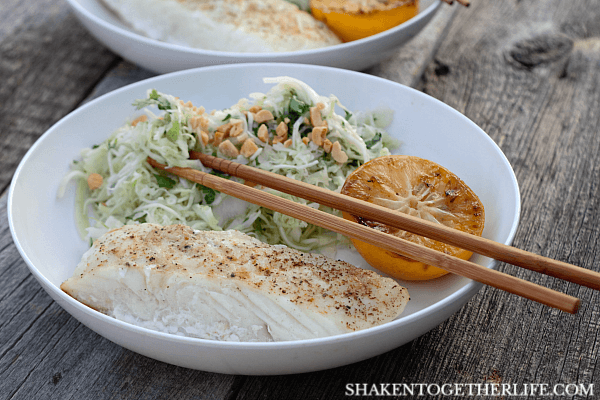 Yep, it's that time again. The Christmas cookies have been nibbled (and nibbled and nibbled), big hearty holiday meals have been eaten and now, I'm staring down those jeans that fit just a little better about two months ago. Lighter fare is making an appearance on my menu plan starting with this easy, flavorful Grilled Halibut with Cilantro Cabbage Slaw!
Grilled Halibut with Cilantro Cabbage Slaw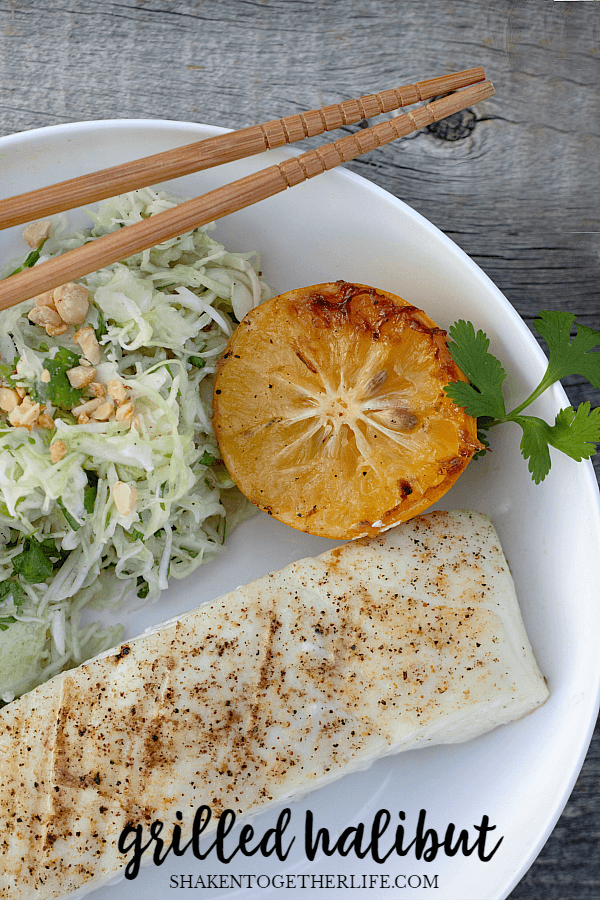 Whether your weather allows for grilling outdoors or using an indoor grill, grilled seafood is one of my favorite ways to get back on track with healthier eating.
As a resident of a coastal state, I love being able to support US seafood and fishing industries any way I can. Alaksa seafood like crab, cod, sole, pollock and halibut- which is always caught fresh in American waters – is available year round in the seafood case or fresh frozen. Nearly 60% of all wild seafood and 90% of halibut and salmon are caught in the waters of Alaska, so those fresh sustainably sourced ingredients are a great way to put a twist on classic recipes like burgers, tacos and pasta.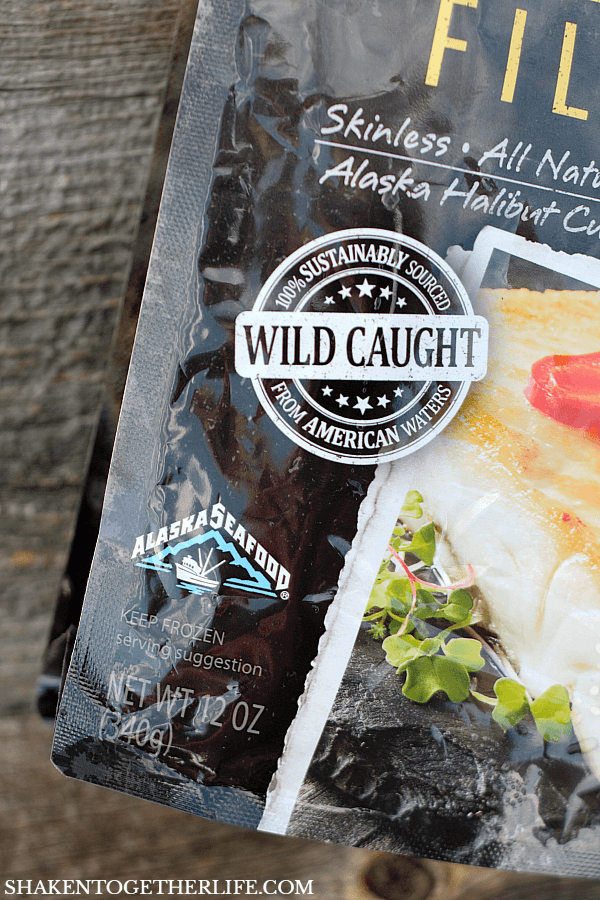 This Asian inspired recipe uses halibut which has a firm, flaky texture (so it can stand up to a quick trip on the grill) and snow white flesh. Since most seafood pairs well with citrus, I halved a lemon to grill right alongside these gorgeous halibut fillets.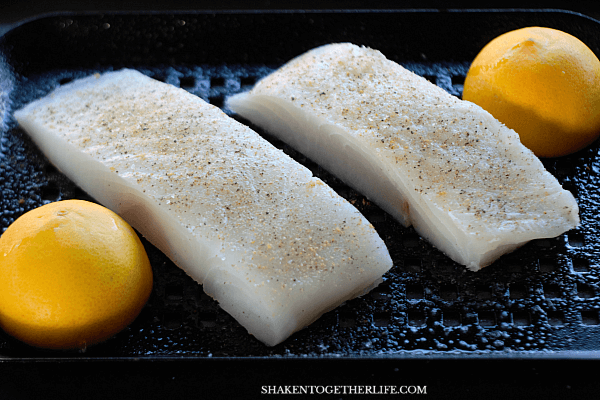 Misted lightly with olive oil and seasoned with salt, pepper and just a hint of ground ginger, garlic and onion powder, my halibut fillets were done after about 4-5 minutes of grill time on either side. That was just enough time to mix up the fresh, crisp Cilantro Cabbage Slaw!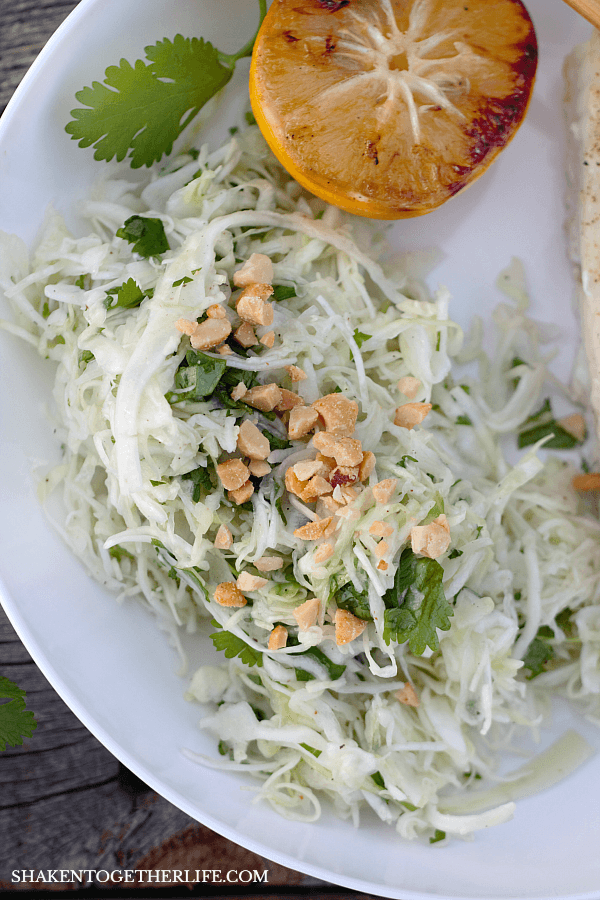 Packaged thinly shredded green cabbage is such a time saver and for this slaw. I paired it with lots of fresh cilantro and a simple dressing of olive oil and lemon juice. A little more ginger, a dash of onion and garlic powders and some salty chopped peanuts round out this super easy side dish. This slaw is also delicious on fish tacos – Alaska pollock would be a great choice for tacos – or as a bed for marinated grilled chicken.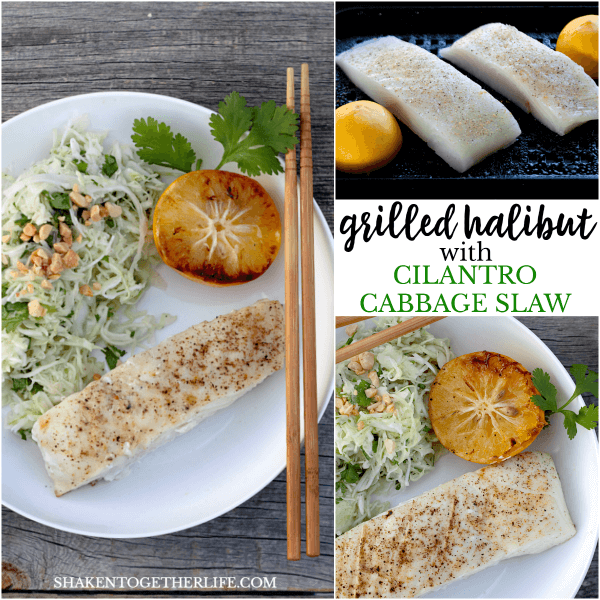 Print
Grilled Halibut with Cilantro Cabbage Slaw
---
Scale
Ingredients
Alaska Grilled Halibut
2

fresh or frozen Alaska Seafood halibut fillets (mine were about

6 oz

. each)
Olive oil
Onion Powder (optional, to taste)
Garlic Powder (optional, to taste)
Salt & pepper

1

lemon
Cilantro Cabbage Slaw
Two

10 oz

. bags angel hair coleslaw (finely shredded green cabbage)

1 cup

cilantro leaves (chopped after measured)

1/3 cup

olive oil

1/3 cup

fresh squeezed lemon juice

1/3 teaspoon

ground ginger (add more or less to taste)
Dash of onion powder and garlic powder
Chopped roasted peanuts for garnish
---
Instructions
Grilled Halibut
Preheat grill to medium heat.
Pat fillets dry and brush or mist them lightly with olive oil.
Sprinkle fillets with garlic powder, onion powder and salt/pepper to taste.
Cut lemon in half.
Sear fish and lemon halves (cut side down) on the grill to get cross hatch grill marks.
If necessary, move fish and lemons to a grated grill plate so the fish does not break apart as it cooks.
Cook fillets for about 4 minutes on each side or until the fish is flaky and opaque.
Cilantro Cabbage Slaw
In a large bowl, mix all ingredients (except peanuts) together.
Refrigerate until ready to serve.
Just before serving, garnish with chopped roasted peanuts.
---
Healthy and flavorful, Grilled Halibut with Cilantro Cabbage Slaw makes for a quick and easy dinner or a fresh fish lunch for busy weekend day. Give the whole dish a squeeze from that grilled lemon for a quick punch of citrus flavor!