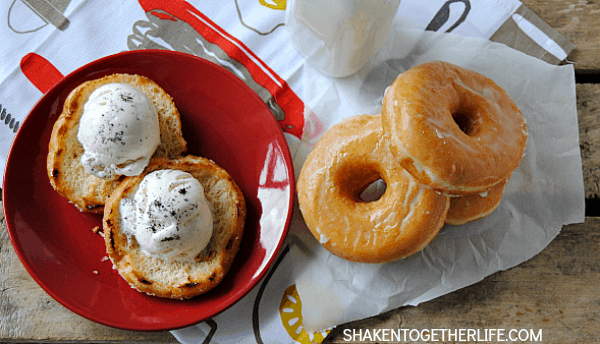 Your eyes do not deceive you.  And yes, you read that right:
Grilled donuts a la mode.
Let's break this down.
First: donuts.  Soft, fresh bakery glazed donuts grilled until warm and slightly toasty.  Grilled until that delicate crispy glaze just starts to warm and glisten.
Then: the warm donuts are topped with robust scoops of rich vanilla ice cream.  Pick your favorite vanilla ice cream.  Just make sure there is lots of it.
Finally: do you see those little dark brown bits gracing the top of the ice cream?  Ground vanilla beans.  Or otherwise known as what heaven must be made of.  Totally optional but absolutely divine. The end.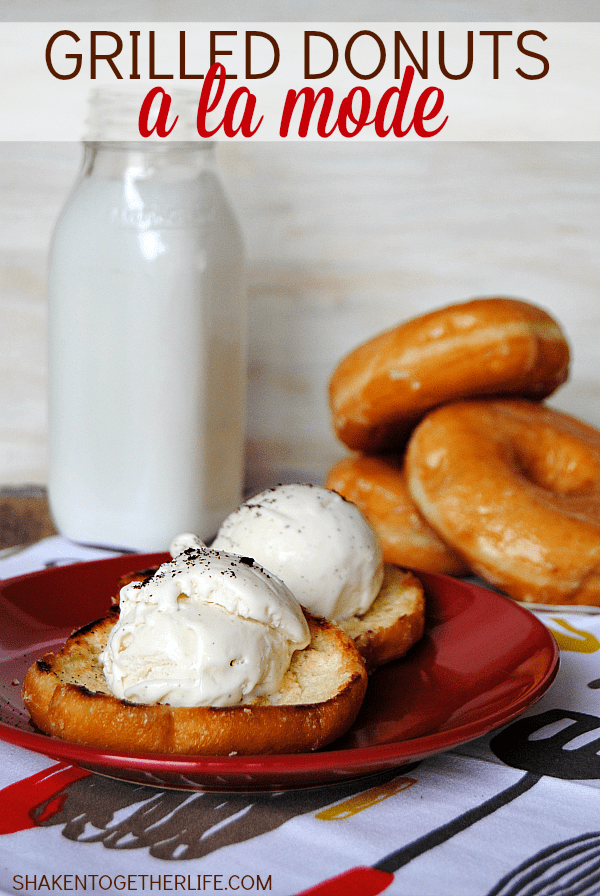 I think this recipe is equally genius and ridiculous.  I mean, you don't have to bake or really make anything.  Just a bit of cooking – really, warming I would say.  We can all do that, right?  At its core, it is really just the sweet assembly of some of my favorite things on the planet.  That come together and make the angels sing!
Print Grilled Donuts a la Mode
---
Ingredients
Fresh (soft glazed donuts)
Vanilla ice cream
Ground vanilla beans
---
Instructions
Slice each donut along the 'equator'.
Prepare a grill pan with some non-stick spray or rubbed with a bit of oil. Heat to medium.
Place donut halves cut side down on the grill pan.
Grill donuts until the cut sides are toasted and the donuts begin to show grill marks.
Place grilled donuts on a plate, top with scoops of vanilla ice cream and sprinkle with ground vanilla beans.
---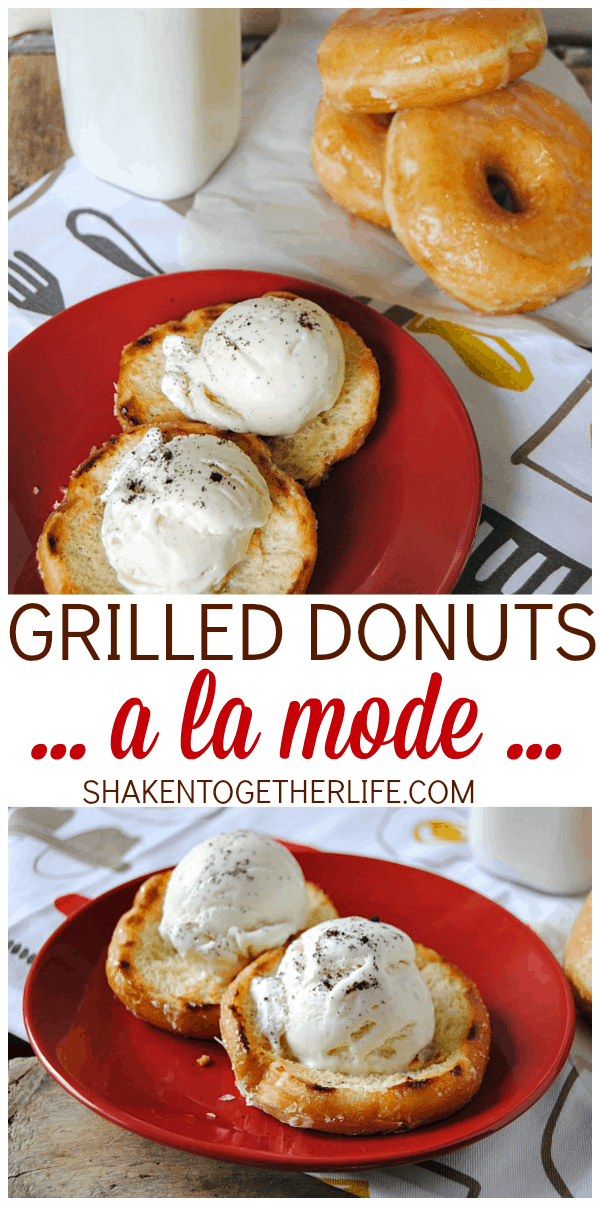 Grilled donuts a la mode made with glazed donuts + vanilla ice cream are like the equivalent of vanilla cake + vanilla butter cream in a wedding cake.  A classic.  Stunning in its simplicity.  Almost universally loved.  But hey, I am an equal opportunity donut lover.  Who is up for a little bit of crazy when it comes to grilled donuts a la mode?!  Like …
Chocolate glazed donuts with mint chocolate chip ice cream
Maple donuts with butter pecan ice cream
French crullers with deep, dark chocolate ice cream
Strawberry donuts with Neapolitan ice cream
Oh man, there aren't enough days in the week!
More donuts … because, well, DONUTS!
This post may be shared here: