It has been a C-R-A-Z-Y week in the shaken together household in the past week:
We adopted dear little Little (oh! she's a girl!! and if you missed her, click here!) who is as litter box challenged as she is cute…SIGH. Thankfully her hilarious "Halloween cat" sideways trot and little chirpy bird/frog meow make up for the fact that she is a wee bit unladylike in her restroom habits.

Just when summer seemed perfectly lazy, The Bugs have started practicing with our local tournament baseball team and I am smack dab in the middle of a laundry hurricane, cleats that are suddenly too small just one month after their last wear and five night a week practices. Deep breath innnnnnn and ooooooutttttt. 😉

And finally, I have decided to jump on into to our master bedroom and garage room makeover! Our bedroom is going to be a tan/blue seaside retreat with pops of coral

(the color and the critter!)

and the garage room is going to a fun and funky vintage farmers' market feel with lots of red and brown!
What does one stressed out little blogger mama do? SHE CRAFTS!!!! And that brings us to my weekly Friday craft and tutorial – a little creative therapy, if you will!
Soooo, this past weekend, I stopped by our local antique mall on the hunt for two specific items: old keys and earrings/brooches to refashion. I failed miserably. Sort of. I didn't bring home either of those things but I did score this fabulous loot for our bedroom makeover: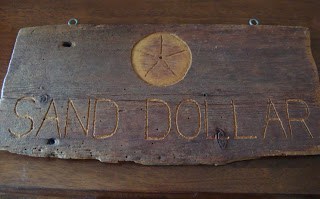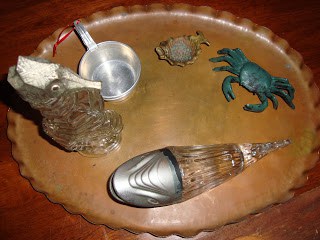 A way cool "Sand Dollar" sign that used to hang at a hotel, a brass tray (for $2.50!), seahorse and whale bottles, a metal crab, a brass fish dish and 3 metal cups (what is it with me and random metal household goods?!).
While I'm not quite ready to show off what I'm doing with all the fun beach-tastic stuff above

(oh, let's be honest – it's all still sitting in that same pile above, ha ha),

take a look at my

seaside welcome charger wreath

!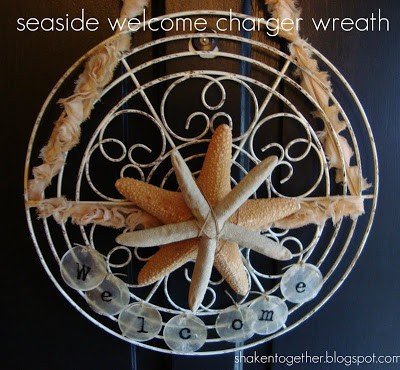 My supplies: charger

(you could use a wreath form or anything else similarly shaped – I picked this charger up for $2 on clearance at Target)

, 2 large starfish and seven capiz shells, twine, scrapbook rub on letters, Mod Podge & foam brush and a length of ribbon/trim/rope

(something to hang your wreath with).
I used rub on letters from my scrapbook stash to spell "w-e-l-c-o-m-e" on the capiz shells and sealed them with Mod Podge. You could doodle letters with a Sharpie, add sticker letters, wooden letters or whatever else strikes your fancy. Here they are in progress…
My shells already had holes punched in them since they were a cast off from a friend's windchime

(she knows me well: "here, take these home, I know you can make something with them!")

– but you'll need to carefully punch holes in your shells (maybe a Crop-o-Dile?) or opt to glue a twine loop to hang them.
While my shells were drying, I wove this shabby chic rose trim in the charger and knotted it so I can hang it on our front door: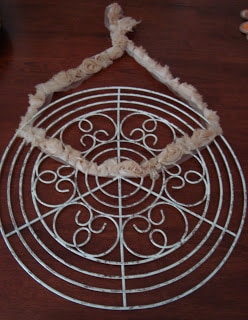 To secure the starfish, I looped the twine multiple times around the starfish and the metal charger: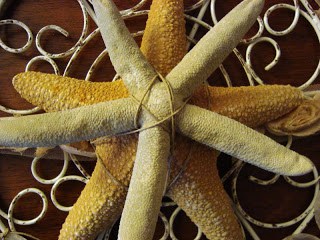 Then I tied the capiz "w-e-l-c-o-m-e" shells to your wreath. I used the same twine to knot the word to my wreath: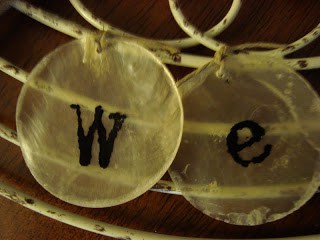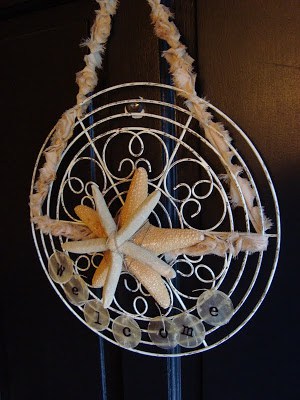 Kinda makes me want to head to the beach, dig my toes in the sand with a good book and a frosty drink 🙂
This post was shared at the parties on my Link page!