Though this post says Friday, I am posting late Thursday because tomorrow … The Bugs, The Little Madre and I will be in Ocala, FL cheering on The Little Bug's team of 8U Allstars – GO WILDCATS!!

Okay, and now for what you have all come here for…Fin de Friday! This is my weekly craft and tutorial perfect for you to create over the weekend – now you can make what I did and amaze and astound your friends and family!

Not sure if I'm feeling particulary patriotric or if I have just been inspired by two of my favorite colors lately, but I am all about red and turquoise(ish) lately. My last name street sign last week and now…


Red, White & Blue Summer Signs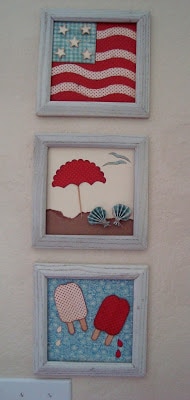 I update these three little signs each season/holiday and since it 100% feels like summer in Florida, it was time to change the signs! My frames are simple, shabby chic 6in x 6in frames: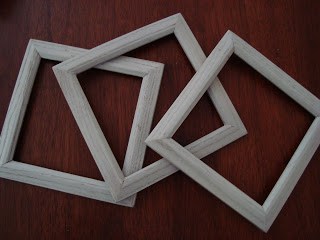 The first sign is a cheeky, vintage Old Glory!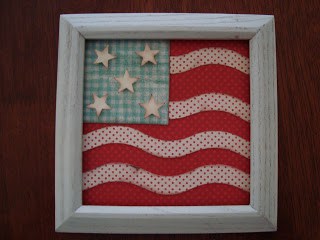 And it starts with these supplies: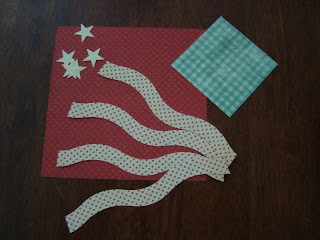 Red Bo Bunny dot paper, cream/red dotted paper, cream colored stars and a 3in x 3in Wild Asparagus gingham square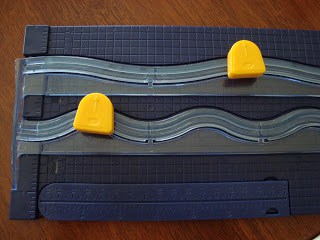 I used this Creative Memories wavy trimmer to cut the 1in stripes for the flag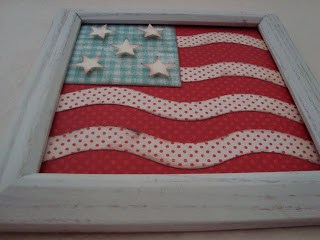 I used little pop dots to give the stars a little, well, pop 🙂
The second sign is a familiar Florida place, the beach!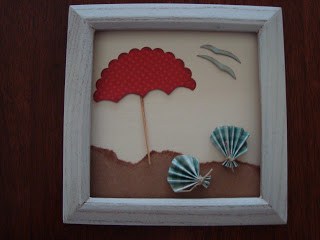 And here is what I used for this summer-y sign: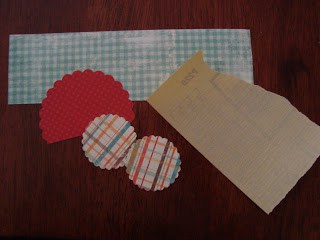 A strip of the same Wild Asparagus paper, a partial punch of the red Bo Bunny paper (ignore the small circle punches, I didn't use these after all) and I started to use sandpaper, but mine was pretty light in color and the wording was too visible…so I substituted kraft paper in the final sign
Trim the red punched shape so it looks like an umbrella and add a flat toothpick for the pole. Rip the kraft paper "sand", cut out a few freehand seagulls and assemble it all…

What's coming up? Well, I'm glad you asked!!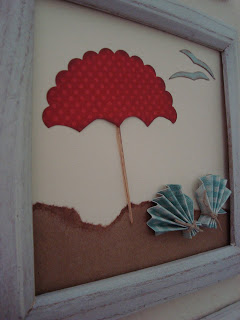 And because no summer is complete without sweet, drippy treats…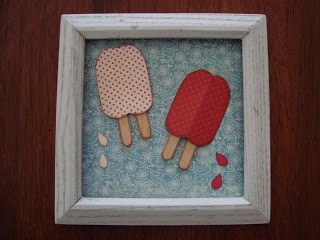 I used the same red and cream papers and added a fun blue Tres Jolie paper for this sign. The mini popsicle sticks are so stinkin' cute and added another fun dimensional element.

Simply cut out a popsicle shape (the doubles are the best to share!), add the sticks, cut out a few drips and there you have it!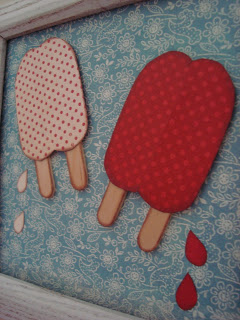 Oh, and I didn't add this step for every sign, but I always ink the edges of the paper and for this project, even the toothpick and popsicle sticks. My name is Keri and I am an inkaholic 😉

Well, we've done it again…wrapped up another Fin de Friday!
Check back Saturday

(or maybe Sunday)

for my Saturday Stuff post – light on words, heavy on pictures!

Don't miss Tuesday… it's the 4th of my 6 Takes on Cupcakes: Milk Chocolate Cupcakes with Mocha Buttercream. Seriously dreamy!

And of course, Friday will bring another Fin de Friday post that you just.can't.miss!
This project was shared at all the blogs on my Link page!