Happy Friday to my fellow crafters, readers, followers, friends, family and anyone else who stumbles upon my little creative corner of the blogosphere! Welcome to shaken together and Fin de Friday, my weekly craft and tutorial!

Before we get started…I have to admit, it's actually a little bit of a Bittersweet Friday if you want to know the truth. Why? Thank you for asking 🙂

I spent Monday through Wednesday nights doing laundry, labeling clothing, sorting socks, finding travel size toiletries, locating DS chargers, filling out permission slips, hunting up long sleeves and pants (not an easy task during summer in Florida) and praying feverishly…all so we could ship The Bugs off to camp until Monday night – in North Carolina!! –EEK! Now, they went last year and made it home safely. The Little Bug's suitcase is another story – it was accidentally left behind and was shipped home just in the nick of time before camp closed for the season. And my mom is actually chaperoning this year, so I know they will have a supremely awesome time. But. The house is a very different (clean! and quiet!) place without my two Bugs. The Saint and I are enjoying the DVR and the pool and dinner out (!), so I won't protest too loudly. But. Life is never quite as sweet and sweaty, loud and rowdy, infuriating and heartbreakingly perfect without those two around…

{Disclaimer: please excuse any future sappy posts until our family of 4 is 4 again, ha!}

And now, what you've all been waiting for…


Outdoor Pool Towel/Goggle/Suit Hanger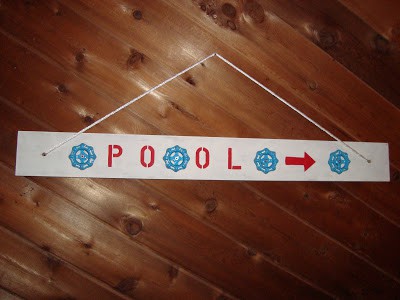 This project has been brewing in various stages in the back of my mind for weeks…first, I wanted to do something similar in our bathroom and then in the laundry room. But last weekend, after a herd of boys were over to swim and our back porch looked like the linen department of Target exploded on it, I knew exactly where this project would end up.
So, without further ado, the HOW-TO:
I started with a piece of wood – one more piece of the upcycled wood I used for my Last Name Street Sign – and painted it cream. I used a foam brush and acrylic paint because it's what I had. You could spray paint or stain yours – get creative!
Now, for the faucet handles. Mine were freebies from The Saint's shop (they toss them when their clients want different fixtures) and were the perfect shape, but a dull, gun metal gray. But not for long…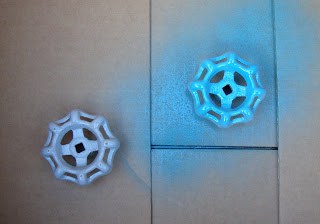 I measured my wood and decided on the spacing of the handles.
Then, using basic stencils from the home improvement store and a hand cut arrow stencil from an index card (yes, I DO need a Silhouette!!), I used red acrylic paint to add the word "Pool" and the arrow. See…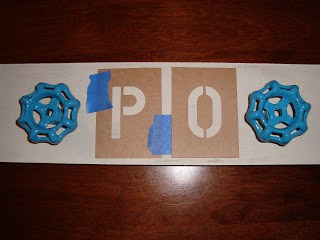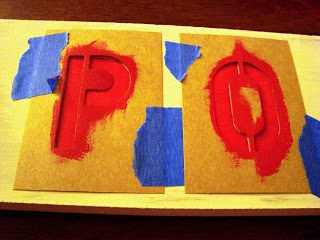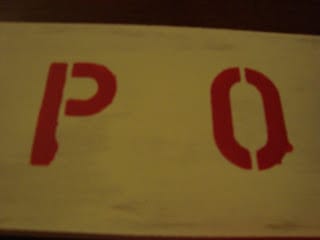 I got a little messy with the stenciled letters…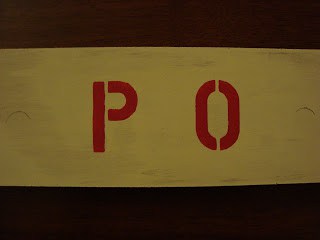 So I used a small paintbrush and cleaned up the letters 🙂
The Saint helped me drill holes and attach the handles and the rope to hang it.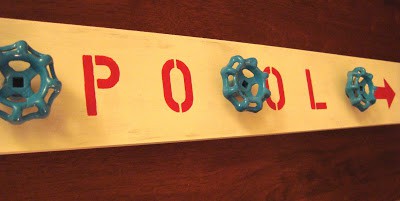 Finally, I threaded rope (I used actual boat/dock rope) through the holes at the ends of the sign to hang it and this sign is ready for its debut…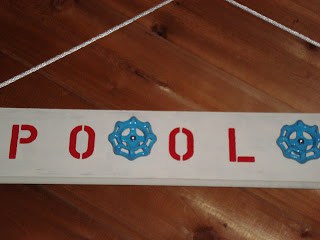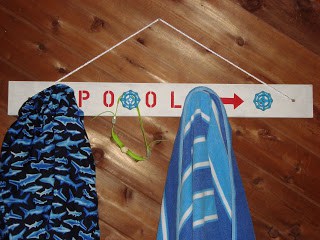 And just for the record, I am going to add a coat or two of weather-proof sealer since it is so stinkin' humid in Florida! It's on my lengthy list of things to do with all this free time 😉
Now, I'm off to tease my hair, throw on a truckload of blue eyeshadow and channel the Breakfast Club…it's 80's Day at work today!! Perhaps some pictures are in store for this week's Saturday Stuff 😉
This project was shared at all the blogs on my Link page!