Hello and welcome!!
So, Kaleb is going to be 9 – that's right: nine! – in 11 days. My youngest is 1/2 way to 18 – holy moly!! Where does the time go?! Anyway, we are still brainstorming for his birthday party for this year – he's thinking either sharks or robots – AND THEN I remembered I threw him a mad scientist birthday party a few years ago that I have not shared with you!! And since this is the spookiest time of year when you can actually find stretchy skeletons and gummy body parts in stores, the timing could not be more perfect!! Most of these ideas could be incorporated into any Halloween party or creepy get together, too! So without further ado …
A Mad Scientist Birthday Party!!
Lots of projects and pictures to behold …
Laboratory Notes
This sign (sorry for the poor picture quality – this was definitely pre-blog, ha ha!) greeted our guests: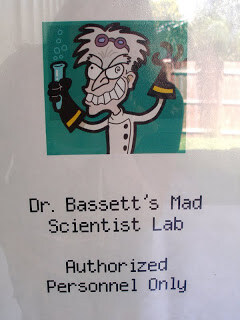 I added several other lab notes around our house, too. One of my favorites was the "experiment" log that I added to our fishtank. We were in the process of deep cleaning it and there was absolutely nothing in it. Or was there??? I taped on a log detailing the progress of an invisible fish experiment that made everyone chuckle.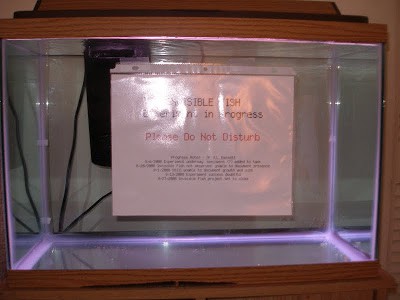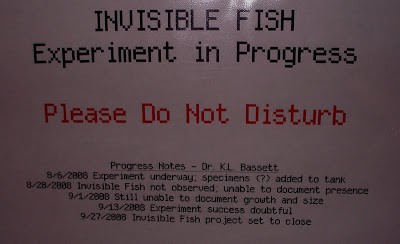 On the cabinet in our dining room, I added an A-Z list of contents with all sorts of silly things …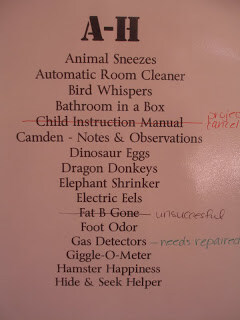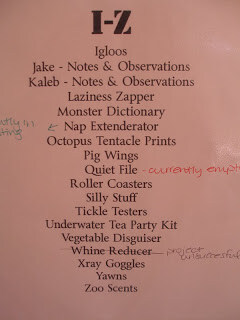 Mad Scientist ID Badges
Since every good scientist needs special clearance for those high security areas, I made us personalized ID badges highlighting our oh-so-scientific credentials! Using baseball card protectors, wallet sized pictures printed on my home printer and a barcode downloaded online (added onto the back), I whipped up our badges!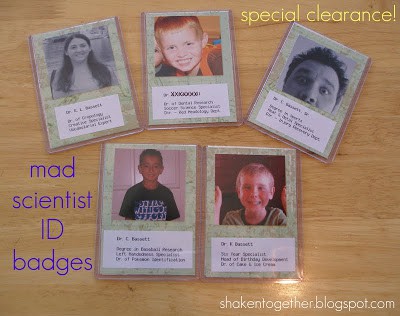 Just in case you can't read our "credentials":
The Little Bug: Six Year Specialist, Head of Birthday Development, Dr. of Cake & Ice Cream
J – The Little Bug's Best Buddy: Dr. of Dental Research, Soccer Science Specialist, Dir. – Red Headology Dept.
The Bigger Bug: Degree in Baseball, Left Handed Specialist, Dr. of Pokemon Identification
The Saint: Degree in Sports, Heat & Metal Specialist, Dir. – Injury Recovery Dept.
Me: Dr. of Cropology, Creative Specialist, Vocabularial Expert
Delicious Dissection
Badges in hand, the mini mad scientist and his guests moved on to their first gross experiment! The day before the party, I added gummy body parts and mini marshmallows to green jello in shallow disposable pans. I handed out dissection trays, plastic silverware and let the sweet slicing and dicing commence!! Everything was edible (gross, but edible!) and they had a blast digging and nibbling!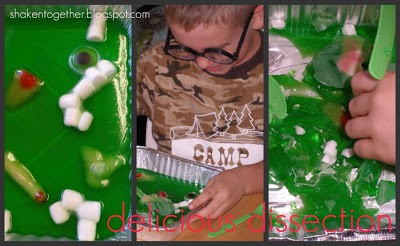 Eyeball Punch and Brain Cake
Next, we experimented with foamy eyeball punch (lemon-lime soda poured over scooped sherbet and gummy eyeballs) and goopy brain cake (baked in a bowl and piped to look like a brain!) and they were both a big hit!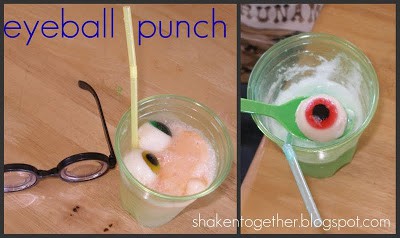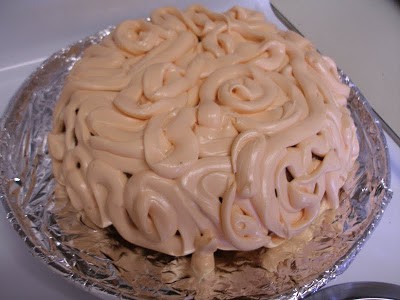 Favors: Scientific Essentials Kit
All the scientists went home with a kit containing all their scientific essentials! Each kit was packaged in these green plastic boxes I found at Target – you could easily use a gift bag, plastic pencil box or even a shoebox – and contained: a stretchy skeleton, a magnifying glass from the dollar store, a field journal (you know, for important scientific notes!), crazy mad scientist glasses, pop rocks and 'specimen jars' filled with radioactive glow worms (sour gummy worms), alien cocoons (big crunchy nerds) and bug eggs (regular nerds).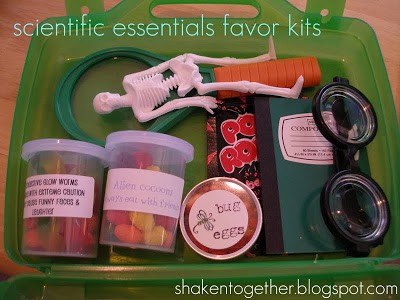 The entire Bassett clan rocked the kooky glasses, too: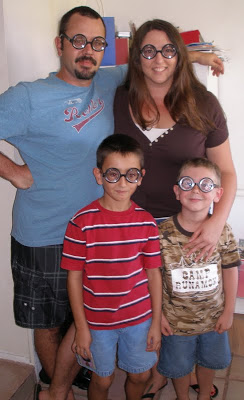 Well, there you have it – a little mini trip back in time (look at how little The Bugs were!) and some fun ideas for your very own little mad scientist birthday party celebration!