I seriously love and not-s0-love Fridays sometimes. I know that sounds sacrilegious … see, I love that it is the end of my work week but EEK! I've got to have a craft (or something) done with step-by-step pictures, cheekily commentated by Yours Truly and it has to be something that other people will actually want to look at and maybe do or make, too! Luckily, I am up to the challenge 😉 and here it is … my weekly craft and tutorial to help you jump start your creative weekend!
Behold – our hallway photo gallery!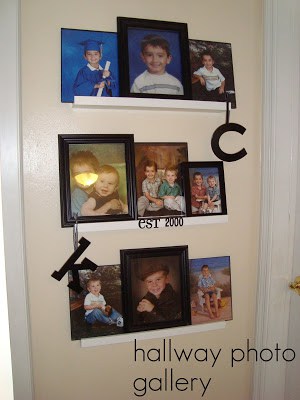 This project actually had The Saint's big fat stamp of approval (he normally just nods and smiles when I show him my blog projects and keeps watching ESPN unless I need his power tools, ha ha!) and he even helped!
A quick little background story before we get started … we bought our first house in May 2009. That is over two years ago. So while The Bugs were away at camp this June in North Carolina, The Saint mentioned that we did not have one.single.picture. of our kids in our house. Not one! Tons in scrapbooks and saved in organized folders on the computer, but NONE on our walls. You wouldn't even know we had kids if you had walked in our house before this past weekend. Holy bad parents, Batman! But thankfully, the situation was easily remedied thanks to three $10 photo ledges from IKEA, a bunch of photos and black photo frames, a few scrapbook letters and a little creativity.
So…here is what we did!
I know a lot of folks hang their kids' pictures down the hallway, but our set up in a little odd since we have our air conditioner closet, glass sliding closet doors, bathroom door and our bedroom door lined up on the left and the A/C control and The Bugs' bedroom doors on the right. Not very conducive to picture hanging.
BUT…we do have the end of the hallway that was just sitting there
asking
to be featured on this here blog 😉 I forgot to take a before shot (so excited to hang those ledges!) … so you'll just have to close your eyes and imagine the plain little wall.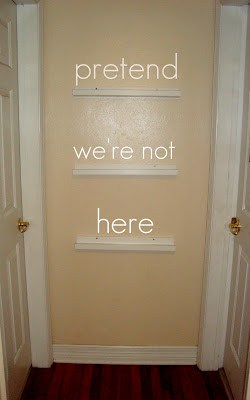 The Saint and his trusty drill and level and I spaced the ledges and hung them. I was thrilled that they fit so perfectly in that space! Then I arranged. and rearranged. and unarranged. and re-rearranged the photos. 😉
Finally, I added a few special personal touches to the ledges: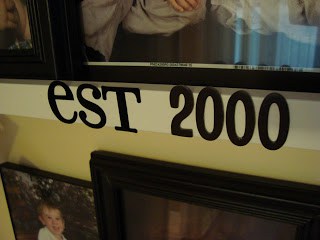 scrapbook letters document the year our family was established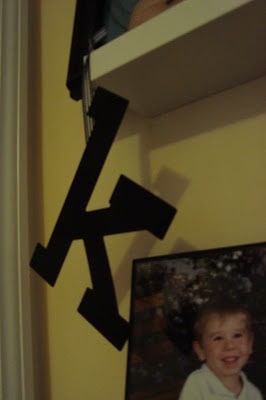 a black metal "k" for the Little Bug and for me 🙂 hanging by some striped ribbon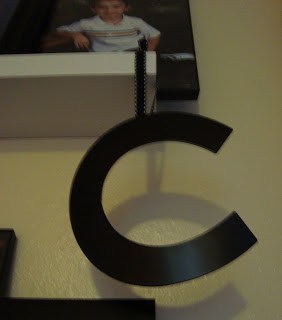 a hanging black metal "c" for the Bigger Bug and The Saint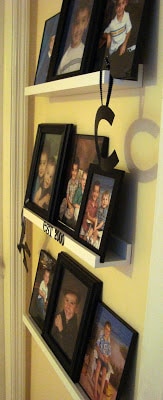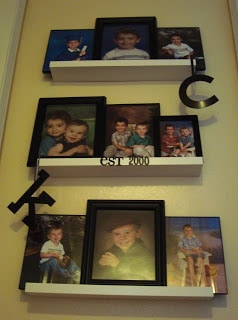 We had more photos that wouldn't fit on the ledges…so we created this fun little gallery of photos and funky signs/art work above our fireplace: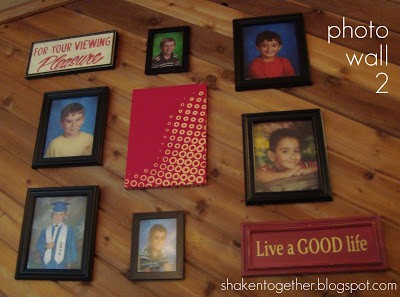 Such a productive and personal weekend – LOVED it! Bonus: The Saint and I also have a totally dorky joke now, too. Every time we see the pictures we say, "Look! We have kids!" I know … we need to get out more!
This project was shared at all the blogs on my Link page!