So….I am taking a little break from my Upcycling: Free to Fab! series. Why? I have a few more ideas but none really took shape this week. I do have a few more things up my sleeve so dont' you worry! I'll revive it in the coming weeks and months. But, have no fear! Fin de Friday is here! And these week, you get…


Family Fingerprint Specimen Art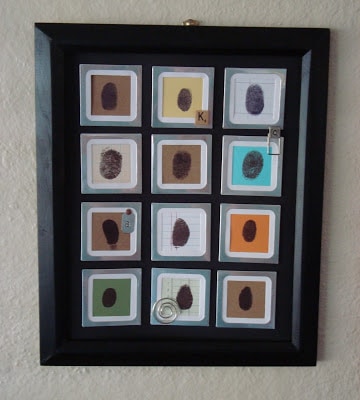 And without further ado, the HOW-TO…

Here are your basic supplies: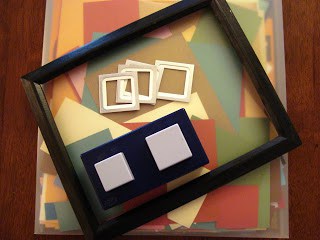 Paper scraps, square punch, picture frame, $1 slides from JoAnns (Also, ink and various embellishments…not pictured because I am a dork and didn't think ahead and too lazy to take and upload more pictures, ha ha)
I found these fun little metal slides in the $1 bins at JoAnns and figured I could find something to do with them!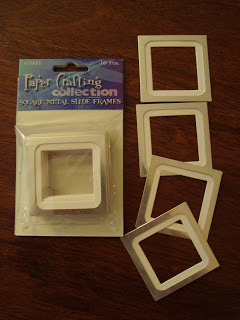 I have been totally inspired by the "specimen art" out in Blogland (you know, a frame with different colors/sizes/variations on the same 'specimen'), but my decor doesn't really run towards butterflies or hearts (or any of the shapes that I have punches in, ha ha!). AND I wanted something personal and unique…what could be more personal and unique than our fingerprints?!

So, I punched paper squares to fit behind the slides – I used a few plain colors, kraft paper and "science-y" graph, ledger and lined papers. Then, I corralled The Bugs and The Saint and we inked our fingers and stamped away…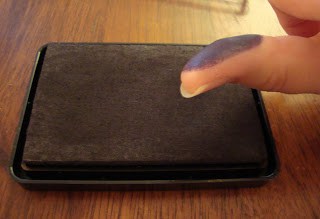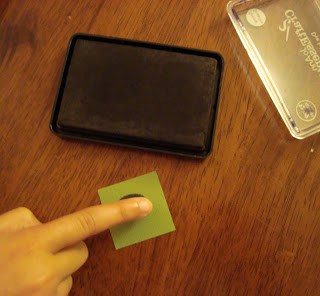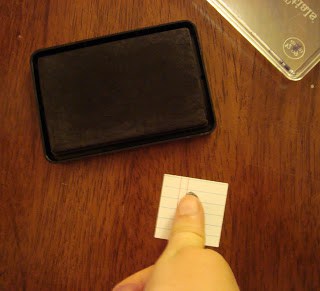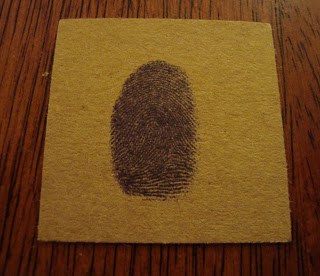 Now, adhere your paper squares behind the slides…your specimens have been captured!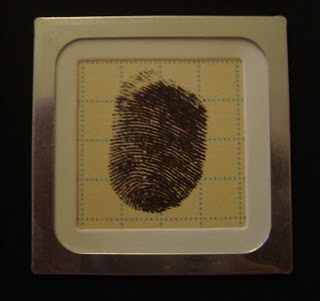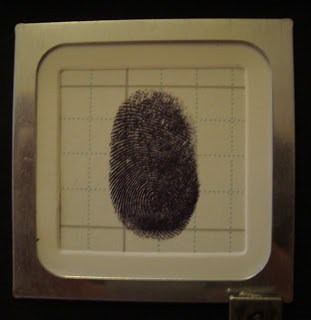 Arrange the slide specimens on your paper backing (I used black to match my frame so the fingerprint slides popped!) and add fun embellishments…like these: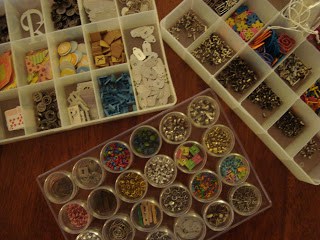 I picked a K and a C since all 4 of our names start with those letters, a metal 8 tag for the Little Bug's age and a spiral paperclip highlighting the 11 on the ledger paper for the Bigger Bug's age. See?!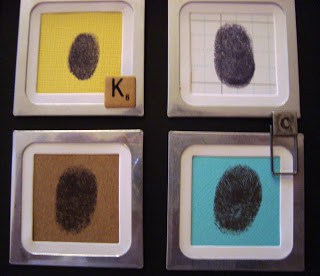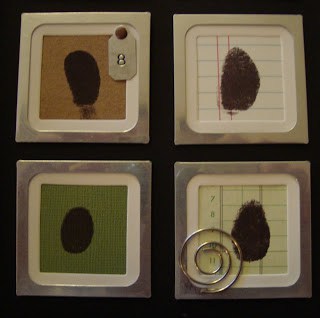 Here is it hanging on our wall 🙂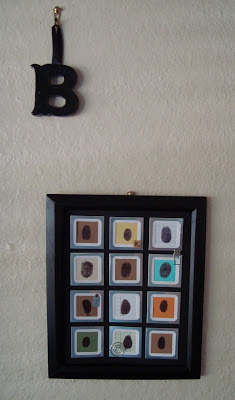 I love that I've captured such a personal part of our family without names or photos. This would make a great gift for a parent or grandparent, a fun activity for a family reunion or even a very personal thank you for a fabulous teacher!

COMING UP: I am launching my 6 Takes on Cupcakes series on Taste This Tuesday and will have another fabulous Fin de Friday…and maybe something else fun thrown in, too! Look for my NEW link party – What'd You Whisk Up? – that is the perfect place to link up your old and new recipes, tips and tricks for the kitchen, fun ways to display food and any other tasty posts!!
This project was shared at all the blogs on my Link page!