Ahhh, Friday! The end of another work week and the beginning of the weekend! In case you're new here and wondering what in the world my Fin de Friday posts are all about … "fin de" means "end of" in Spanish and my crafty posts and tutorials are my way to inspire you to end the week and let your creative weekend begin!!

Before we get started … our Month Long Cupcake Party is in full swing…have you linked up your cupcake related post yet? We want to see anything cupcake: recipes, decorating tips, party fun, cards/layouts, clothing/sewing projects…and anything else you can dream up! We are almost at 100 links and I would love to see triple digits this weekend!

Okay…as I mentioned before, I hit two of our local thrift stores last weekend and bought a few things…well, maybe more than a few. Like a table, three picture frames, a candle stick, sweet little glass bowls & plates, a tiered stand, a funky key holder… so as you can imagine, there are craft projects GALORE filling my dining room aka craft table! And this week, I am sharing my…


{beach style} thrifted frame makeover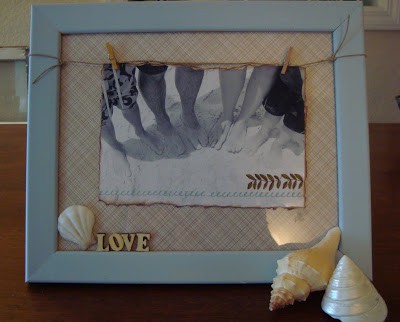 This project started with this $1.99 8×10 wooden picture frame from my local Goodwill store…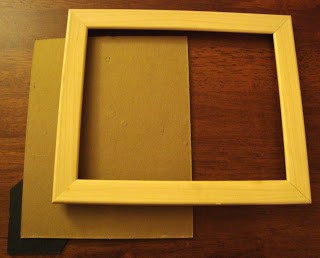 I cleaned the glass and painted the frame light blue with acrylic paint. While it dried, I printed a 5×7 of my favorite family black and white beach pictures. Then I ripped it!

Well, sort of 😉 Have you ever ripped the edge of a picture? Let me show you how…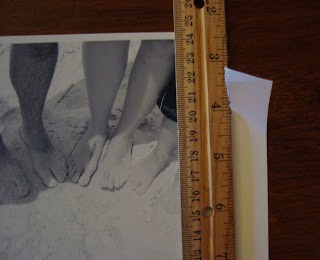 Use a ruler (the wooden ones with the little metal edge work the best) and rip the edge of your picture against the edge of the ruler…that's it! Couldn't be simpler!
Now, if you know me, if there is paper involved in any craft project, I'm going to ink it! And this picture was no exception!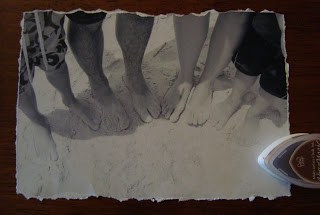 I also added a few rub-ons to the edge of the photo to fill some of the space at the bottom of the photo and add a pinch of color.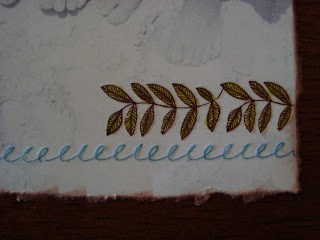 My frame was dry at this point, so I slid a piece of Martha Stewart brown/white scrapbook paper behind the glass insert. Now here's the fun part…we're hanging your picture on the outside of the glass, so before you secure your glass and add the back of the frame, slide a length of jute or twine between the glass and the frame. Then, knot it around your frame.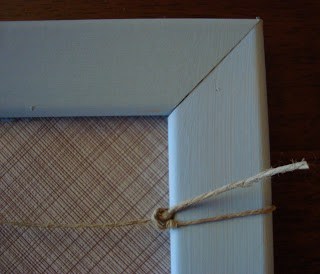 I used two mini clothespins to hang my picture on the cute little jute clothesline: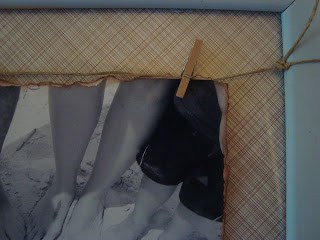 Finally, I added a simple shell and L-O-V-E letters in the corner…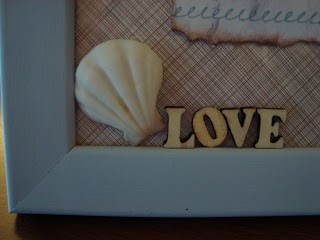 Since I am redecorating our master bedroom into a relaxing beach retreat, this is the first of tons of fun makeovers, repurposing and projects that I will be sharing! Think old shutters, vintage nets, shells, weathered wood…sigh 🙂

Bonus idea! I also used another thrifted frame and the same ideas above to make this pink and brown girly gift for my new niece, Jordyn's bedroom…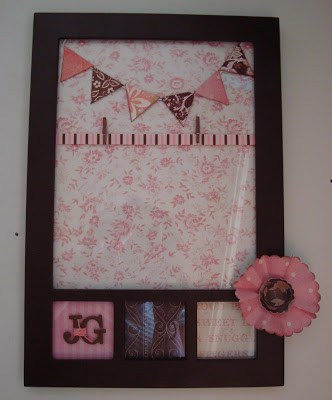 I love the mini bunting and the ribbon clothesline!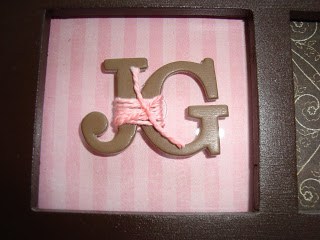 I used thread to tie her initials together in one corner …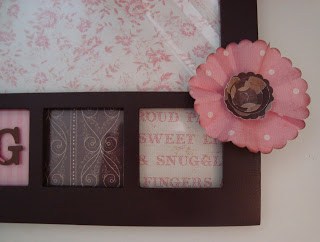 And added a pink and brown paper flower in the other corner! Love!
And speaking of love, the 'lovely' wooden letters on my beach frame makeover were part of a fun little package of craft supplies that I received from WholePort and this is the first project I've made with the goodies I received!

Wholeport is a online craft supplies store that has supplies for almost every type of crafting imaginable! Things like beads, jewelry findings, fabric, paper, lace trim, soap molds and TONS of other fun finds like the wooden letters! They are also offering my lovely pressed down, shaken together readers and fellow crafters a special 10% discount off of your entire order! Simply enter coupon code CRAFTFUN10 at checkout to receive the discount! The discount expires 7/31/11 so that gives you plenty of time to make your shopping list 😉

Finally, they are also hosting a Creativity Expo and you can find all the details on their blog, here! They will send you your choice of 1 of 9 craft items – FREE!! But act fast – the deadline to request the free craft item ends on 7/14/11 at 11:59PM EST. When you receive your items, craft something stupenous with it and post a picture on Wholeport's Facebook wall. Ten winners will receive a $50 cash coupon to Wholeport – that'll buy a whole lot of awesome craft supplies!!

Okay, let's wrap up this marathon post 🙂

This project was shared at all the blogs on my Link page!