Hosting an ugly sweater party? Make some of our adorably atrocious mini felt ugly sweaters and a stash of these easy ugly sweater party favors!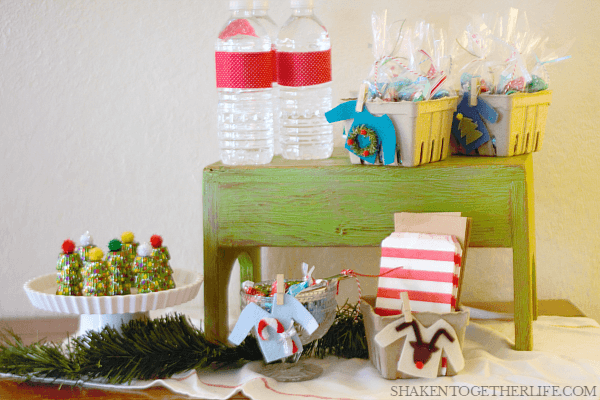 I love the trend of hosting an ugly sweater party. I've seen some pretty tacky threads and creative use of tinsel and twinkly lights 😉 I mean really, I love any themed party. But if I get to dress up with a goal of all out ugly, it's a refreshing change of pace, ha ha. So, let's celebrate the ugly sweater with a few easy entertaining ideas!
Felt Ugly Sweaters & Ugly Sweater Party Favors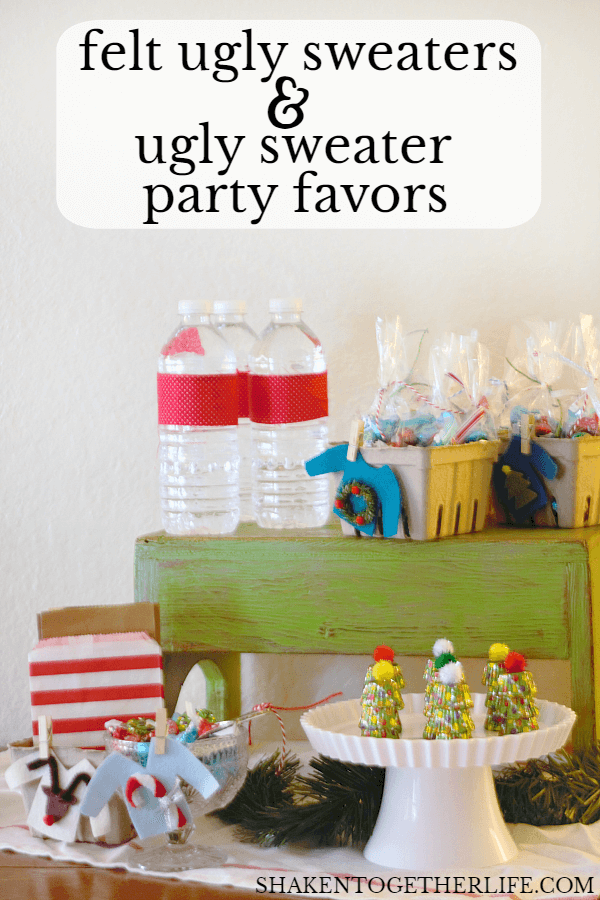 No ugly sweater party is complete without a few tacky ugly sweaters. I whipped up some mini ugly sweaters with felt and super basic supplies from my craft closet: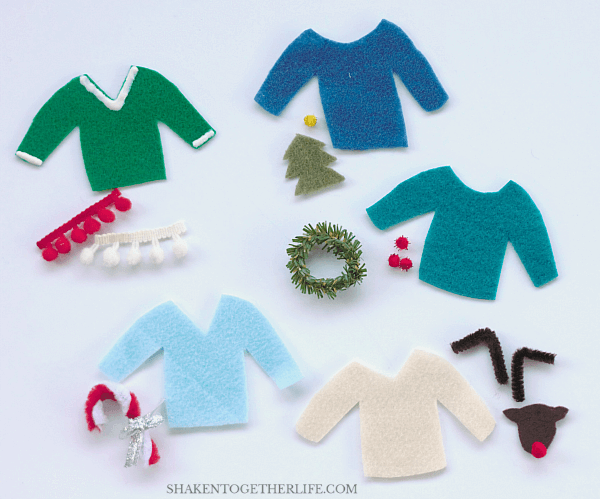 First, I cut out sweater shapes from various colors of felt. Then, using pipe cleaners, pom poms, pom pom trim and additional felt scraps, I created the decorations for each felt ugly sweater: a wreath, a reindeer, a candy cane, a tree and double pom poms. All you need is a little creativity and some hot glue!
**Disclaimer: Please exercise caution when using hot glue guns. Completed craft is for decorative purposes only, please do not eat candy included in the craft.
If you wanted to get really creative, you could set up a station so your party guests could fashion their own mini felt ugly sweaters … fun, right?
I'll show you each sweater in detail in just a minute, but now we have to create the ugly sweater party favors for the party! These easy party favors start with 3 bags of Hershey's Kisses Kissmas Sweater Chocolates. Instead of the iconic silver wrapper, each chocolate is wrapped in its own Kissmas sweater!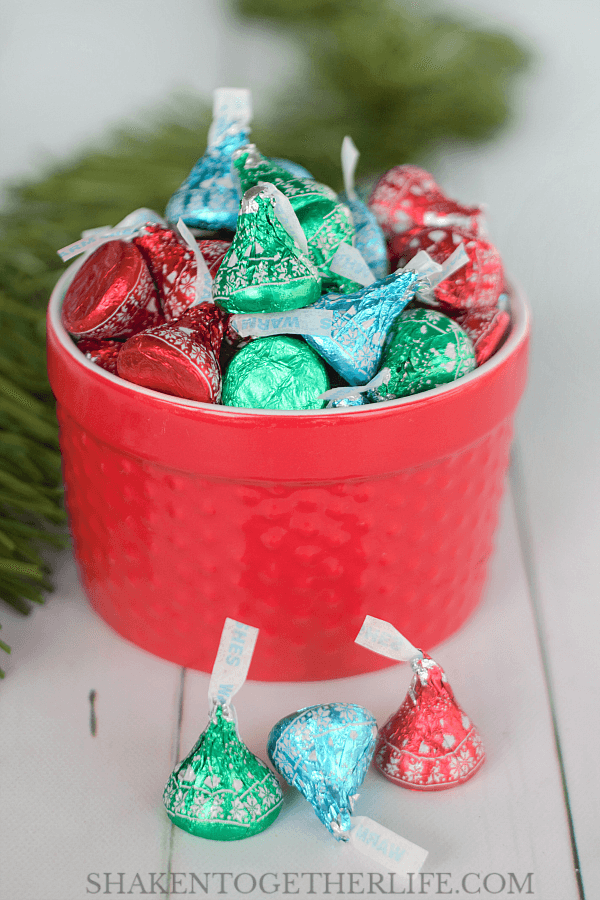 To create the sweet treats for party guests to take home, simply fill a cellophane pretzel bag (basically a long, skinny cello bag – you can see one in detail a few photos down) with 12 chocolates. This is a great task for little hands 🙂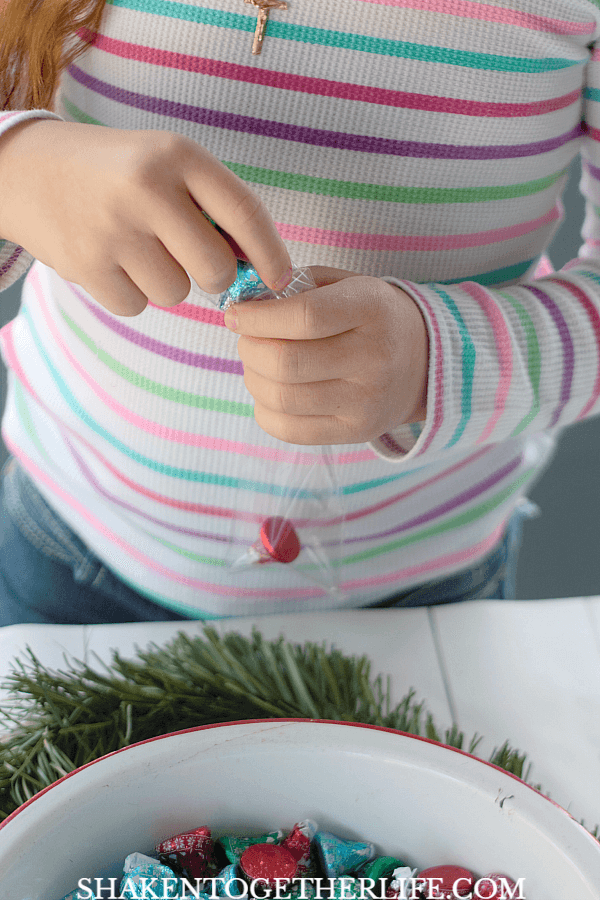 Ours were done in no time flat and we could make about 16-18 party favors with 3 bags of Hershey's Kisses Chocolates.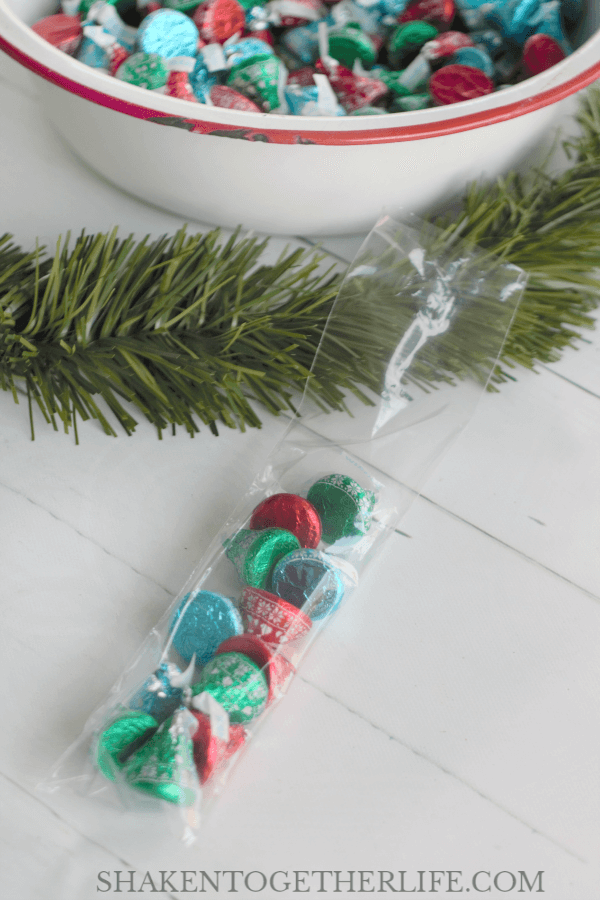 Once the bags are filled, tie them closed with festive coordinating ribbon and pop them in a basket, bowl or small container for party guests to grab on their way out!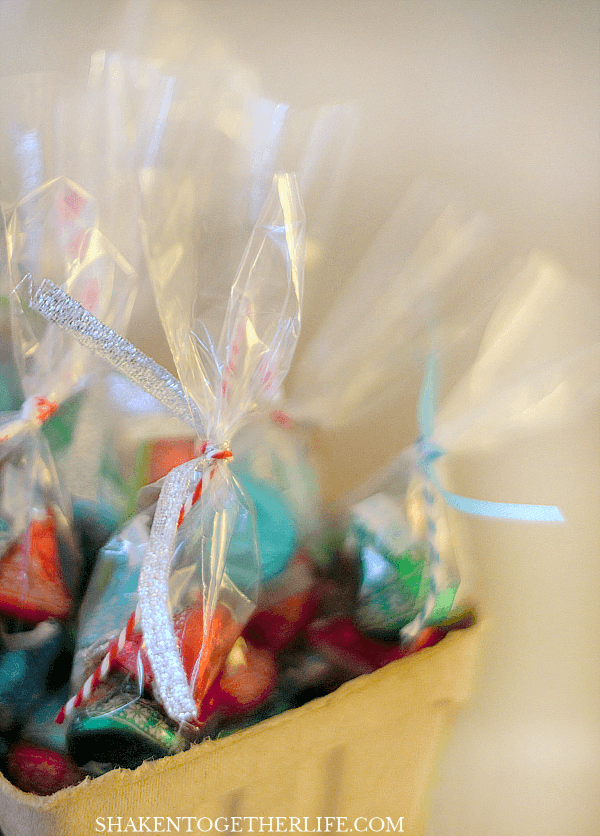 No, I didn't forget those cute mini felt ugly sweaters. With some mini clothespins, they add some serious fun to a little ugly sweater party favor station! Just clip them onto everything and anything!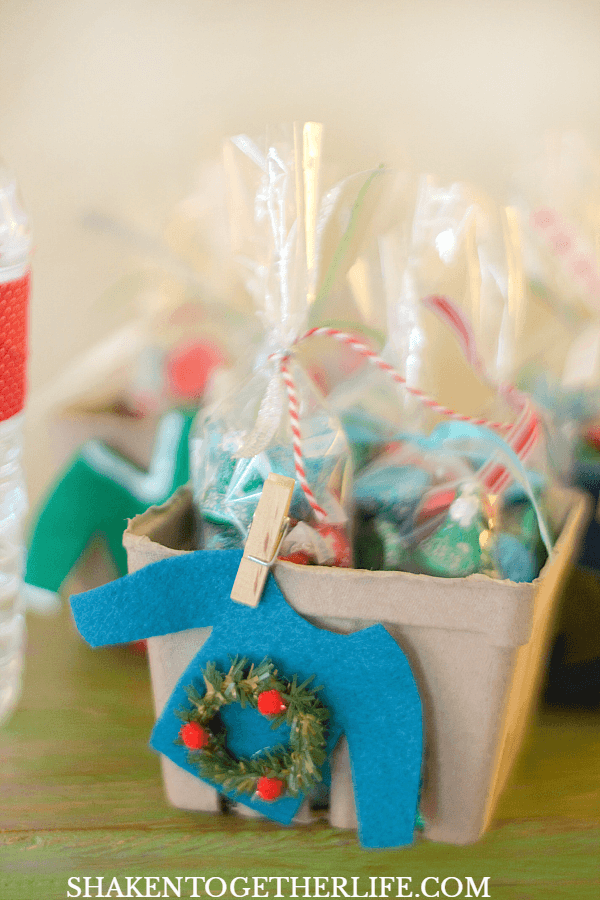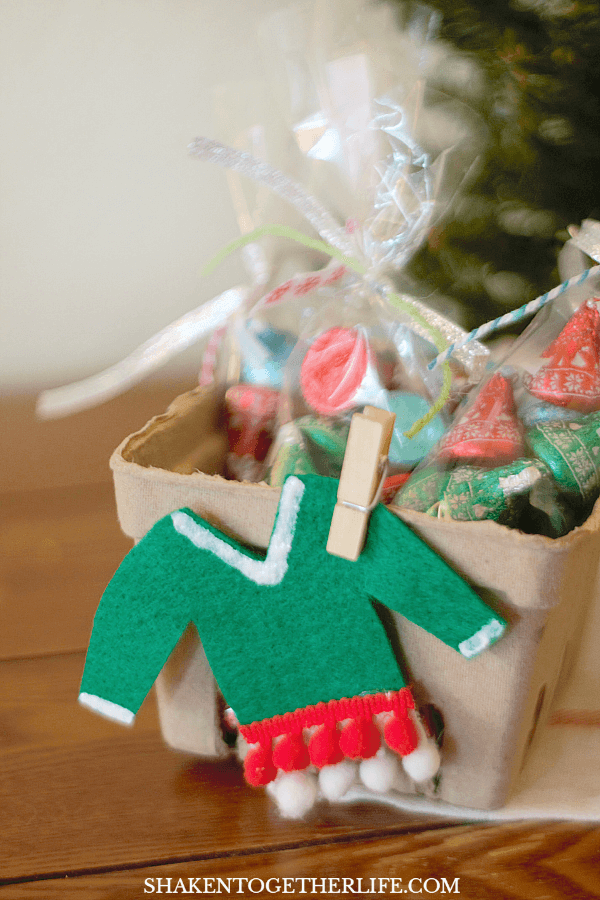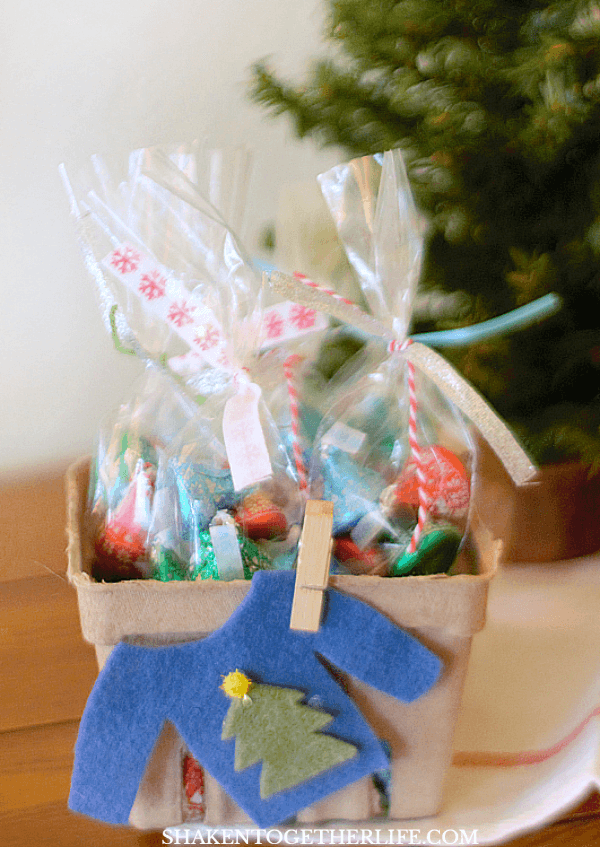 With some of the extra Hershey's Kisses Kissmas Sweater Chocolates and Reese's Peanut Butter Cups Miniatures in holiday foils, I set up a little grab bag station so guests can scoop as little or as much of the candy they want in a festive mini bag!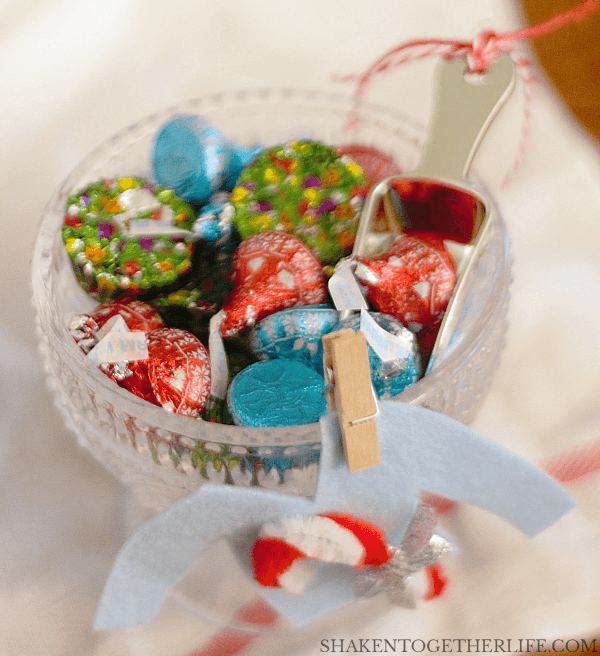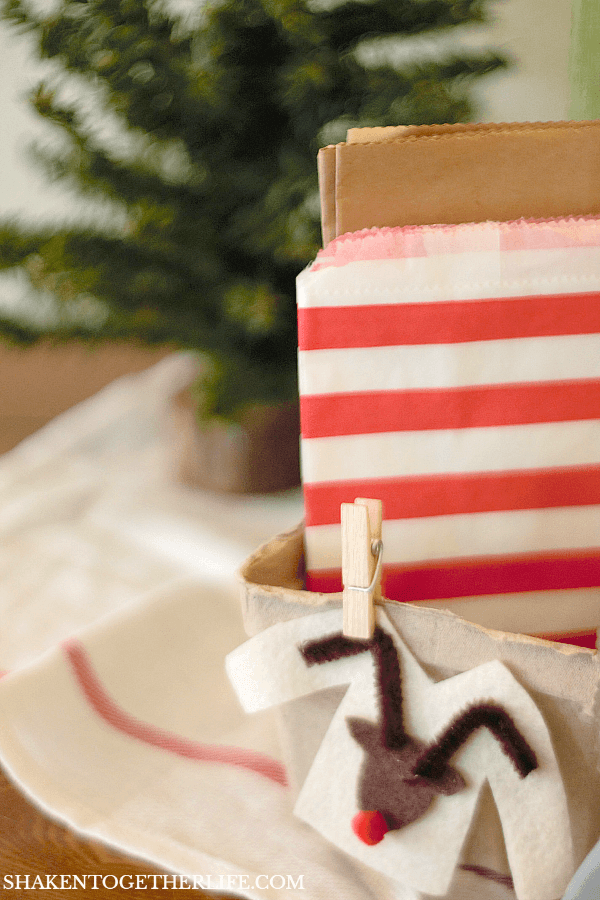 For a quick finishing touch, I made some mini trees with pom pom stars from the Reese's Peanut Butter Cups Miniatures and set them up on a cake stand.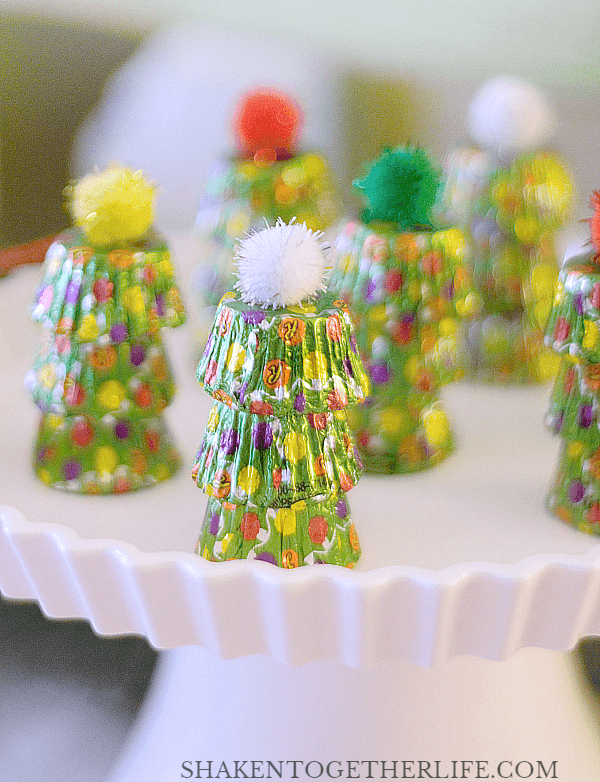 I wrapped water bottles with some cheery polka dotted fabric for a little to-go hydration and the details for this Ugly Sweater Party Favors stations were done!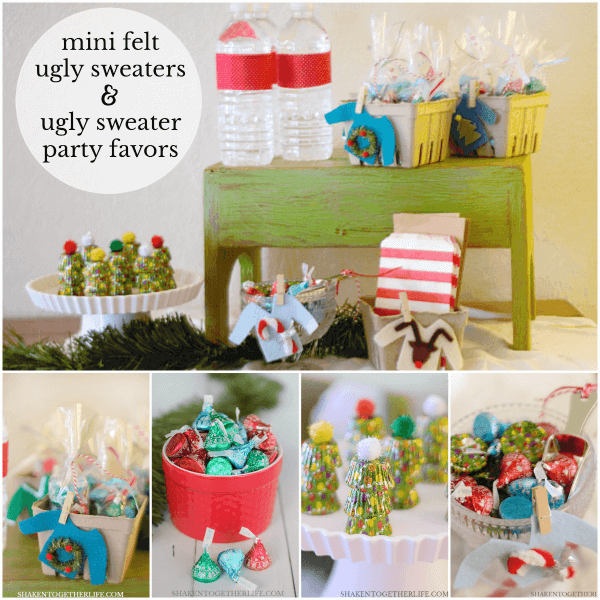 Have you ever hosted an Ugly Sweater Party? Since most of our December is still leaning towards 80 degrees, I may just have to host an Ugly Holiday T-Shirt party, ha ha!