This post is part of a social shopper marketing insight campaign with Pollinate Media Group® and Wet-Nap®, but all my opinions are my own. #pmedia #ConquerTheMess http://my-disclosur.es/OBsstV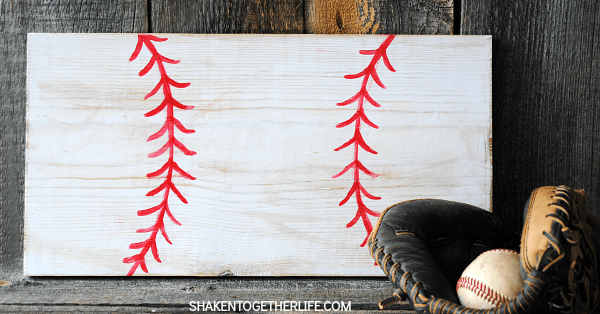 This has been quite a Summer so far! Not only did we decide to have the exterior of our home painted (I shared a sneak peek on Instagram), but we also decided to bite the bullet and put in a pool! Eeeeee! And those updates outside spurred us to paint our living room, remove the textured walls in our kitchen and begin working on all sorts of DIY projects around the inside of our home. Since our boys' rooms need some sprucing up too, I decided to start with this quick and easy Wooden Baseball Sign!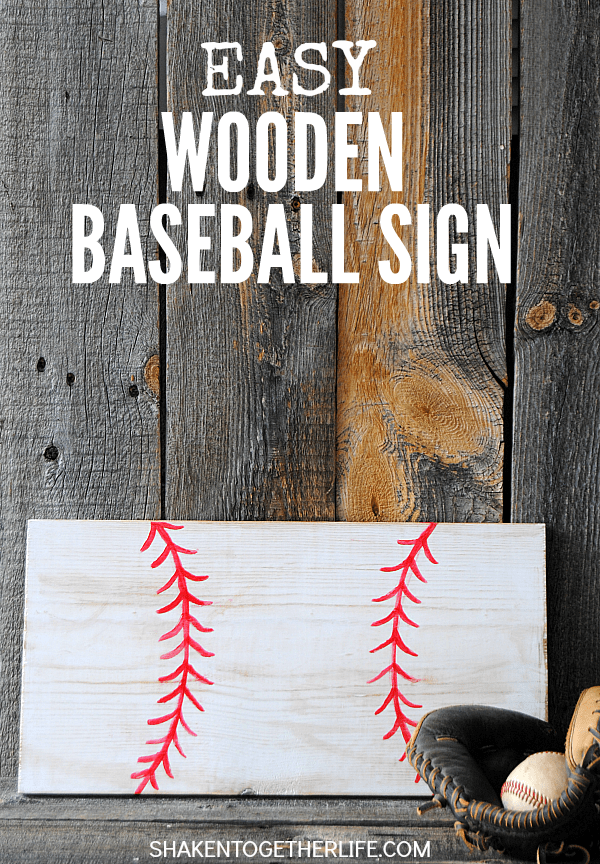 This rustic sign is going to be part of a gallery wall in Cam's room. He has loved sports - especially baseball and football - from the moment he said his first word, "ball". I have plans for a cool project using his old jerseys, a favorite motivational quote and some pillows and new bedding. But first ... this sign!
Wooden Baseball Sign Supplies
Wood - I used a scrap piece I had and my sign is about 18 x 11
Paint brush
White and red acrylic paint
Sand paper
Dark crème wax (optional)
Now, while I didn't list them in the supply list above, I always have a canister of Wet-Nap® Cleansing Wipes on hand for easy clean up while crafting. I picked them up at Walmart when I stopped off to grab sand paper and acrylic paint. They are safe on hands and face and so much quicker than running to the sink multiple times to clean off paint, dust from sanding, stray craft glue and any other crafty messes!
The How-To
First, sand your wood to remove any rough edges. Then, give the sign two coats of white acrylic paint. Kaleb decided that he wanted to help with the sign. And if you are anything like he and I, there is always going to be some paint that ends up on your hands. It's part of the messy fun of paint + a 12 year old 😉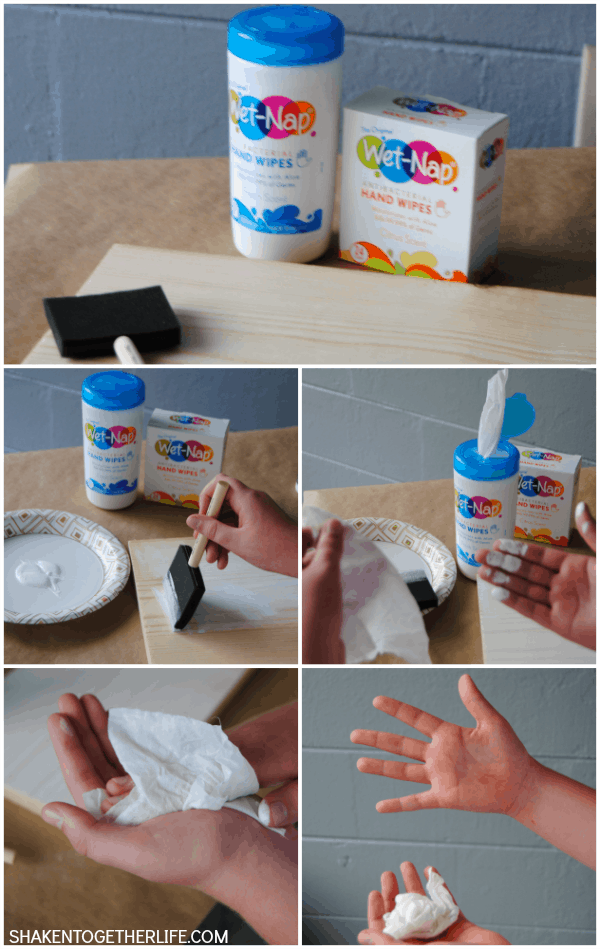 Now that the sign has a base coat of white and hands are clean, use a small paint brush and red acrylic paint to add a curved line on either end of the sign.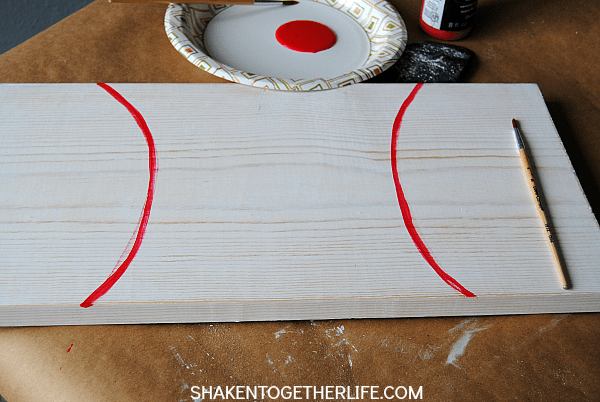 Add the stitches on each curved line. (And of course, after I painted all of the stitching, I realized that it should go in opposite directions since technically the stitching on a baseball is one continuous loop. Oops! #baseballmomfoul)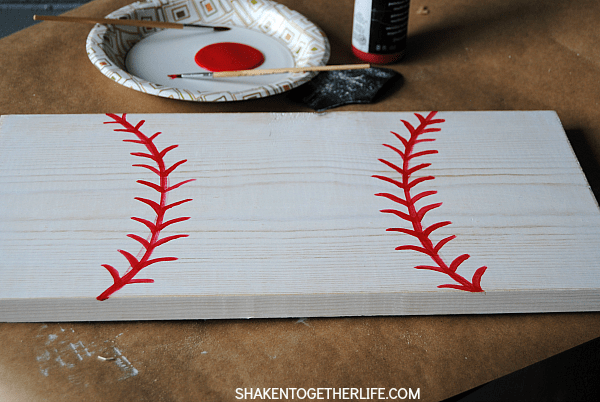 Once the sign is dry, use the sand paper to distress the sign along the edges and in several places on the face of the sign. I like to let a little wood peek through here and there. I also added some dark wax to create the look of a baseball that has spent some time on the diamond and in the clay. Dark wax is an easy way to add age and character to a new sign. Just use a soft cloth to add the wax around the edges and on a few spots on the face of the sign. Then, with a clean part of the same cloth, remove excess wax and buff.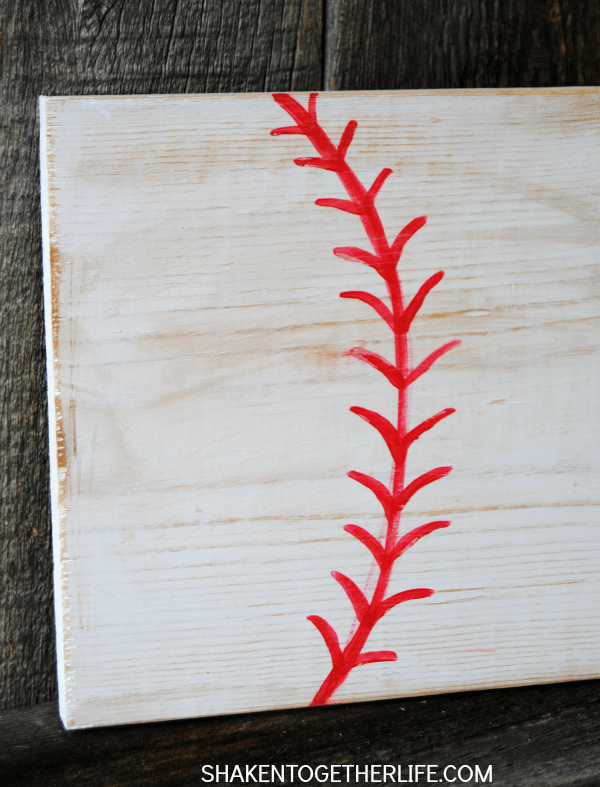 Now that that sign is dry, you can add a picture hanger to the back to hang it on the wall or just sit it on a shelf to add a little rustic baseball décor to a kiddo's bedroom, a man cave or even a gallery wall!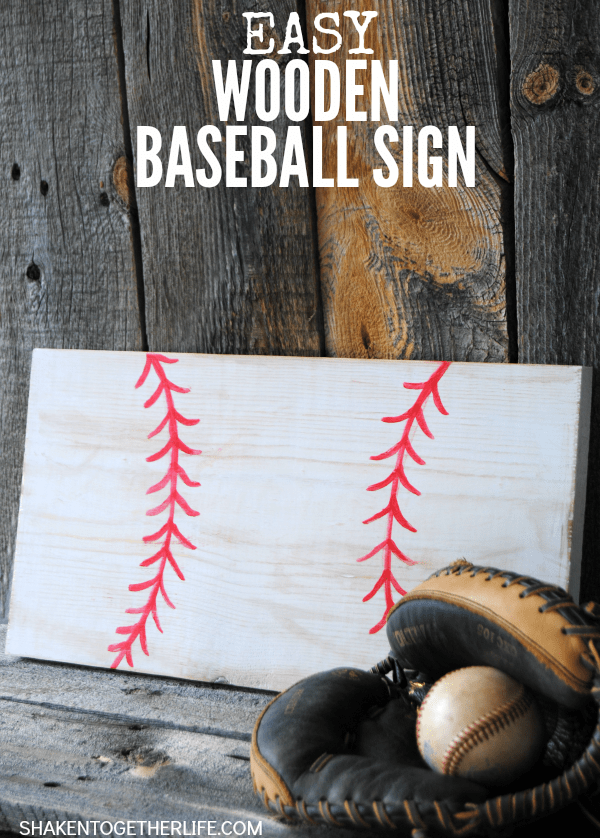 I am pretty excited to report that I even got a "That's cool" from Cam. That is high praise from a 15 year old 😉
{Visit Walmart for all your Wet-Nap® needs: 110-Count Hands, Face, & Body Cleansing Wipes, 24-Count Packettes Antibacterial Hand Wipes and 40-Count Canister Antibacterial Hand Wipes. We take them to the beach, the ball park and on road trips! If you want to conquer even more messes, connect with Wet-Nap® on Facebook, Pinterest and YouTube!}
Our easy Wooden Baseball Sign may be shared here: