Packed with grilled chicken and fresh veggies on top of fluffy white rice, these Easy Greek Chicken Rice Bowls are a hearty and wholesome dinner that hits the table in no time!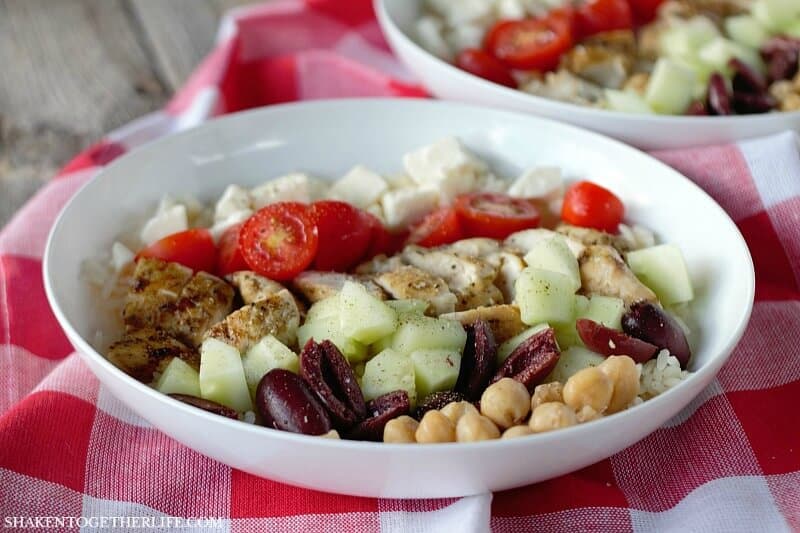 Holy moly is Summer flying by. My boys go back to school in just a few short weeks (both in high school, EEK!), our baseball schedule is non-stop and work is not showing any signs of slowing down. While I wouldn't change one crazy thing about this life we live, there are only so many hours in the day, ya'll. Which is exactly why I love meals like the one I am sharing today. With just a few ingredients from the pantry and fridge and a few minutes carved out of a busy day, dinner is DONE!
Easy Greek Chicken Rice Bowls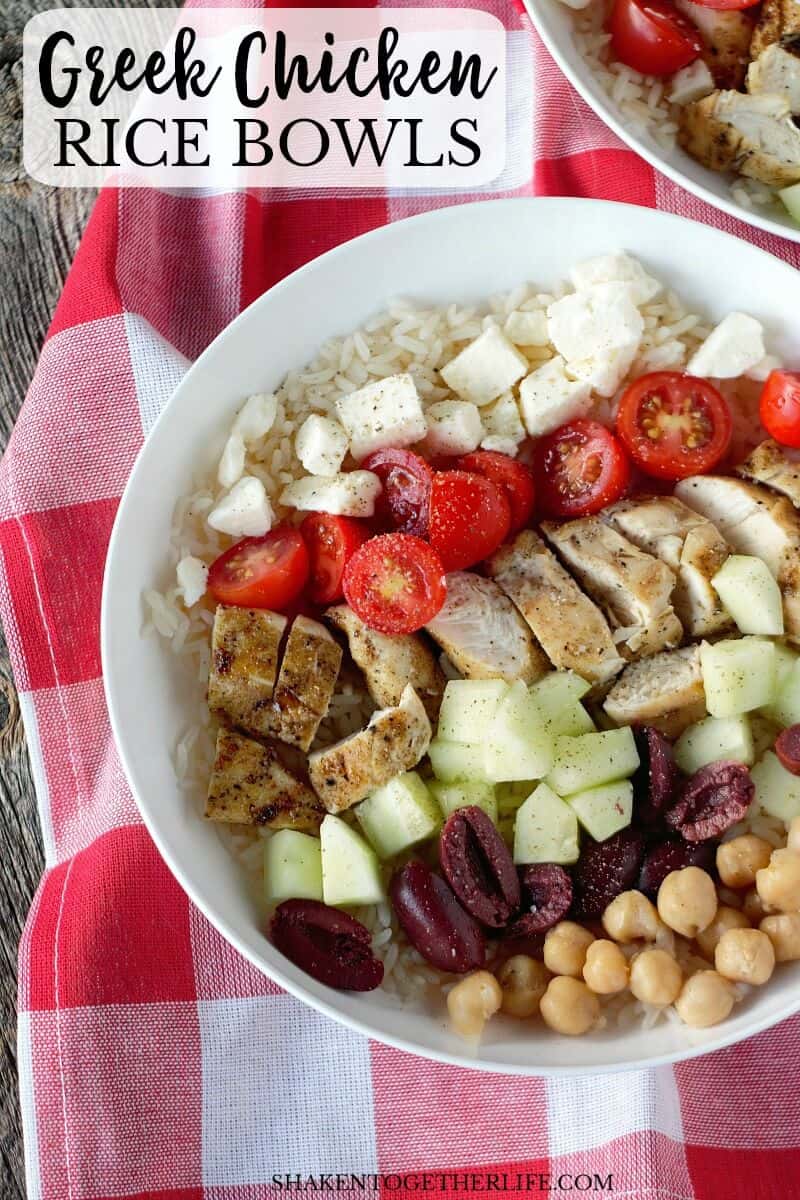 As a full time working wife, mom of two and blogger, I am always looking for ways to make week night dinners easier. I have found that by incorporating these easy tips, week night meals aren't so stressful!
Meal Prep Tips
I create a meal plan and post it on our fridge so I don't end up ordering pizza too often.
I stick to tried-and-true recipes that have simple ingredients and no long and involved cooking techniques. I leave new recipes for the weekends when I have a bit more time and patience.
I also try to do some basic meal prep during the weekend:
Chop veggies for upcoming meals and snacks (sometimes I even buy pre-chopped veggies)
Make hard boiled eggs for salads and snacks
Prep protein for a couple of meals – like slow cooker shredded beef for tacos or grill a big batch of marinated chicken tenderloins
Stock up on convenient, wholesome basics like canned beans, steam in the bag veggies and Ready to Serve rice Family Bowls
Each Minute® Ready to Serve Family Bowl is a full 16 oz. of White or Whole Grain rice – that is 3-4 servings which is perfect for our family of four. There are no preservatives and cooking this rice could not be any easier. Just pop it in the microwave as you are preparing the other ingredients for these Greek Chicken Rice Bowls.
This is what you get after 2 minutes – literally 2 minutes! Soft fluffy rice that is not sticky, or gummy, or mushy.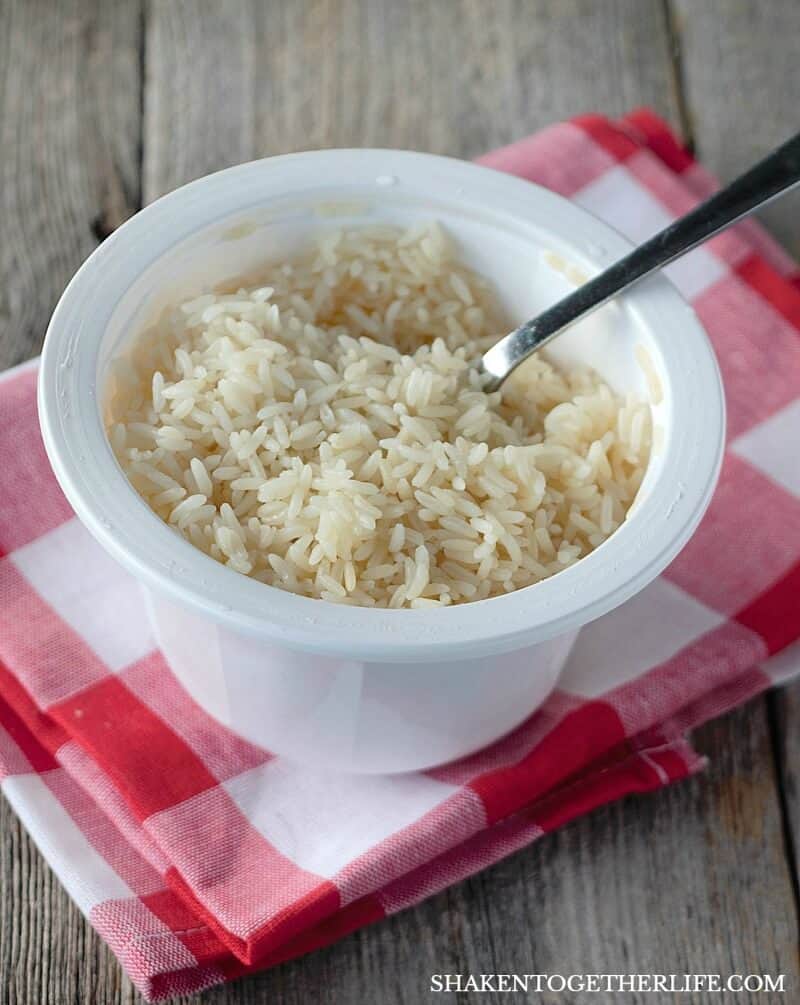 Rice is the perfect base for a quick stir fry, fried rice, a simple side dish or the foundation of a rice bowl like this one. We make rice bowls often. They are a simple way to repurpose some of those refrigerator leftovers and pantry staples for a quick meal.
To get started, prepare the rice and chop up some left over chicken …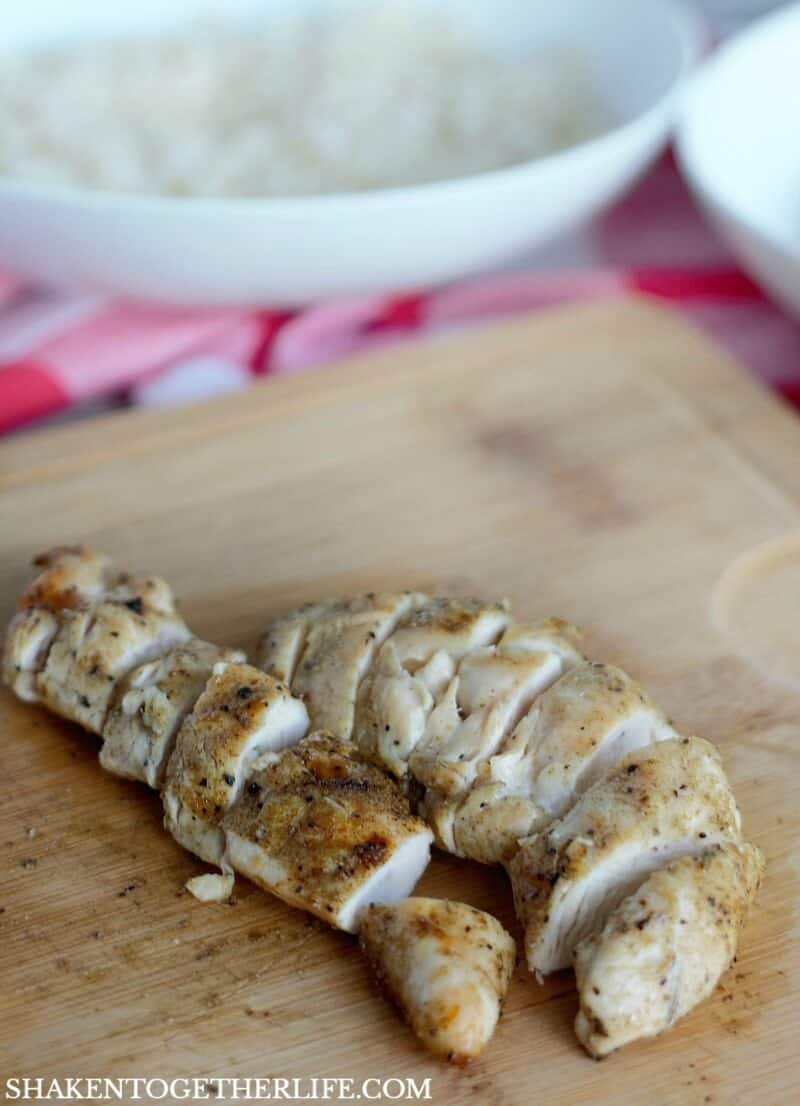 Dice cucumbers and tomatoes, drain a can of chick peas, slice some kalamata olives, grab some feta cheese and pile it on top of that perfectly cooked white rice …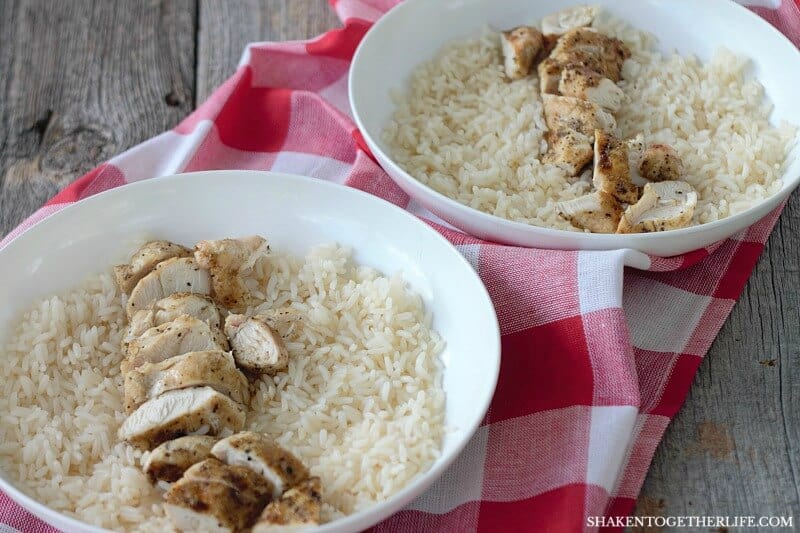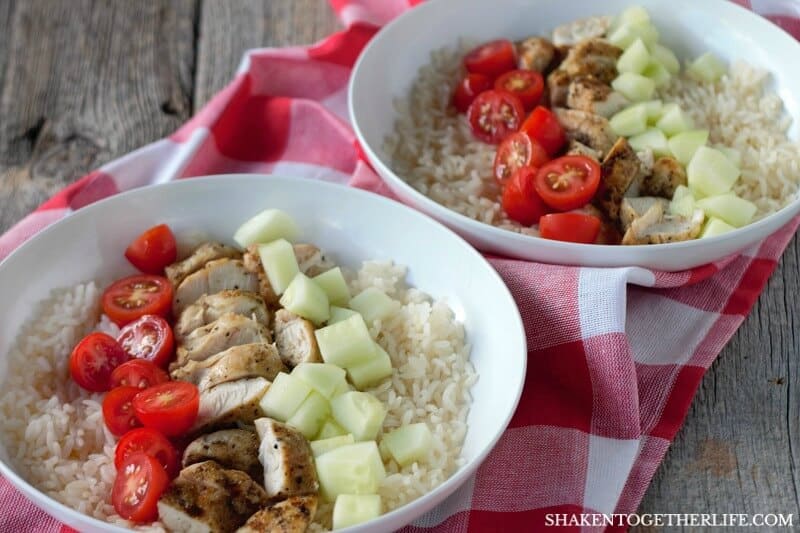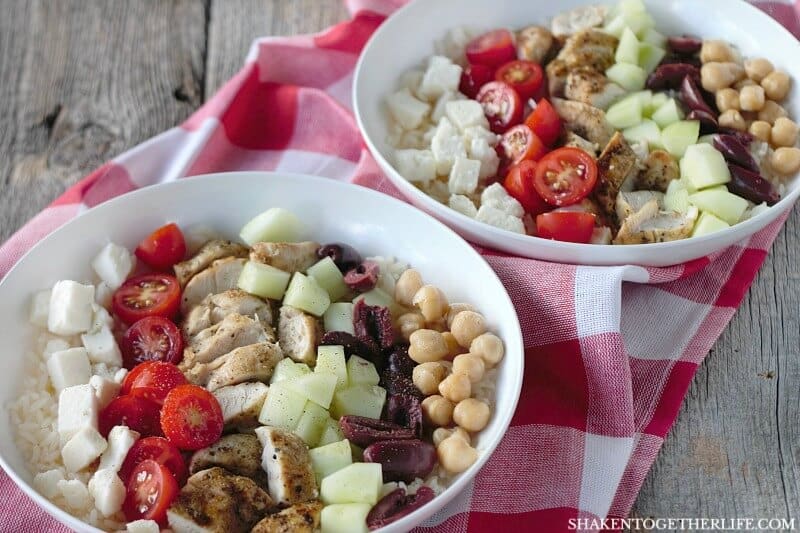 You can add a dollop of tzatziki or hummus, a drizzle of your favorite Greek vinaigrette or even a dash of good quality olive oil if you like. Since our chicken was grilled with a generous sprinkle of Greek seasoning, I just gave everything a good stir, added a smidge of salt and pepper and dug in!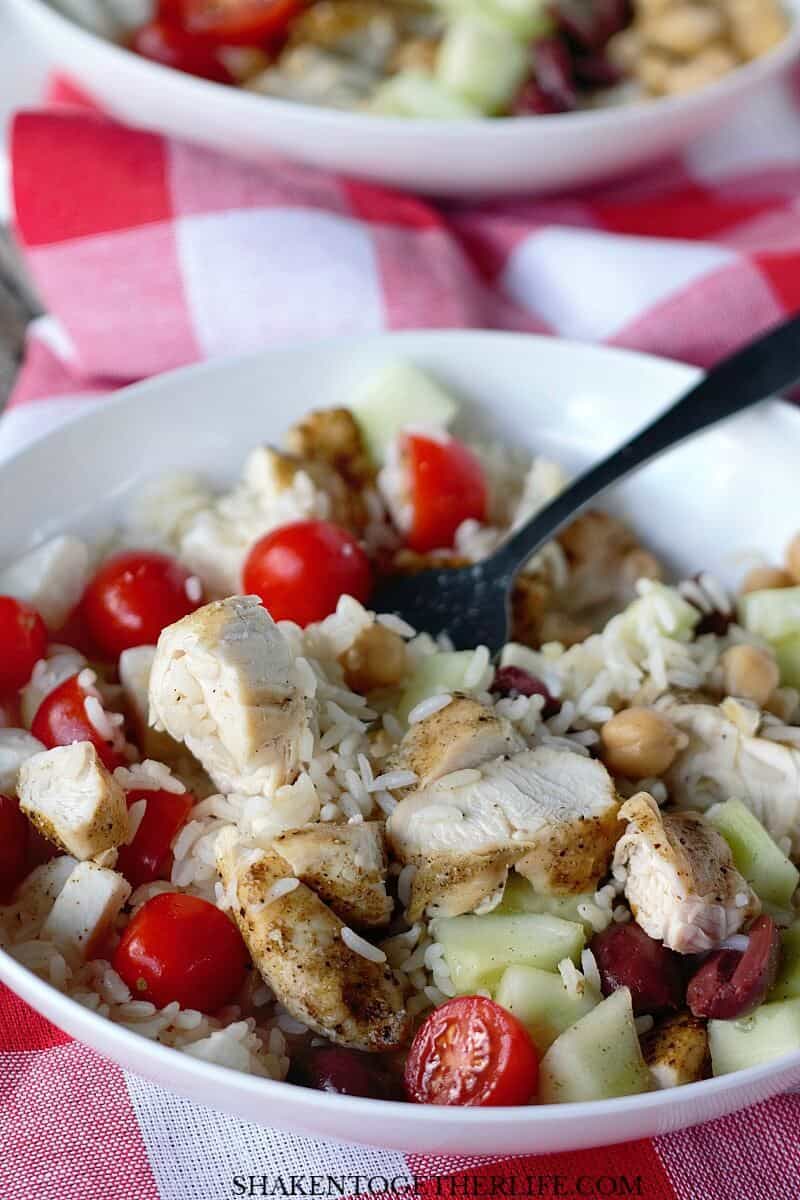 I love the combination of soft warm rice, Greek seasoned chicken, earthy chick peas, crisp cool cucumbers and tomatoes, tangy kalamata olives and the creamy finish of feta!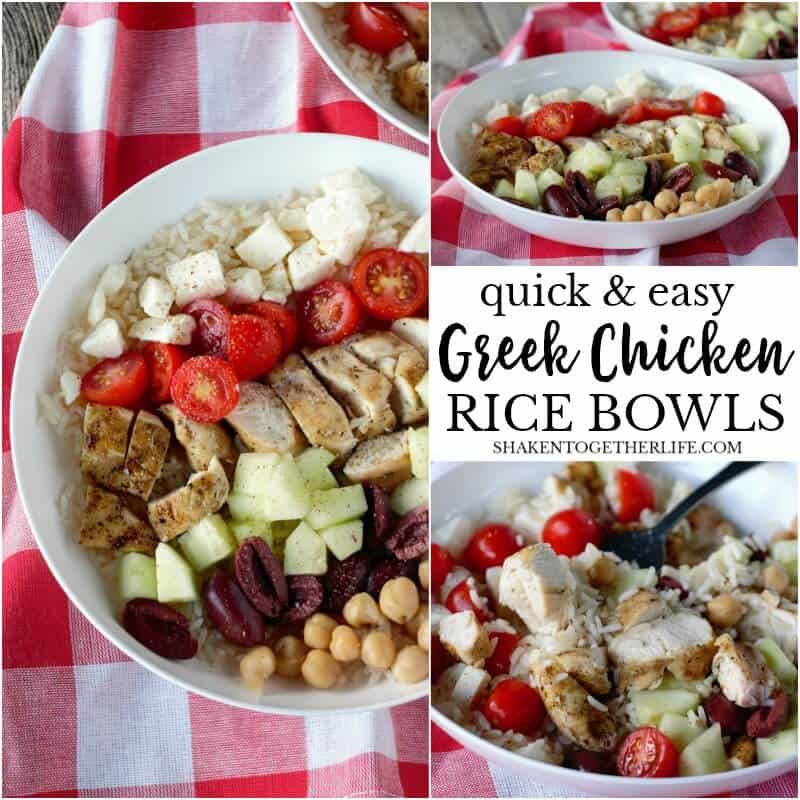 I even packed up the leftovers from these Greek Chicken Rice Bowls for my lunch the next day – I love when dinner does double duty 🙂 Now that these Minute® Ready to Serve Family Bowls are a permanent fixture on my grocery list, I can't wait to try a taco rice bowl, a quick ham & veggie stir fry with brown rice and a quick version of my Butter Cilantro Rice!
More Easy Weeknight Meal Ideas!