This morning, I am kicking off a series of posts for holiday gift giving!  I'll be sharing handmade gifts, foodie gifts, easy neighbor gifts, this year's teacher gifts, an awesome RAK idea (random acts of kindness!) and so much more!
Now, since it is Monday and Mondays usually need a pretty good dose of happy, this brightly colored, prettily polka-dotted DIY confetti glassware is just the ticket!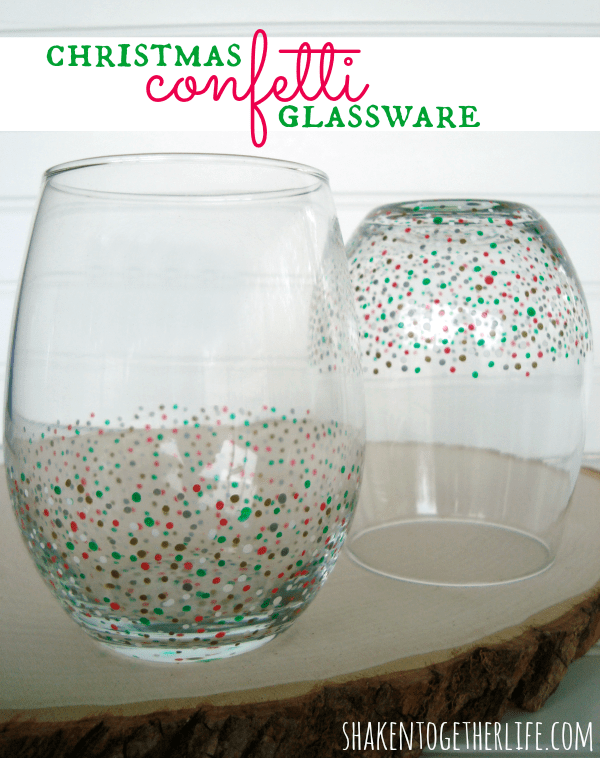 My friend Amy and I were brainstorming inexpensive gift ideas and I remembered seeing this confetti glassware on Pinterest.  I am definitely not the first person to post this idea, but I wanted to share it with you anyway since it was definitely an easy crafty success!  I used red, green, white, silver and gold to make my stemless wine glasses into Christmas confetti glassware, but you can use whatever colors you love!  Now, let's get started!
Merry Materials ...
Rubbing alcohol
Plain oven safe glassware - we picked up stemless wine glasses and regular drinking glasses at the Dollar Spot in our local Target.  You look for glassware at the dollar store or most big box stores as well.
Glass paint markers - we used the glass paint markers from DecoArt and they worked beautifully!
The easy how-to ...
Use some newspaper to protect your work surface just in case you drop the glass paint markers.  You know, if you drop them.  Ahem.
Use rubbing alcohol to remove any residue from labels/stickers and oils from your hands and allow glassware to dry.
Starting with one color, use the glass paint marker to make polka dots on the bottom of the glass and as far up the side of the glassware as you want.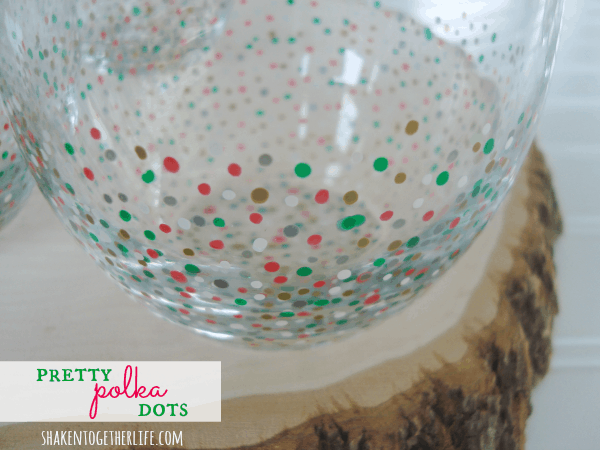 Repeat with each color, filling in the space where you want your confetti to be.  It's okay for some of the dots to overlap - I actually sort of like it!  You can go back and fill in the space with as many dots as you like.  Truthfully, I went back three times to add more dots. Finally I just had to put.the.markers.down.
Following the directions on the paint markers, I allowed the glassware to dry four hours.  While they are drying, take a quick peek at Amy's multi-colored confetti glassware.  I think it is SO fun!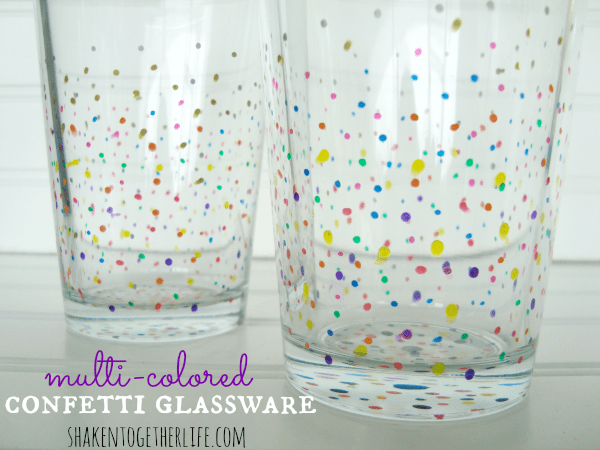 Once the glassware was dry, I placed our glasses on a sheet tray and put them in a 375* oven that was not preheated.  (Yes, the oven will be cold when you put the glassware in.)  I set the timer for 40 minutes and let the oven do its magic.  You may have seen a sneak peek of this step on Instagram!  There may be a little bit of a funny smell while the glassware is baking, but nothing melted or shattered for me.  Once the timer was done, I let the glassware cool and then washed it with regular dish soap.
I don't know about you, but anything with polka dots just makes me smile!  And I have confirmed from a reliable source that wine might taste just a little bit better when sipped out of confetti glassware 😉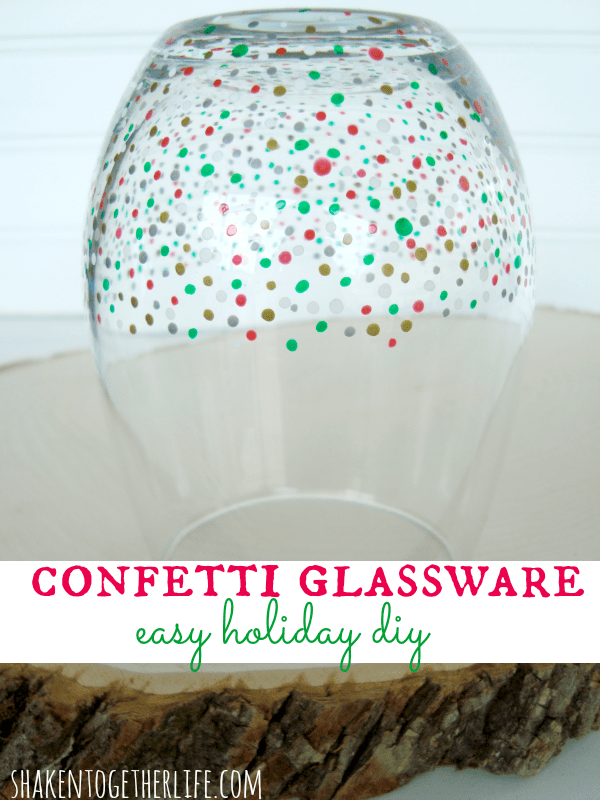 And anything fizzy would just have to be a bit more fun in a pretty polka dot glass, right?!
A few more giftables things you may enjoy ...
You're Worth a Mint Teacher Gifts
Homemade Italian Dipping Spices Hostess Gift
Giftable Stuff Pinterest Board
This post may be shared at these awesome link parties: