Okay, so if you follow me on Instagram (and who doesn't want to see toilet paper rolls shredded by the kitten ninja and glimpses of my oh-so-glamorous life behind the blog?!),over the weekend I posted a little sneak peek of how I created these easy all occasion confetti cards. Yep, today I'm showing you how I crafted with a humble bathroom implement … the Q-tip!
Now, I love to create with tons of different materials: wood, clay, cork, twisted newspaper (and now Q-tips, ha!)! But there is just something about pretty paper, adhesive, stamps and ink that makes me happy. So, with Mothers' Day and Teacher Appreciation Week not too far off, I decided that pretty cards are the perfect quick gift that won't break the bank!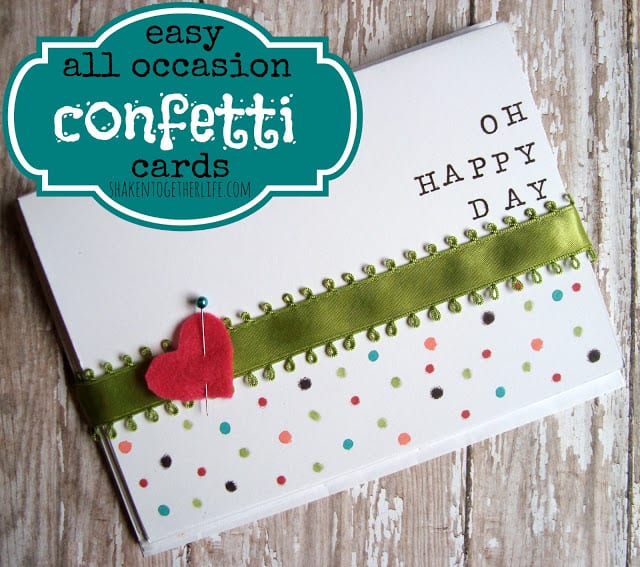 Aren't they cute?! I love the multi-colored polka dot confetti courtesy of Q-tips and the sweet "Oh Happy Day" phrase that makes these cards perfect for babies, birthdays, congratulations, thank yous and any other happy day!
And now the easy how-to! Grab a few basic supplies: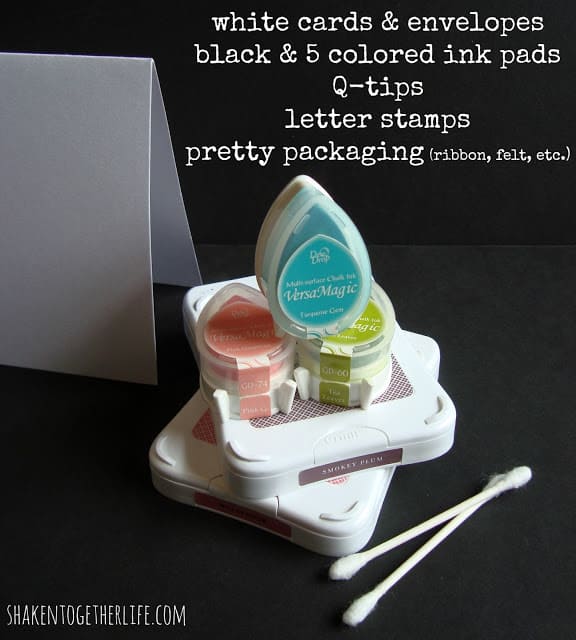 For the ink colors, I picked a bright turquoise, pink grapefruit, Spring green, plum and rosy pink for my confetti – use whatever colors strike your fancy! Use Q-tips to make the dots … large and small, perfectly round and slightly imperfect … get artistic! This is easy enough that even the kiddos can help!

Easy Any Occasion Confetti Cards – Crafting with Qtips
1. Begin stamping dots in one color of ink …
2. Fill in the bottom third of the card with additional colors …
3. All 5 confetti colors … add dots to the corner of the envelopes as well!
4. Using letter stamps and a black ink pad, stamp "Oh Happy Day" on the front of the card – I aligned it on the right side of the card and stamped from the edge of the card moving left. That'll testing your spelling bee skills 😉
5. I stamped "Yay" on the bottom left corner inside the card and added "Happy" on the flap of the envelope, too. Stamp what ever happy sentiments you want!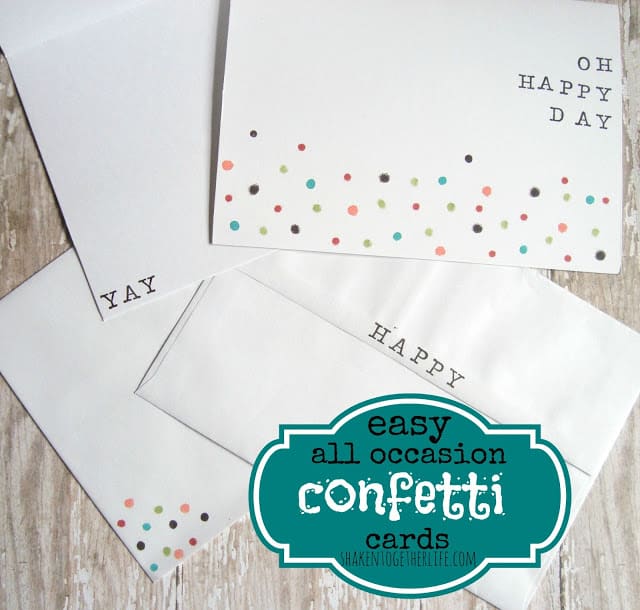 To package them up, I found a gorgeous Spring green ribbon with a pretty looped edge from my stash, cut a heart from pink felt and snagged a straight pin. I stacked up the cards, wrapped the ribbon around the stack and pinned the heart to the ribbon. Easy peasy and stinkin' adorable!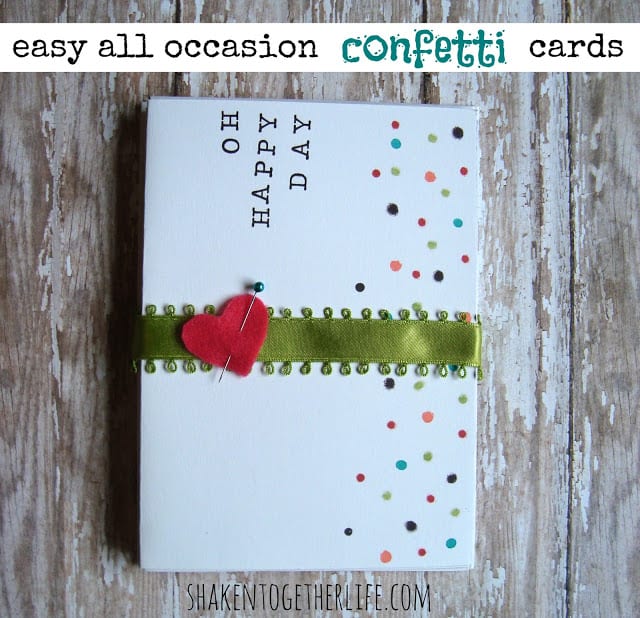 More great teacher gifts from shaken together + friends …
This post was shared at the awesome link parties on my link page!