Sweet gummy pups + our adorable FREE printable bag toppers to color are all you need to whip up a pack of these Doggone Cute Valentines!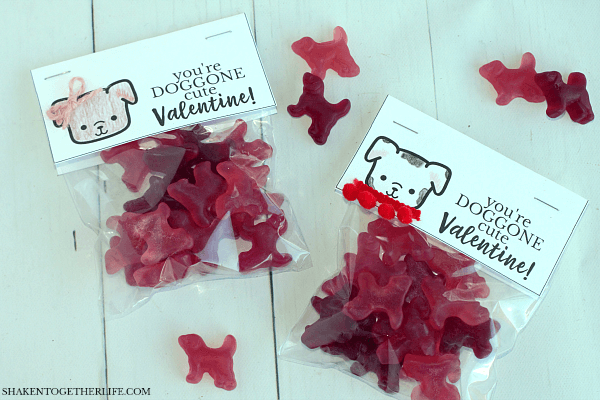 Happy New Year, friends! Is it ironic that one of my last posts of 2016 was a healthy seafood recipe (that slaw!!) and my first post of 2017 involves candy? If you have been around Shaken Together for any length of time, you'll know that this is totally normal. In fact, I've got a crazy good salad recipe coming up, followed by a few more pun-y Valentine posts that absolutely involve candy. All things in moderation, right?! 😉
Anyway, back to these adorable Valentines!
DOGGONE Cute Valentines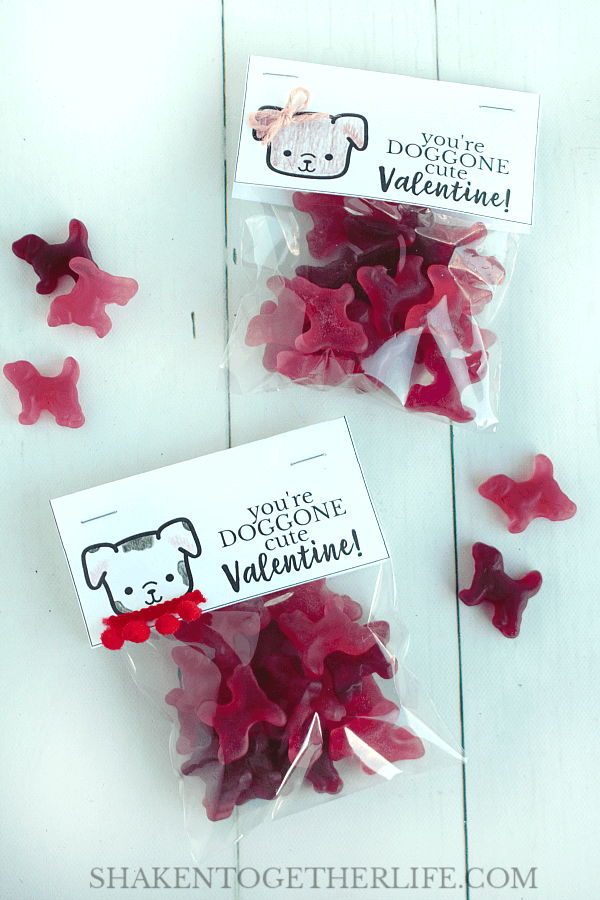 Oh, how I love a good pun. And a cute pup. And coloring. And the chance to dig into my drawer of ribbons and twine and pretty string (yep, I have a whole drawer!). And I don't hate candy, either … ha! These sweet little Valentine treats combine all of these things!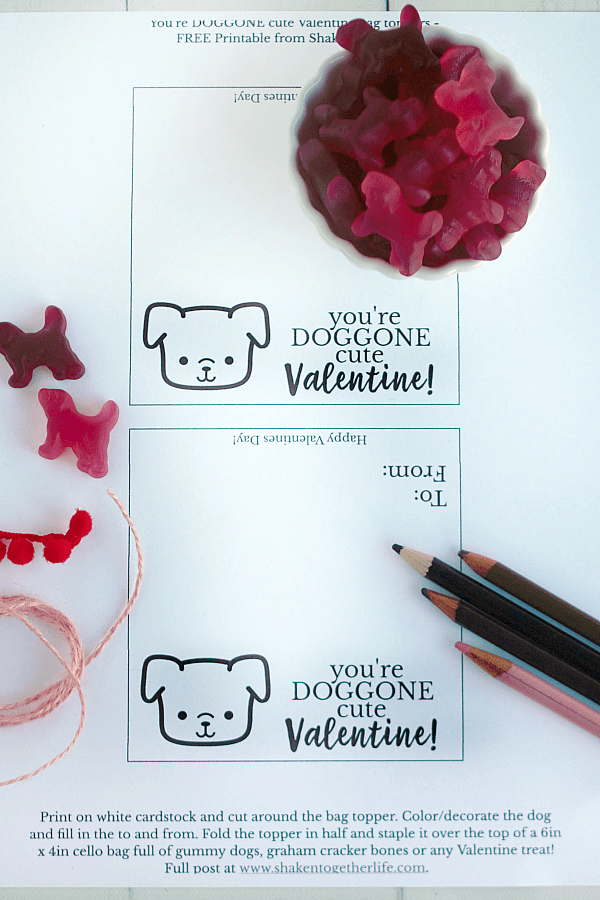 Supplies:
I found these gummy dogs at our local bulk food store, but there are lots of options online for dog themed candy and food items. You could even put a small stuffed animal, dog themed socks (<— some of these are hilarious!) or dog figurines in a cello bag and top it with our free printable bag topper.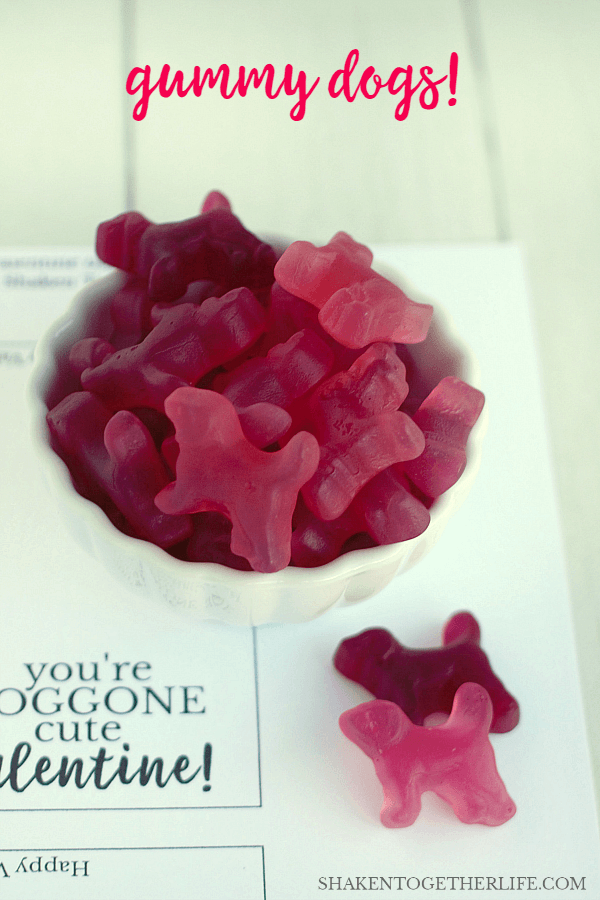 Once you have printed the bag toppers, color the little dogs and add twine bows and pom pom trim collars for sweet details that make these even cuter!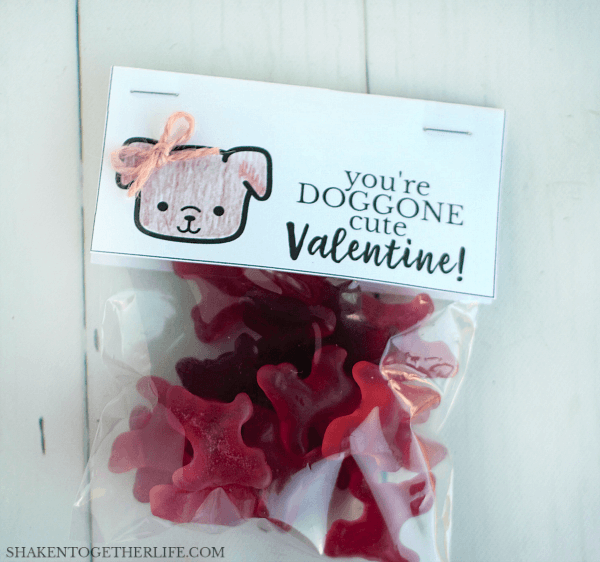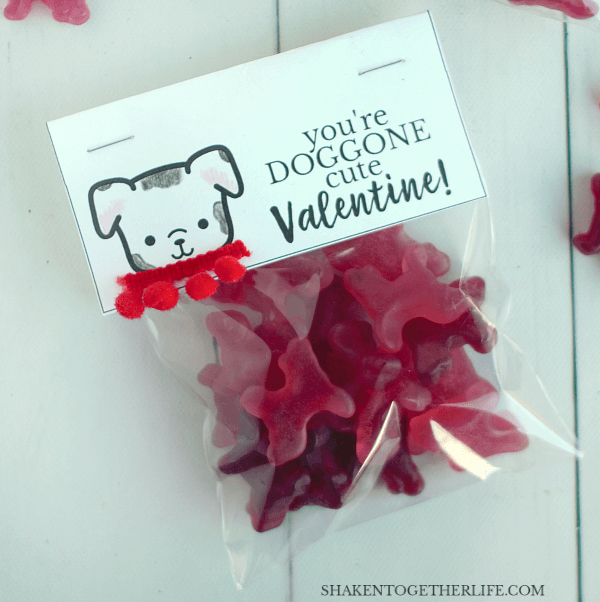 Fill a cello bag with gummy dogs and fold over the top of the cello bag. Fold the bag toppers in half (don't forget to fill out the to and from) and staple them on at the folded top of the cello bag. These are just so doggone cute and ready for friends, family, classmates or a fun lunch box find for the littles!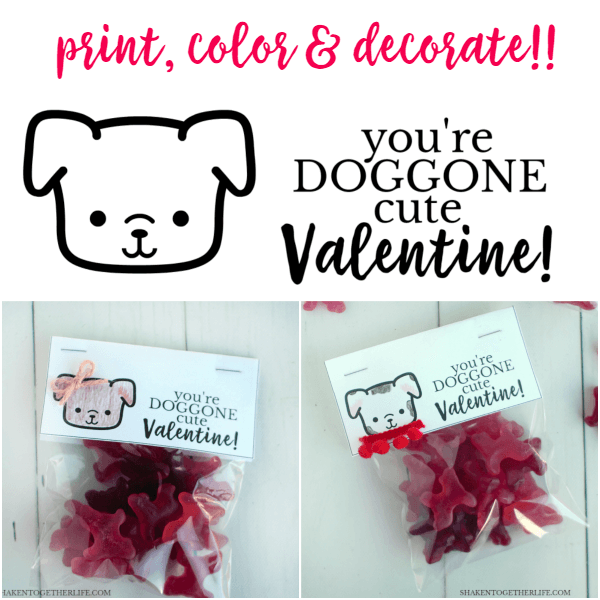 You know that this is not the first pun-y, candy themed Valentine here at Shaken Together, right? I mean, there are …
Don't worry … I'm not done yet! Stick around for more easy, fun Valentine ideas for all of the Valentines in your life! But for now, wag your tail for these adorable DOGGONE Cute Valentines + FREE Printables!!