*Thank you to Ed Roth Stencil1 Stencils and FolkArt Multi-Surface Paint by Plaid Crafts via Blueprint Social for sponsoring this post.  All opinions are 100% mine.*
I hope you don't mind a little interruption in the Easter posts?  If you are a creative soul at all, you can probably relate when I say there are always at least three (normally more!) projects in various stages of completion at all times in our house.  My poor dining room table!  Right now it is covered with Stencil1 stencils and FolkArt multi-surface paint, felt scraps, Easter projects that I need to photograph and baseballs (thanks, boys).
So, today's project is the start of one of my many "to-do"s that have been looming for a while.  Feast your eyes on the first project for Kaleb's nautical bedroom makeover!!  I am thrilled with how this DIY stenciled anchor sign turned out!

Kaleb is 11.  My green-eyed, freckled-faced sweet heart.  He is super creative like his momma and can totally appreciate my sometimes unconventional ideas.  Not only that, but he is sold on a nautical-themed bedroom filled with bright colors against weathered wood and neutrals.  (I started a Nautical Teen Room Makeover Pinterest Board where I am collecting inspiration.)  And this sign is the absolute perfect springboard to get my creative juices flowing!
This sign started with a piece of snow board.  Chris, the good hubby of a crafty DIY blogger that he is, scooped up a pile of snow board scraps from a custom project at his shop.  This wood was from a fence torn down in Wyoming – it is soft and weathered and grayed with age.  If you look close, you can see the the nail holes and scarring from snowy winters.  It just has so much character!
Now, let's talk stenciling!  I absolutely LOVE the designs on this nautical Stencil1 stencil.  They are made from durable mylar (and wash clean SO easily) and the bold, large scale designs are perfect for furniture, walls and even floors.  That rope stencil?  I'm pretty sure you will see it used in a future project!
To provide a contrast to the Ink Spot blue FolkArt paint, I created a rectangle of white acrylic paint down the length of the snow board. The FolkArt multi-surface paint can be used on just about any surface, indoor or outdoor: metal, wood, plastic, fabric – they are even dishwasher safe!
Once the white paint was dry, I used painters tape to hold the anchor stencil in place.
Then, using a foam brush loaded with very little Ink Spot blue paint, I began to "pounce" or sponge the paint over the stencil.
Once the entire stenciled area was covered, I carefully removed the stencil and washed it with water and dish soap.
Then, I stenciled a second anchor at the opposite end of the sign.
Once all of the paint was dry, I used fine grit sand paper to distress the sign just a little.  After all, I wanted it to look like it has been guiding sailors to the marina for years in the Florida sun 🙂
Now, for the hand lettered section of the sign, I added simple block letters in Pure Orange to spell "marina" and an orange arrow as well. Then, using Medium Gray paint, I added the distance "3 mi."  Here is an easy way to add depth to hand lettering and even stenciled designs:  add accents with multiple layers of different colored paint.  Simple as that!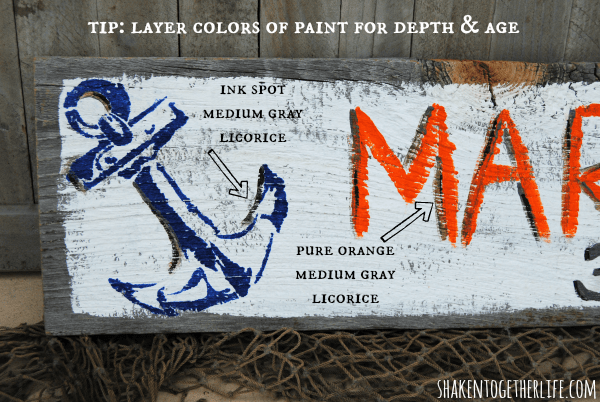 In the picture above, you can see that I added accents of Medium Gray and Licorice paint to the anchors and the letters.  It is not an exact science, so don't worry if you add a little more or less that you planned.  Any inconsistencies will give the sign the authenticity that comes with age and wear.
So, what do you think?  Kaleb and Camden are enjoying a few days with my mom for Spring Break and I can't wait for Kaleb to get home and see the sign for his room!  I think it is going to be the start of a fun nautical gallery wall over his bed.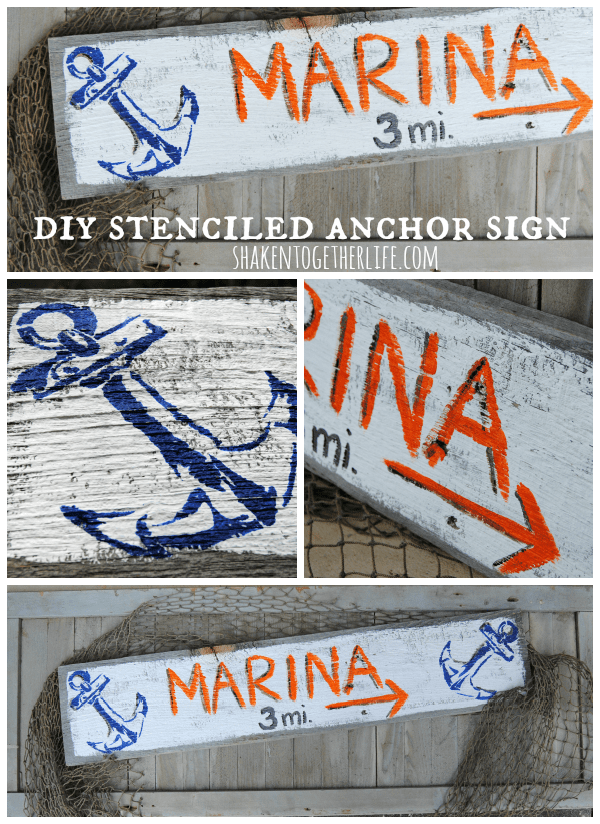 If you want to pick up a stencil (or three!), they will be available in JoAnn's and other craft stores.  Feeling social?  Connect with Plaid Crafts on their blog, Facebook, Twitter, Pinterest, Instagram and Youtube!
For even more stenciled projects, check out these great ideas from my fellow bloggers:
This post may be shared at these link parties: