Summer is here and the 4th of July is right around the corner! If you are like me, you may not have a full arsenal of patriotic decor. So, I brainstormed and came up with an easy DIY project that would add a little touch of patriotism to our entry way! Since red is my favorite color, decorating in red, white and blue is only natural. I tend to lean towards rustic and funky in our dining room – think vintage soda crates, chippy birds, metal tea kettles and old fabric lanterns! So today, I am sharing a project that fits right into my quirky decor and starts with inexpensive materials you can find in your local home improvement store … check out this cool rustic cedar shim flag!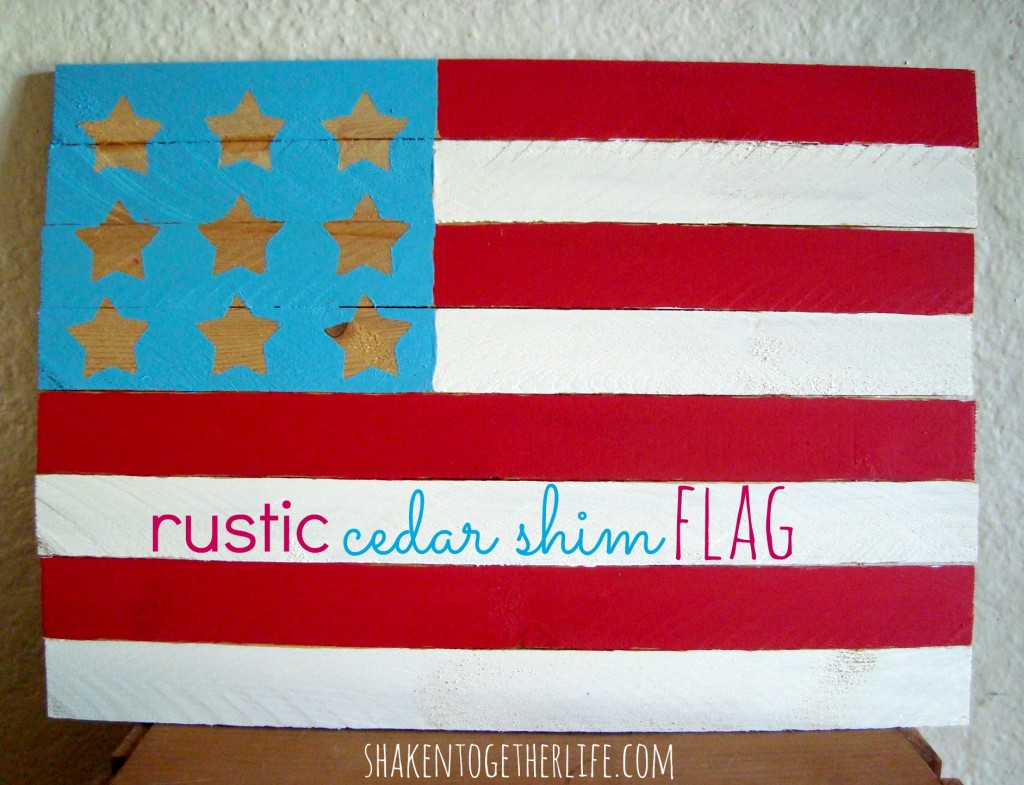 You can find bundles of shims for a few dollars at your local home improvement store (or you could use wooden rulers, paint stirrers or thin strips of wood). Some of the shims are pretty rough and they are uneven, so I sorted through them to find eight that were fairly similar in width. I really like the imperfections in the shims and the slightly uneven lengths, just like my
wooden song lyric sign
. I glued the shims together with wood glue and allowed them to dry.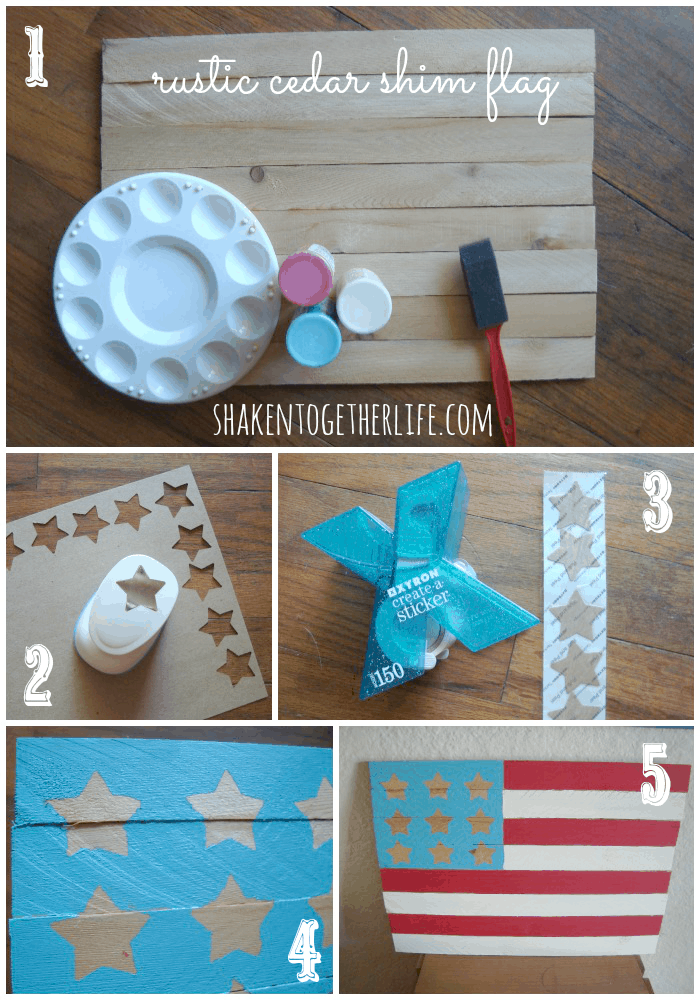 1. Using acrylic paint and a foam brush, paint alternating shims red and white (make sure to leave room on the top four shims for your blue square of stars).
2. Use a small square paper punch to punch 9 stars (or use your cutting machine to make a stencil).
3. I used my old school Xyron create-a-sticker machine to make sticky star stencils and lined them up in 3 rows in the unpainted corner of the flag.
4. Paint over the stars with the blue paint (I went with a turquoise color that matches a
big mirror
hanging in our entry way but you could use a more traditional navy/royal blue) and carefully remove them before the paint totally dries.
5. Once the paint has dried, lightly sand to create a little more rustic character and seal with a clear coat.
And now the fun part … tucking my rustic cedar shim flag behind a big chubby chippy bird, a red egg cup with a grapevine ball and one of my favorite candles!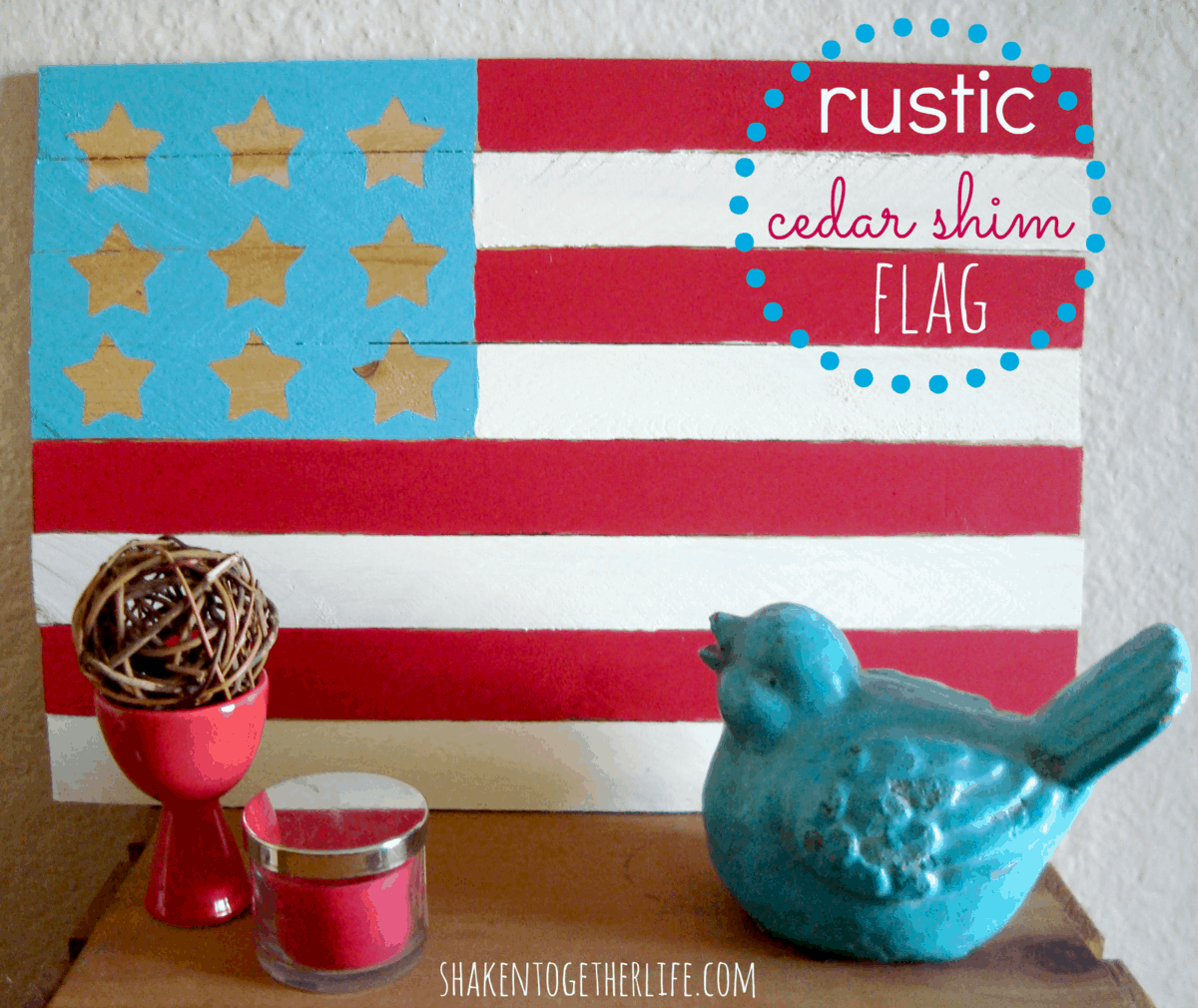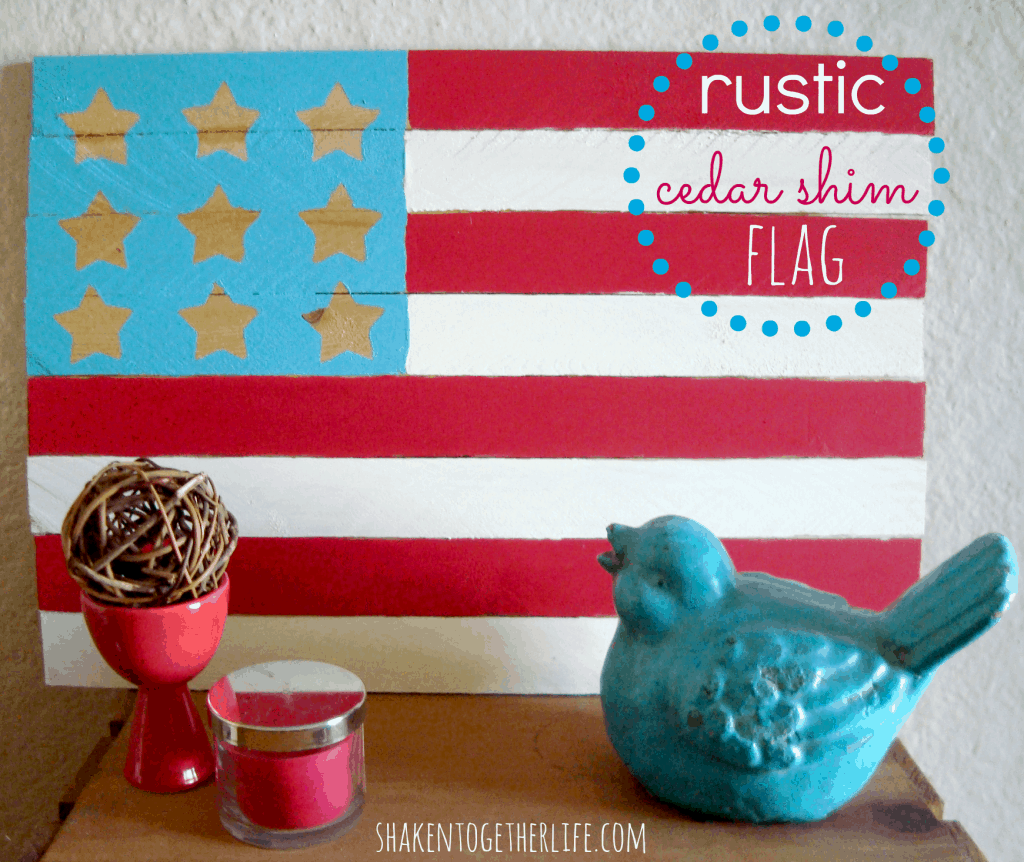 I "shopped our house" to pull together a lot of my red, white and blue existing home decor and added this rustic cedar shim flag and suddenly our entry way looks patriotic without being over the top! You could add a length of rope or ribbon and hang this on your front door, too!
**You may remember that I shared this project over at my girl Jocie's blog, One Project Closer's The Better Half . This Summer, she is hosting an awesome 13 week long Before & After contest to support Habitat for Humanity. So, if you have any great before and after projects, email them or link them up each week for a chance to win a prize and support a great cause! You can read more about the Before & After Challenge in this post!**
More DIY wooden home decor projects from shaken together: