Happy Memorial Day!!  We are totally enjoying extra family time together this holiday weekend and I sure don't want to be cooped up in the kitchen!   I came up with these quick crispy chicken Cobb salad wraps  which were the perfect easy meal to make before heading out to the pool!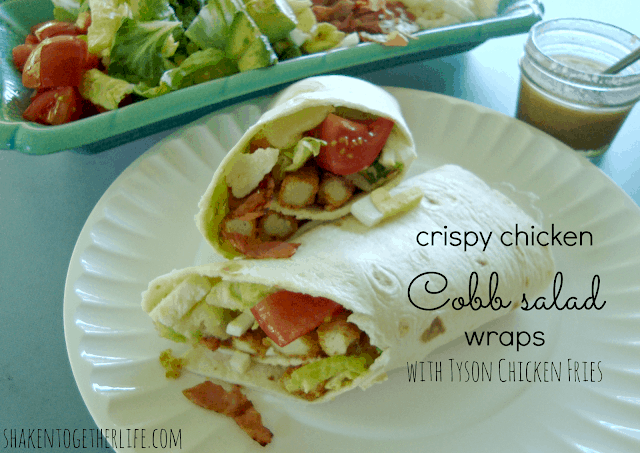 With two boys in baseball, wraps are a quick staple meal in our home ... but we get bored with plain ol' lunch meat and cheese rolled up.  Packed with crispy Tyson Chicken Fries and easy to prep toppings found on a traditional Cobb salad, these quick chicken wraps were a BIG hit!  I prepared the toppings and dressing while the chicken baked, so this meal was easy to prepare, full of bright summer veggies and perfectly portable for a picnic, poolside or pre-practice!
Crispy Chicken Cobb Salad Wraps
Yield:  4 wraps
20 - 24 Tyson Chicken Fries, prepared according to package directions
4 flour tortillas
2 - 3 hard boiled eggs, diced
2 - 3 ripe Roma tomatoes, diced
½ cup of crisped ham (cut strips of deli ham and crisp in a skillet with a smidge of butter, allow to cool)
½ cup of feta or bleu cheese crumbles
1 ripe avocado, diced and tossed in lemon juice
Romaine lettuce
Place the toppings in rows on a tray  as they are prepped (like the top of a traditional Cobb salad) and pop the tray into the fridge until the chicken is done.
Cobb Salad Dressing
Adapted from Food Network
3 tablespoons of vegetable or light olive oil
2 tablespoons of apple cider vinegar
1 tablespoon lemon or lime juice
1 teaspoon Dijon mustard
1 teaspoon Worcestershire sauce
Salt, pepper and garlic powder to taste
Blend/whisk together and chill until the wraps are ready to serve.
I piled the Tyson Chicken Fries on a plate, grabbed the tray with all of the toppings that I prepped while the chicken was baking, the delicious savory dressing and we had lunch on our back porch - the weather is gorgeous right now!

The boys loved being able to pick and choose exactly what they wanted in their wraps - no avocado for Camden, no tomatoes for Kaleb, lots of feta and a generous drizzle of dressing - and we all loved the crispy crunch of the Tyson Chicken Fries that were tucked inside.
Without a doubt, these will be a permanent fixture in our Summer meal menu!