I am still inspired by Fall – maybe it is just wishful thinking since we are still in the low to mid 90s in Florida – so this week, I've got a step-by-step photo tutorial so you can make happy fall & boo-to-you shabby tag banners!
Believe it or not, these banners start out with these humble tags from the office supply store: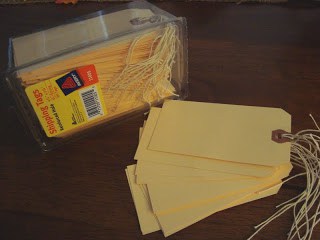 100 for $6 – my bargain loving little heart might have skipped a beat 😉
Along with the tags, you'll need twine, letter stamps and ink, scissors, scrapbook/decorative papers (scraps work just fine) and ribbons. First, stamp your message and ink the edges of your tags …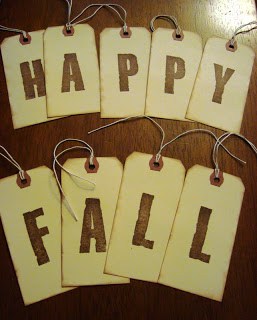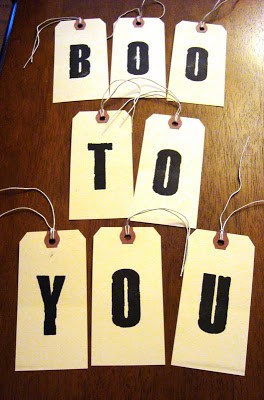 Let's make some cute little spooky ghosts for the "boo to you" banner … Trim the tags into the shape of a ghost. Punch two holes for eyes, add a mouth and ink the edges. BOO!
For the "happy fall" banner, we'll need three pumpkins. You'll first need to cut straight across the tag even with the bottom of the reinforced hole BUT don't cut it off! Trim around the reinforced hole. This is the stem of your pumpkin 🙂 Now you can make chubby little squat pumpkins or taller thin pumpkins by trimming the tags. Round the corners.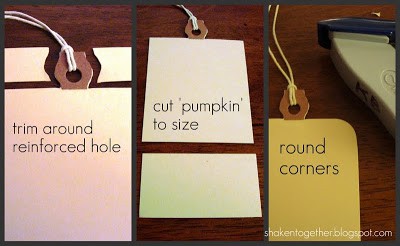 Now, fold your pumpkins in thirds. Ink the edges of the pumpkin and the folds to give it some definition and shabby chic style. I used a smaller ink to brush on a touch of orange. It is a pumpkin after all 🙂 Cut a green leaf to finish it up. SO stinkin' cute!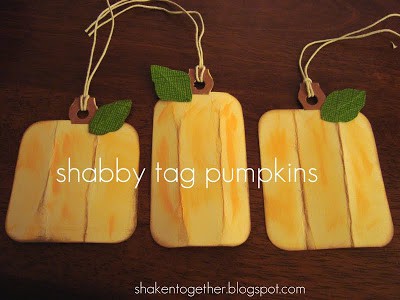 The pumpkins and ghosts would also be super cute tied on a gift, treat bag, bottle of wine, basket, wreath, etc.
Once you have stamped and make ghosts/pumpkins to your heart's content, tie your tags to the twine, add a few knotted ribbons and you are all set to bring a little festive fun to any room, office or bulletin board near you!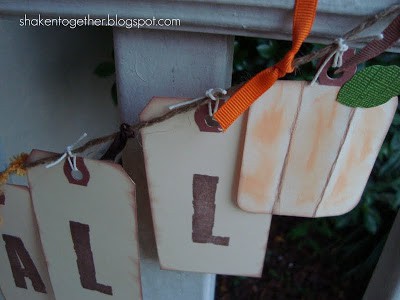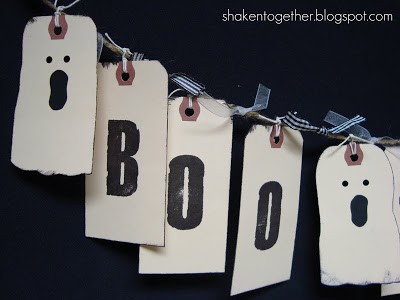 I'll be sharing a few other variations of these banners and more ways to use these same tags in the coming weeks … we'll get the most bang out of those $6! 🙂 So, I'd love for you to stop back by! And bring a friend 😉
More Halloween & Fall fun:
This post was shared at the parties on my Link page!