Chris and the boys are huge football fans and during football season, one of our favorite family traditions is "football food"! On game day, we bust out a smorgasbord of typical football grub: cheese and crackers, tangy meatballs, wings, snacks, appetizers, dips, veggies or fruit.  We nibble while watching the games (who am I kidding, I eat and then browse Pinterest or craft, ha ha!), nibble after lazy afternoon naps and nibble for dinner.  One of my favorite game day dishes to prepare is creamy pizza dip!
YUM!  This dip comes together quickly (in the microwave!) and tastes just like an ooey gooey cheese pizza!!  It would make the perfect addition to your game day party or even a pizza themed birthday party!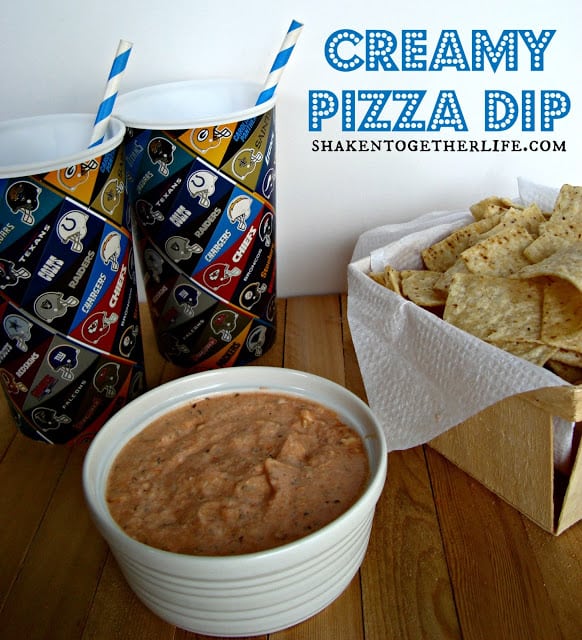 Creamy Pizza Dip

One 14 oz. jar of pizza sauce
One 12 oz. tub of whipped cream cheese
1/2 tablespoon dried Italian seasoning
2 cups of finely shredded cheese – I love the six cheese Italian blend or mozzarella

In a microwaveable bowl, stir the first three ingredients together until smooth and then stir in the shredded cheese.  Cover bowl with a paper towel (to prevent a microwave mess!) and heat until the cheese is melty and the dip is nice and hot – it took about 3 1/2 minutes in our microwave.  Stir dip to re-combine and pour into serving dish.
You can also combine the ingredients in your crock pot and set it to low.  Stir to combine once everything starts to heat up!
Serve with tortilla chips, Fritos or your favorite crackers.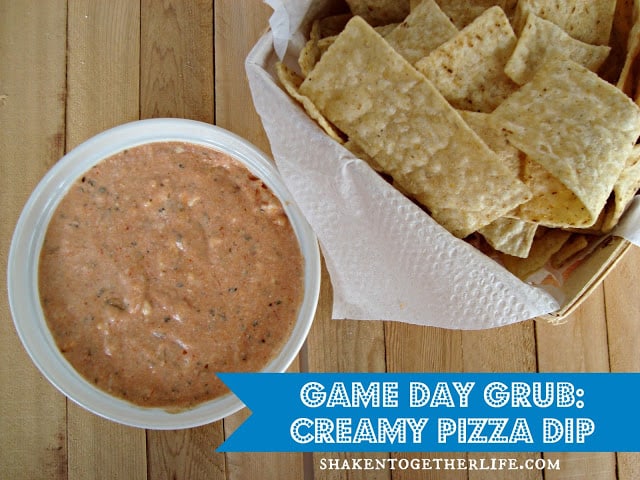 This dip warms up well and you can keep it warm in a small crock pot and tastes just like pizza!  It is perfect for a potluck and is kid tested and hubby approved!