I absolutely love giving seasonal gifts!  With Easter right around the corner and Easter bunny snack mix just waiting to be mixed up, these quick and easy cookie cutter stamped gift tags are the perfect finishing touch for Easter gifts!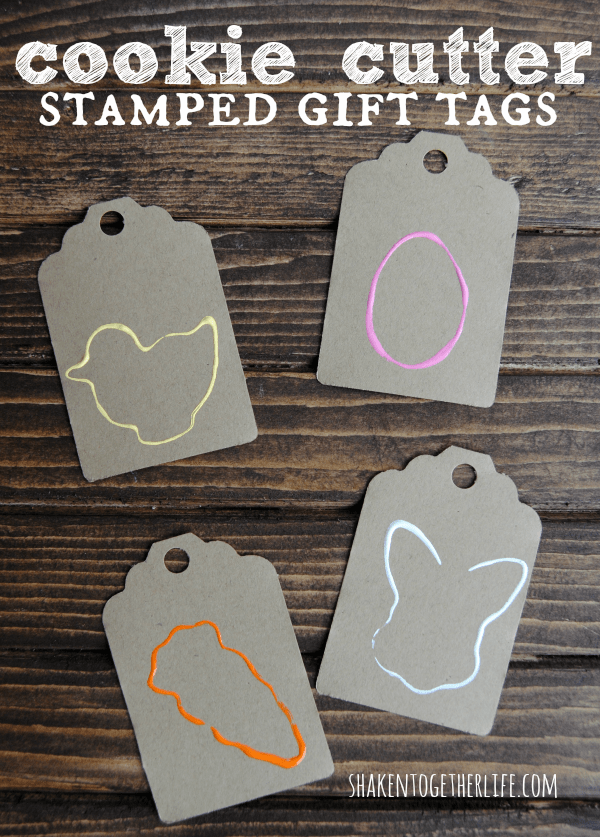 When I picked up a six pack of mini cookie cutters at Target – I just couldn't resist the cute little carrot! – I was prepared to whip up a batch of old-fashioned sugar cookies and call it a day.  BUT my mom and I were preparing for our Spring Fling craft day and looking for quick and easy seasonal crafts.  I had an "ah-HA!" moment and decided to try to stamp with the cookie cutters!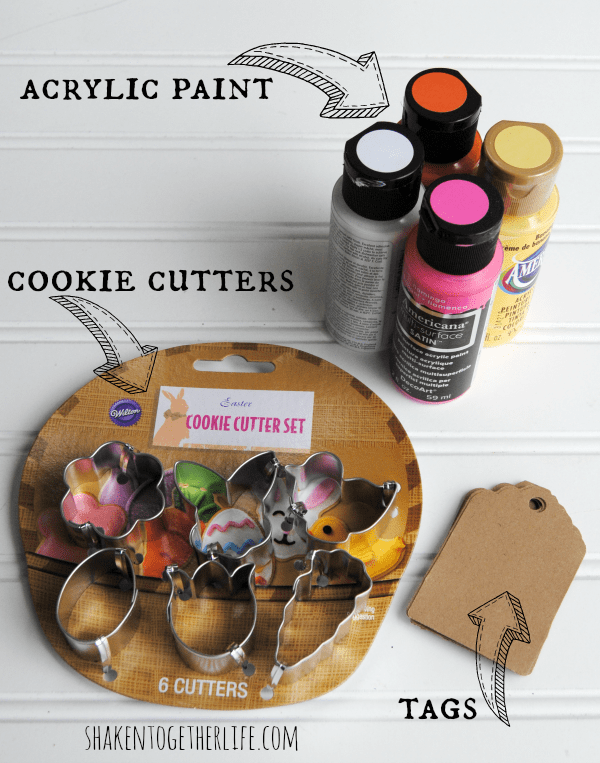 I grabbed a paper plate and squirted a shallow puddle of Americana acrylic paint in bright colors: Cottonball, Banana Cream, Pumpkin Patch and Flamingo.  I dipped the cookie cutter in the paint – making sure to get all of the edges covered.  Then, I centered the cookie cutter over the card stock tag and stamped!  Easy peasy but SO so cute, right?!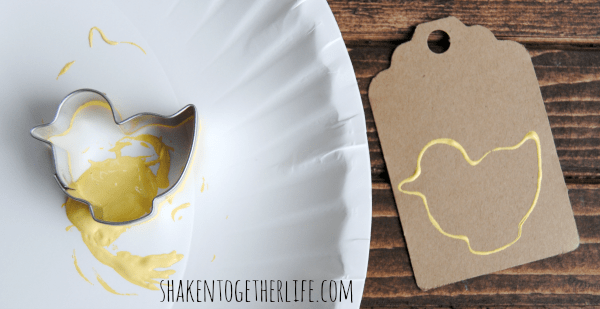 The acrylic paint I use is non-toxic so I felt comfortable using it on cookie cutters that I would still use for food.  I washed them carefully and ran them through the dishwasher, too.  If you have any doubt, then just designate these cute little cookie cutters as a permanent member of your craft stash!
Wouldn't this be a fun activity for your preschool or Sunday school class?  Cookie cutters are perfect for little hands!  It was a perfect craft for our Spring Fling Pinterest party – gift tags are always one of the most popular crafts we make!
Now, I love the super simple silhouettes, but you could add polka dots to the egg with a Q-tip, a pom pom nose or whiskers for the bunny, a bakers twine bow on the chick or some green yarn for the carrot top … get as creative as you like!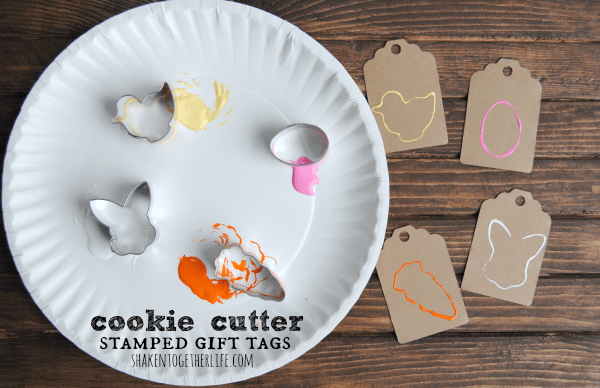 Now, what to tie these cute little cookie cutter stamped gift tags on …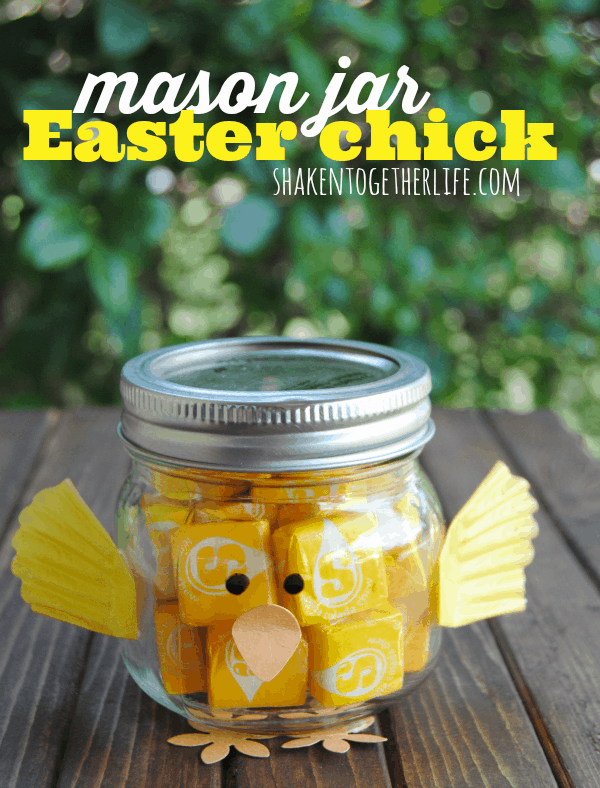 Maybe a mason jar Easter chick?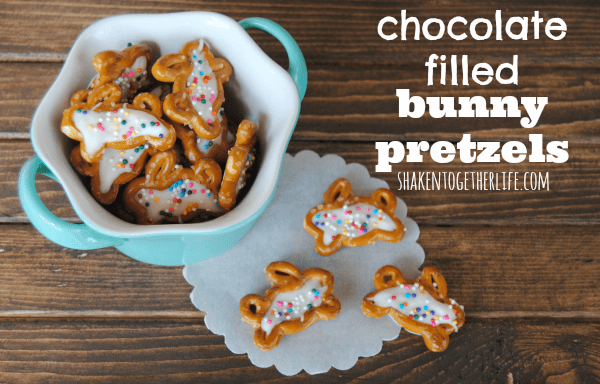 Or a bag of chocolate filled bunny pretzels?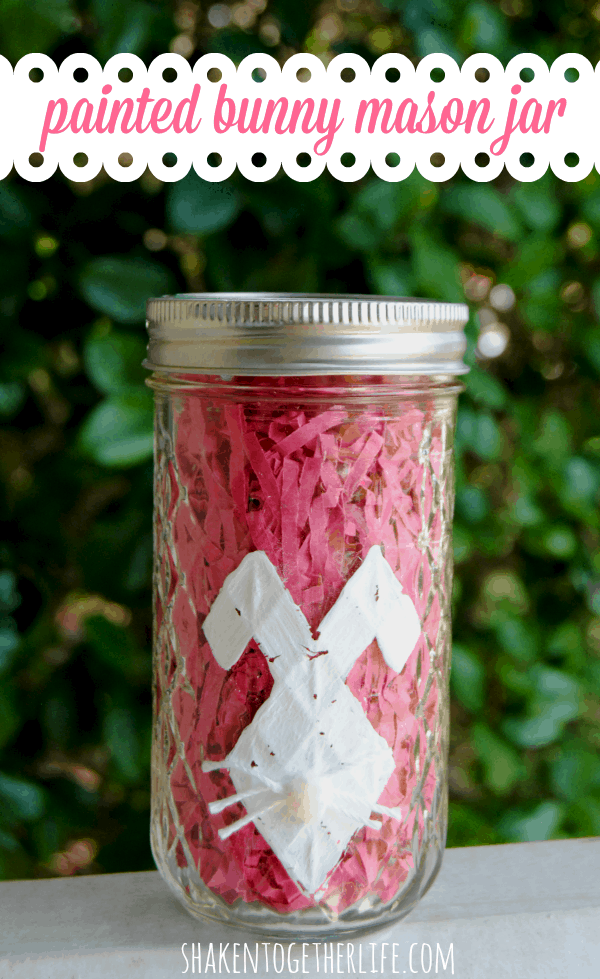 Or even a painted bunny mason jar filled with candy!
This post may be shared at these link parties: