If you follow me on Instagram, you got a sneak peek at the cutest NON-EDIBLE cookies I have ever made! Can you believe I baked something that you can't eat? Just think of all the calories I am saving you!

This project started after I bought a truckload of cinnamon, applesauce and Elmer's school glue in December with grandiose plans to make a bunch of those yummy smelling cinnamon dough Christmas ornaments for our tree, for teachers, for friends … and just never got around to making them.

Well, last week, I was cleaning out my pantry and saw all of the ingredients and I still wanted to make/bake something with the sweetly spiced dough. Hmmmm … then it hit me! Jump right over Christmas and straight to February 14th with these cinnamon spice dough Valentine's "cookies"!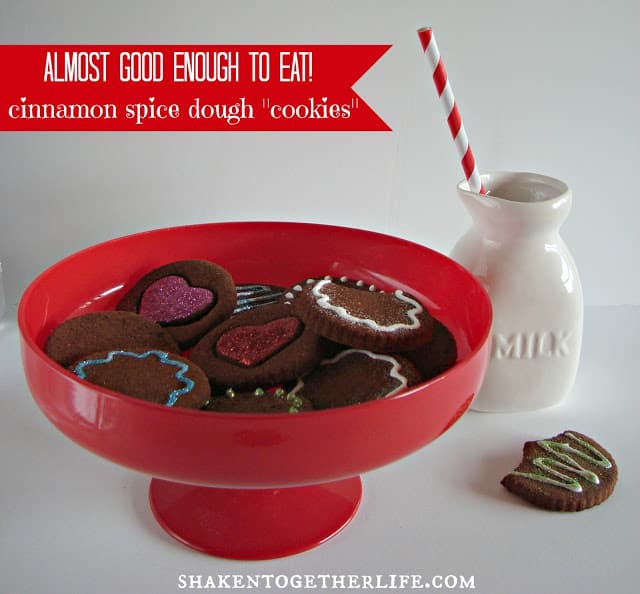 Cinnamon Spice Dough
Recipe found at Simply Notable – see my notes below 🙂

1 cup of cinnamon
2 tablespoons of ground cloves (I didn't have cloves, so I used ginger)
2 tablespoons of ground nutmeg
1 cup of applesauce
2 tablespoons of white glue

Mix the above ingredients together until a ball formed – I just used a mixing bowl, a wooden spoon and a little elbow grease. Dust your work surface with additional cinnamon before rolling out the dough. Use cookie cutter or free hand shapes and place on ungreased cookie sheets. Bake for several hours at 200* or allow to air dry for several days before handling, painting or decorating.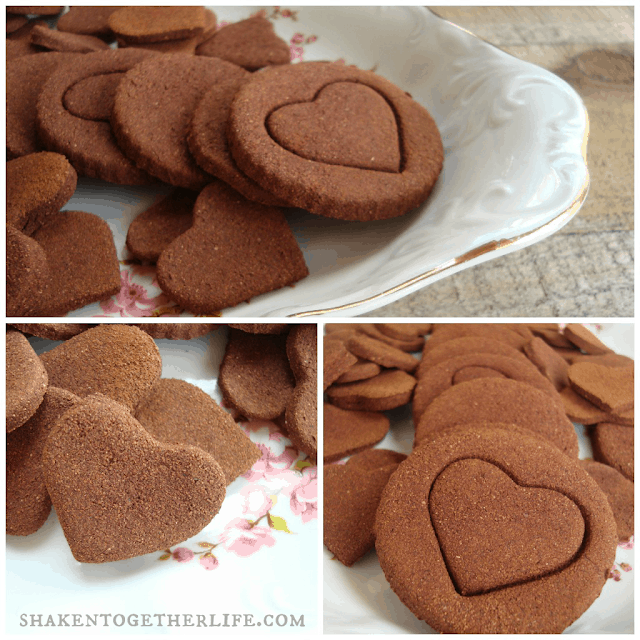 Some tips for working with this dough:
This dough is sticky … if needed, add more cinnamon until the consistency is easy to work with.
I found it was easiest to roll out the dough between two sheets of waxed paper (the bottom sheet still dusted with cinnamon). It also made for easy clean up!
I used a scalloped round cookie cutter and a small heart cookie cutter. To make the fun "bites" out of the round cookies, I simply used the same round cookie cutter to cut off a bit of the cookie. For the round cookies with the heart in the middle, I pressed the heart cookie cutter 1/2 way down into the dough without going all the way through.
Now for the fun part … glittery "frosting"!! Brush mod podge on the section of the cookies you want to "frost". Sprinkle on fine glitter and allow to dry before gently shaking off the excess.



For the round cookies with swirls, dots and squiggles and the cute little conversation heart shaped "cookies", I used white fabric paint (oh yeah! old school puff paint!) to "pipe" onto the cookies and then added glitter.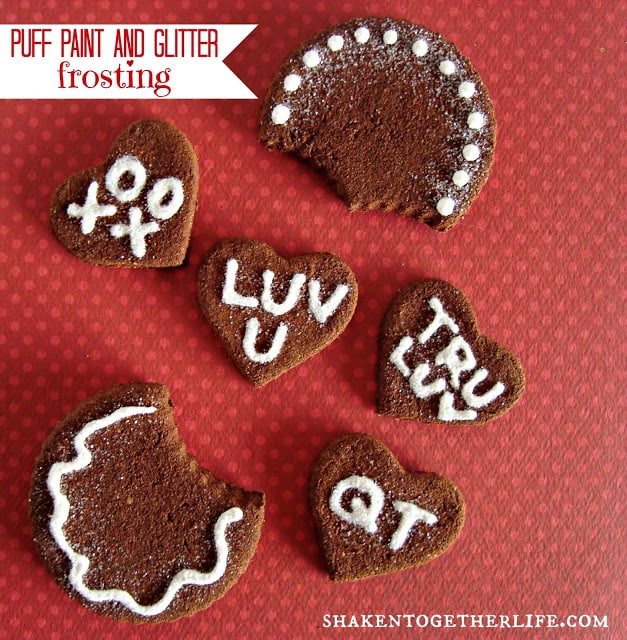 These are the perfect baked goods to use in your Valentine's decor for years to come and who doesn't want their home to smell like freshly baked cinnamon cookies?!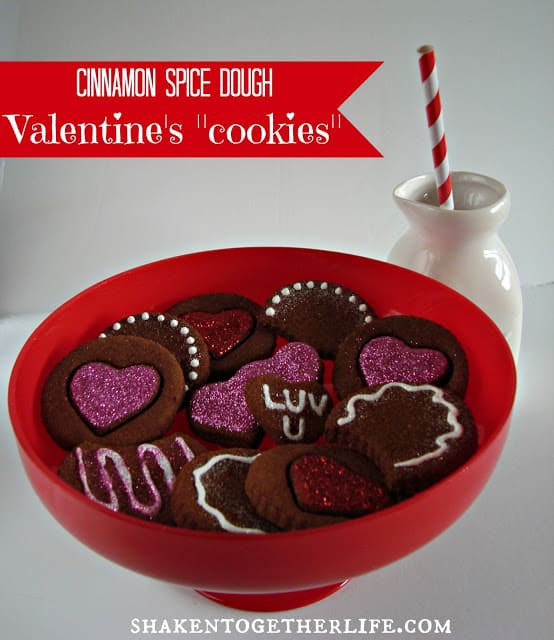 I added these to the nook in our dining room that I am decorating for Valentine's Day. This year, it is all about bright colors and "love, sweet, love"!! It's almost done and I can't wait to show it to you!
Here are some of my other favorite lovey dovey Valentine's posts!