This was one of my most difficult posts. Huh?! Believe me, taking ALL these pictures before I could finally eat this divine treat? Sheer torture! This sweet post is just in time (and SO easy to make) for Valentine's Day! Cinnamon sugar heart shaped crisps to dip in warm hot fudge sauce … if this doesn't say love, I don't know what does!!
Churro Crisps with Hot Fudge Sauce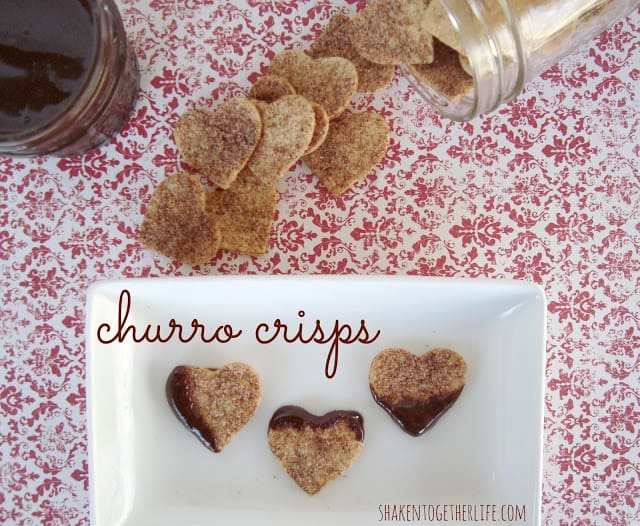 Churros are one of my favorites parts about visits to Disney World (or Sam's Club, ha!). Most churros are made by extruding batter into hot oil, fried and then rolled in cinnamon sugar. Can you say amazing? But I normally don't make fried foods at home, so instead, I made these sweet heart shaped churro crisps that are baked (and way healthier) in just a few minutes!
These are definitely a labor of love – two tortillas make 60 crisps – but my guys were worth the heart shaped indentation in my palm. Lay the cut out hearts in a single layer on your baking sheet, spray with non-stick cooking spray (or brush with melted butter), sprinkle liberally with cinnamon sugar and keep checking the crisps as they bake. You want them crispy but not too crispy. Allow the crisps to cool. Then, get some hot fudge sauce (use the microwave kind … I did), stir in a little cinnamon – ooooo, fancy! – and dip. You know you've done it right if this is what you are left with: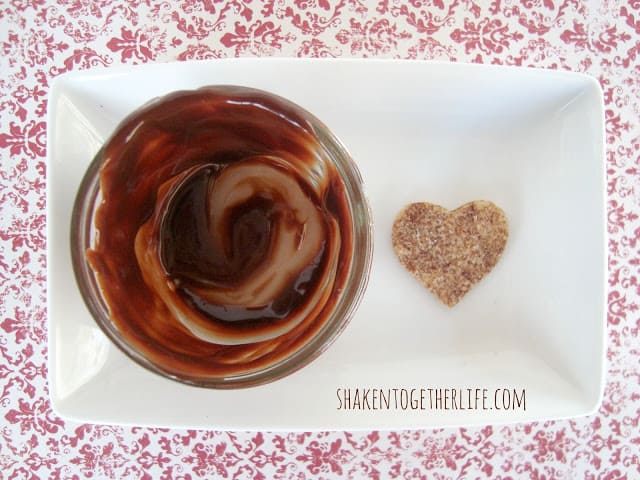 If the way to your Valentine's heart involves chocolate, here are a few more of my favorite chocolate desserts!
Chocolate pound cake pecan bread pudding
Chocolate chocolate no bake cheesecake pie
Chocolate chip cookie dough bites