Chocolate Frosting Pumpkin Spice Cinnamon Roll Bites – did you catch all of that? Chocolate! Pumpkin Spice! Bite sized! These little guys will be the best two bites of breakfast!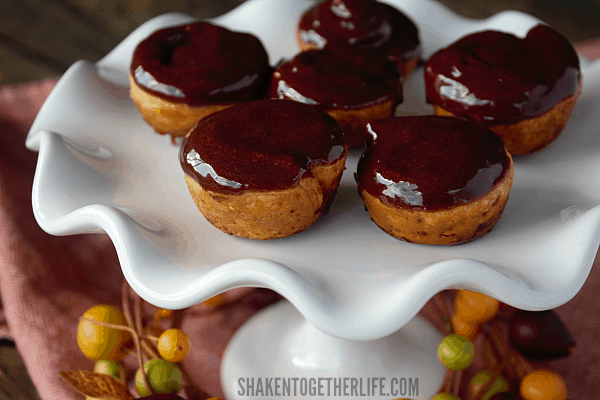 I grew up in the (then) small city of St. Cloud, FL. We had one each: elementary, middle and high school. A water tower. A decent sized lake front. Fat Boys BBQ. Bonnie Lee's Fried Chicken. Apps Pizzeria. And the crowing jewel … Sip n Dip and their giant, chocolate frosted cinnamon rolls! My dad would bring those fresh baked cinnamon rolls home every time he had an overnight air boat trip. My mom and I loved waking up to see that plain white box sitting on our kitchen table!
So, those giant confections were the inspiration for these bite sized beauties.
Chocolate Frosted Pumpkin Spice Cinnamon Roll Bites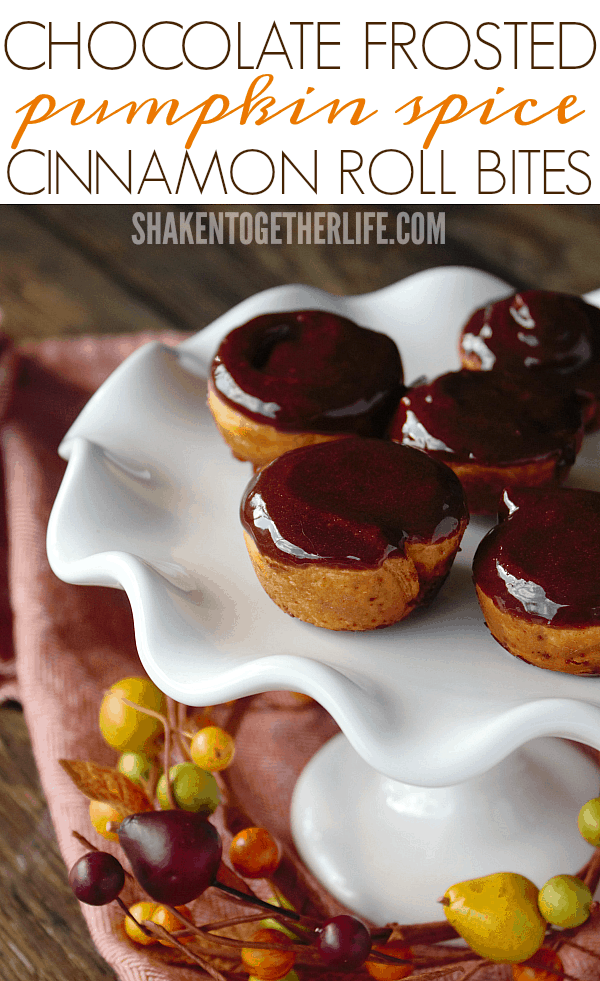 Now, if you've been around for a while, you know my penchant for puff pastry. I've used it for Nutella tarts and Nutella turnovers and blueberry lemon cheesecake tarts and cookie butter pinwheels. For these pumpkin spice cinnamon roll bites, that buttery pastry gets rolled up with a layer of pumpkin spice sugar and gorgeous glossy chocolate frosting!
Since the puff pastry has a good bit of butter in the pastry itself, I decided not to add anymore. So, I just sprinkled the pastry sheet with a healthy dose of pumpkin pie spice + sugar, rolled it up, sliced it and popped those rolls in a mini muffin pan.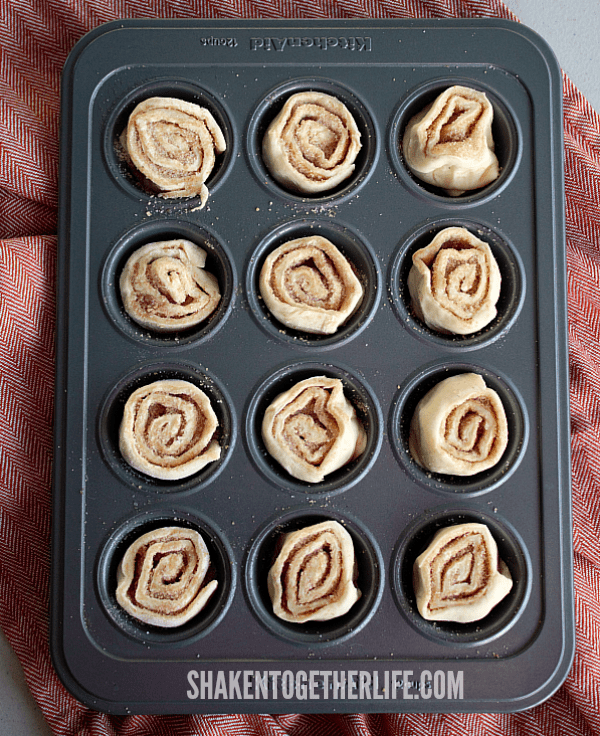 Once they are golden brown and the dough in the center is baked through, melt some store bought chocolate frosting and dip each cinnamon roll bite in it. Seriously, I find that this is the easiest way to accomplish smooth frosting that settles in to the nooks and crannies and gets that yummy crackly surface after it sets! I used the same technique for the frosting on my Iced Mocha Eclair Cake and Pumpkin Spice Eclair Cake 🙂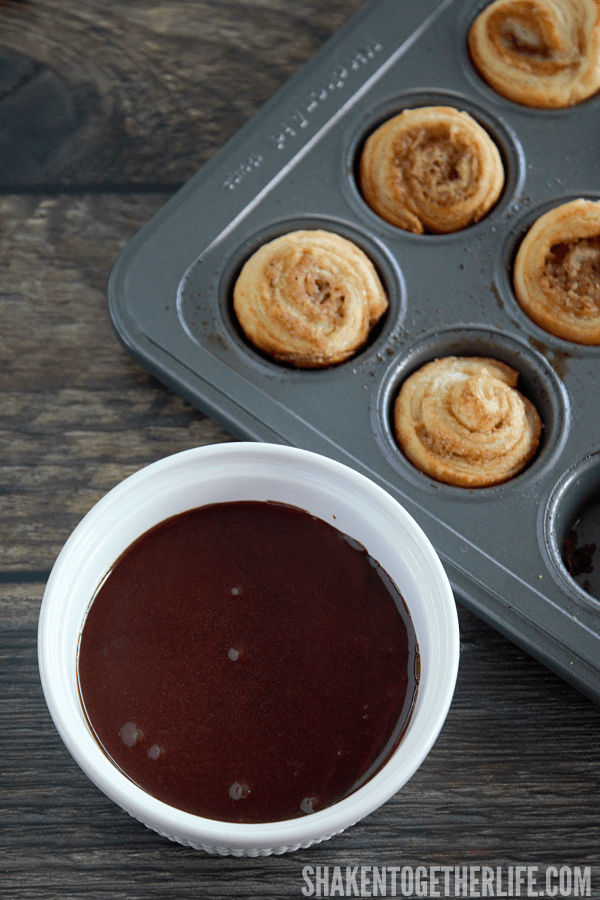 Just look at that shiny chocolate frosting…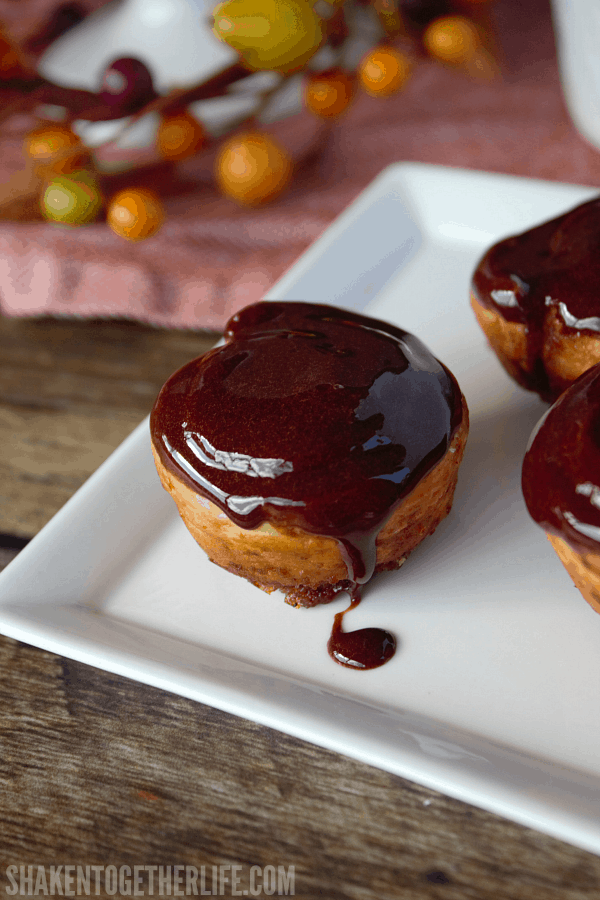 Even better, the buttery flaky layers of puff pastry and spirals of pumpkin pie spiced sugar are the perfect pairing with chocolate! If you haven't tried the combo of pumpkin spice with chocolate, you are missing out! These brownie bites with pumpkin cheesecake mousse are pretty heavenly, too.
I find that any recipe made with refrigerated dough (biscuits, crescent rolls and puff pastry) is best the day it is baked. So, have that cup of coffee ready so you can enjoy these Chocolate Frosted Pumpkin Spice Cinnamon Roll Bites while they are still warm from the oven!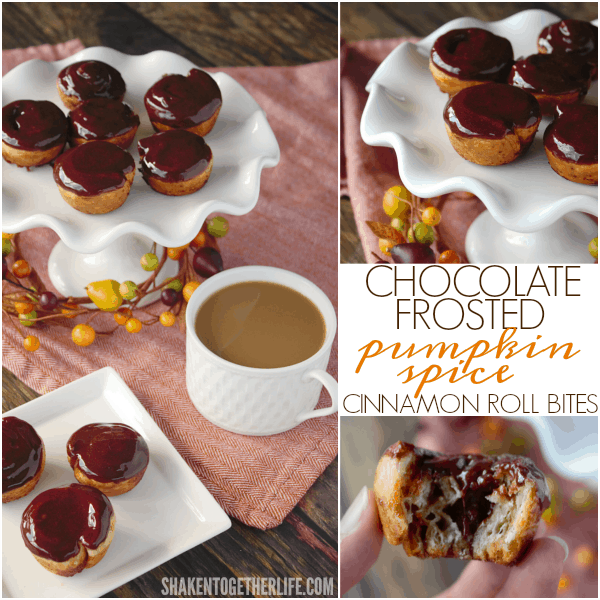 Print
Chocolate Frosted Pumpkin Spice Cinnamon Roll Bites
Yield:

12

mini cinnamon roll bites

1

x
---
Scale
Ingredients
One sheet puff pastry (thawed)

2 tablespoon

s granulated sugar

2 tablespoon

s light brown sugar (packed)

1 1/2 teaspoon

s all-purpose flour

3/4 teaspoon

pumpkin pie spice

1/3 cup

prepared chocolate frosting
---
Instructions
Preheat oven to 400 degrees F.
Prepare a mini muffin pan with non-stick cooking spray.
Unfold puff pastry sheet and gently press any seams together if necessary.
Mix together sugars, flour and pumpkin pie spice.
Sprinkle spice mixture over puff pastry.
Roll up tightly into a log and chill for 10 minutes.
Slice into 12 rounds and place each mini roll into muffin pan.
Bake for 10-12 minutes or until pastry is golden brown and the dough in the center is baked through.
In a microwave safe bowl, melt frosting at 50% power for 30 seconds. Repeat if necessary until frosting is completely melted.
Dip each mini cinnamon roll into the frosting and allow excess to drip off.
Place on serving tray and allow frosting to set if desired.
Store any leftovers in an air tight container.
Reheat any leftovers in the microwave for about 10 seconds.
---
Notes
This recipe can easily be doubled.
If you prefer, you can drizzle the melted frosting on rather than dip the cinnamon roll bites.
Cream cheese frosting stirred with another 1/4 teaspoon of pumpkin pie spice is an alternative to the chocolate frosting.

More Fall Breakfast Favorites!