Chocolate Covered Peanut Butter Cracker Sandwiches are the perfect, easy (no bake!) treat to add to your holiday cookie trays, swap at cookie exchanges or leave for Santa!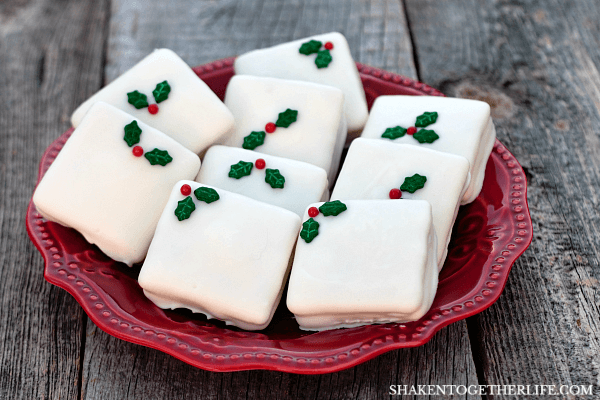 We are in the final count down to Christmas. We have spent all the money and bought all the gifts 😉 We have watched Christmas movies and looked at Christmas lights. Christmas Eve service is scheduled, Christmas dinner invites have been extended and our Christmas breakfast menu is planned. So the only thing left to do? Christmas cookies!! Or in this case, peanut butter cracker sandwiches!
Chocolate Covered Peanut Butter Cracker Sandwiches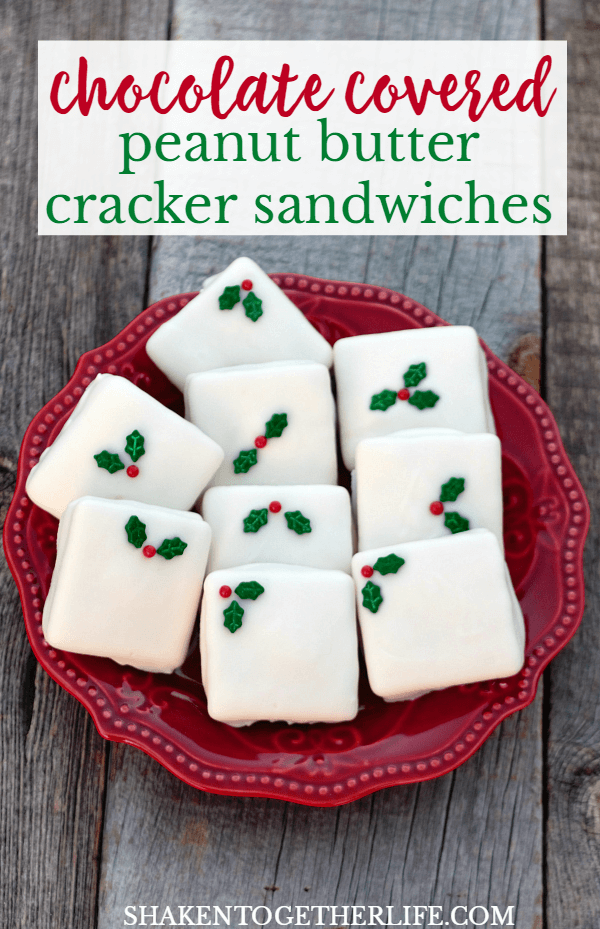 I love holiday baking. My grandma's apple cake. Two Bite Brownie Cookies. Chocolate Peppermint Cake Mix Cookies.
But depending on the day (or the two youth group parties that require desserts tomorrow!), I need a good quick no-bake dessert to get the job done. Enter these super easy but GOR-GEOUS chocolate covered peanut butter cracker sandwiches.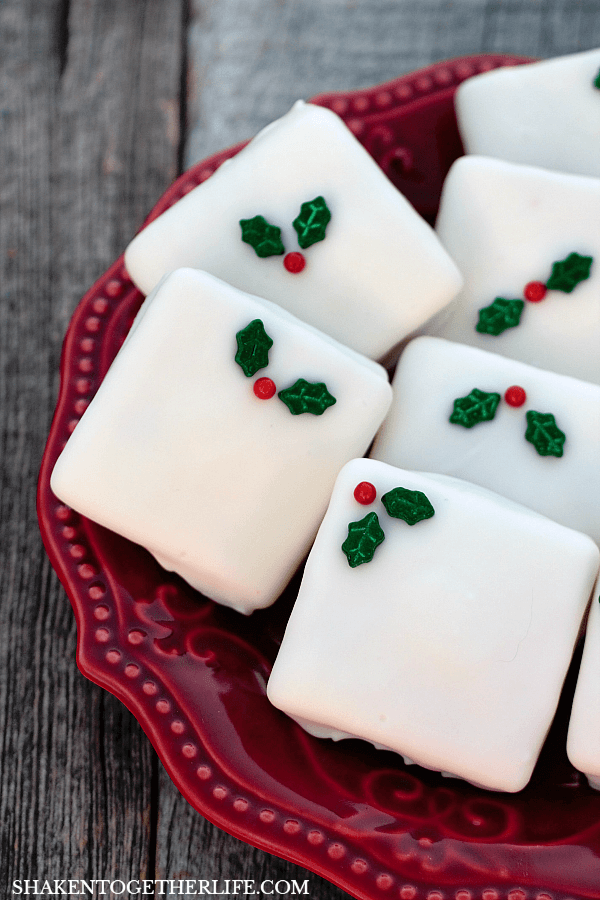 Aren't they pretty?! Those little holly sprinkles get me every.time. You may remember them from the Holly Jolly Cookies Sticks I shared over at Crafting Chicks. (Hi chicks!)
Anyway, these sweet treats start with good ol' soda crackers spread with peanut butter and made into sandwiches. That is a childhood flash back right there!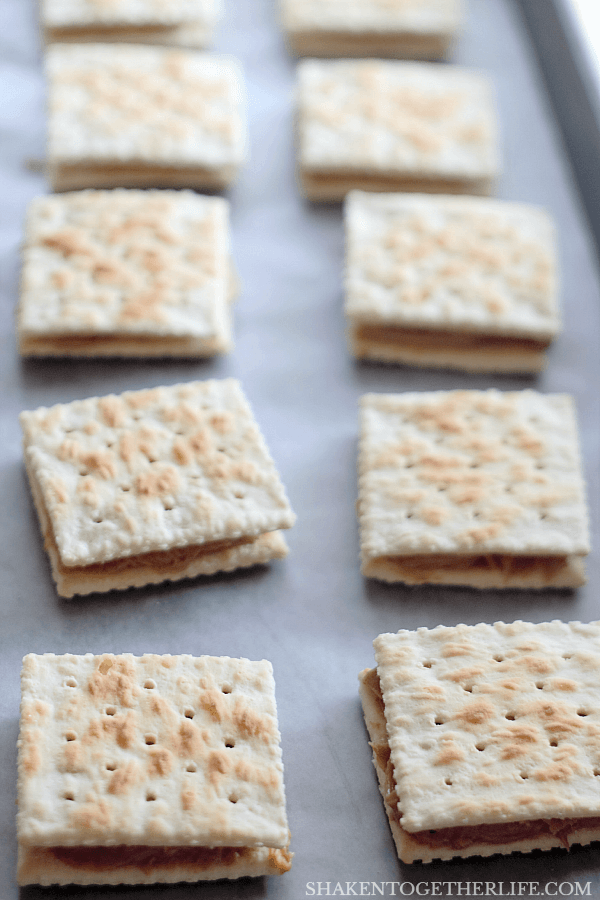 Then, they get dipped in melted white chocolate (or candy wafers or almond bark or Candiquik) and dressed up with a few pretty sprinkles.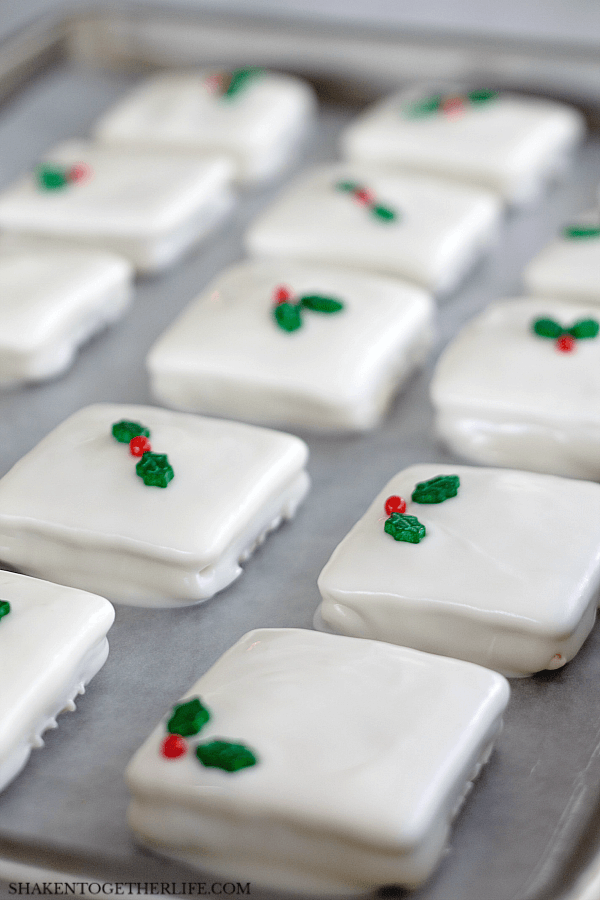 I like to vary the number of holly leaves and the position on the dipped sandwiches – it just makes them look so pretty when piled on a cookie plate or tray.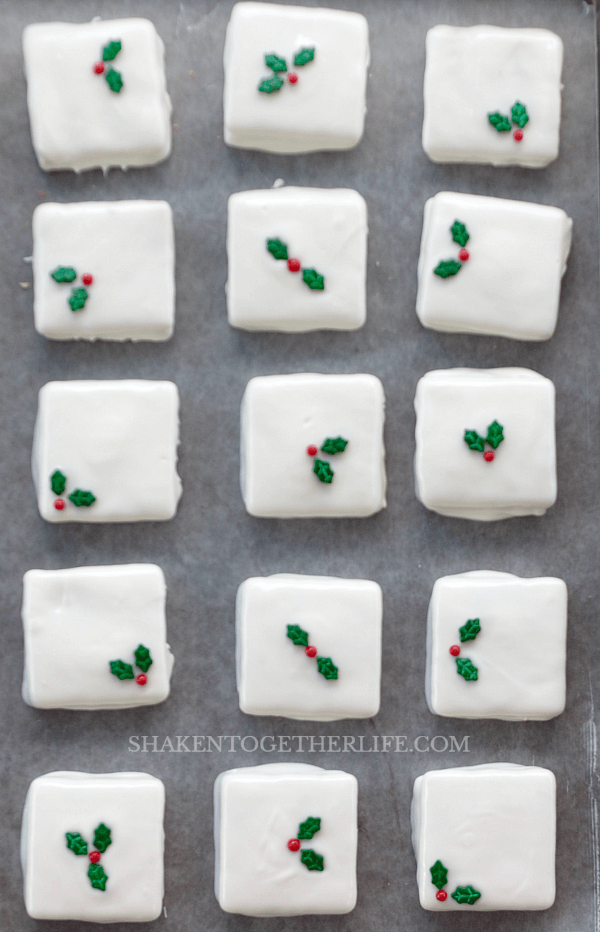 Once they are dipped, allow them to set before handling. After all that dipping, you don't want to mess up that pretty smooth white surface 🙂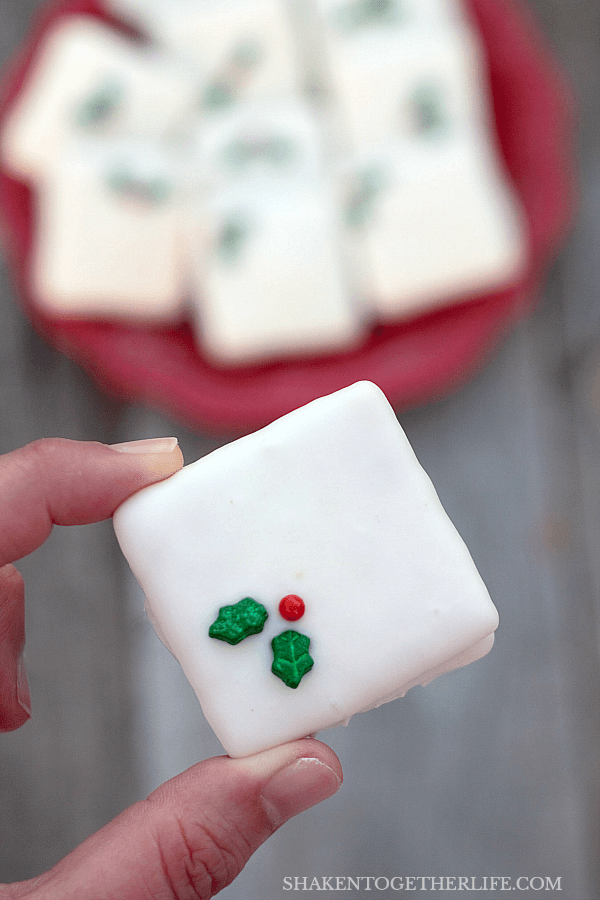 Add them to a holiday dessert tray, wrap them up in cello bags for gift giving or pile them on a plate for Santa!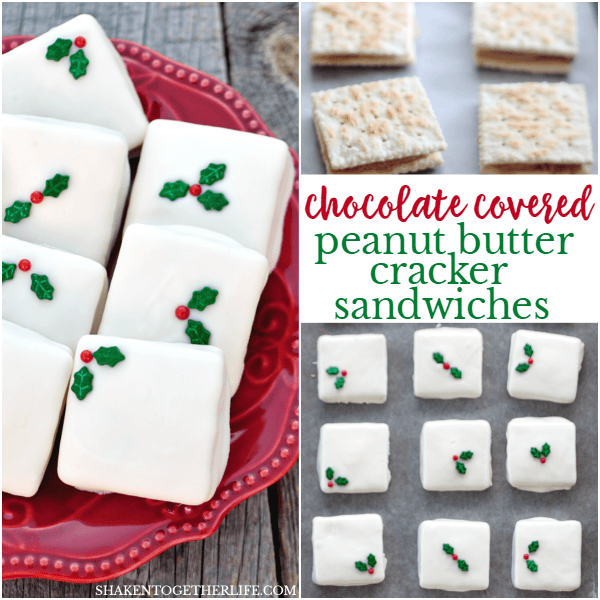 Print Chocolate Covered Peanut Butter Cracker Sandwiches
---
Ingredients
Salted soda crackers
Peanut Butter
Vanilla almond bark (white chocolate candy wafers or Candiquik)
Holiday sprinkles*
---
Instructions
Line a baking sheet with parchment paper.
Prepare peanut butter cracker sandwiches by spreading about a tablespoon of peanut butter between two crackers.
Melt almond bark according to package directions.
With a fork, dip sandwiches into melted almond bark and spoon almond bark over sandwiches to cover the top and edges of sandwiches.
Gently shake the covered sandwiches to remove excess almond bark.
Place on parchment covered baking sheet.
Add holiday sprinkles.
Allow the chocolate covered peanut butter cracker sandwiches to set before handling.
---
Notes
I love the holly leaf + berry sprinkles for this recipe, but they also look festive covered in sparkling sugar or nonpareils.
One sleeve of soda crackers and 1/2 pound of almond bark made about 18 cookies, so these are affordable and look so pretty for the holidays!

Here are a few more easy holiday no-bake desserts that will put you firmly on Santa's nice list!